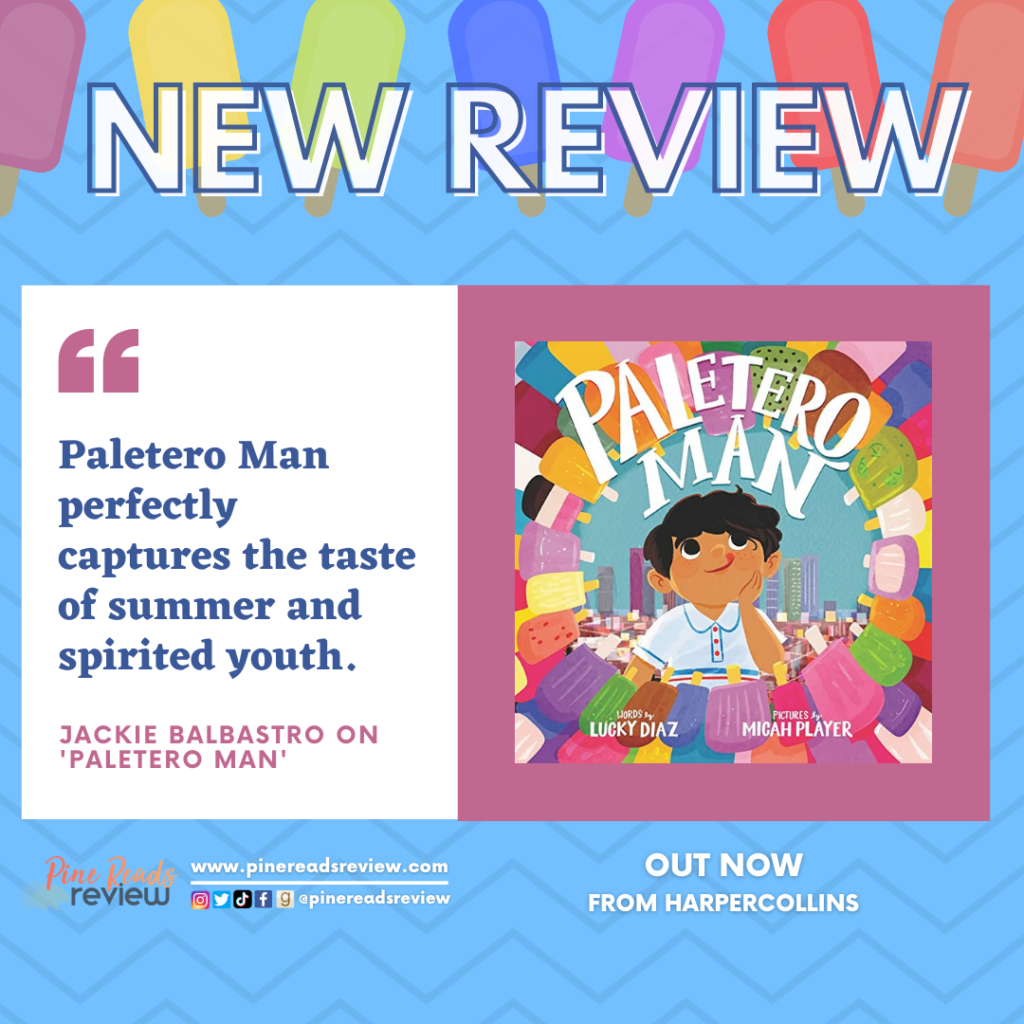 Paletero Man written by Lucky Diaz and illustrated by Micah Player
Out Now from HarperCollins; 32 pages
About the Author: "Author Lucky Diaz is a multi–Latin Grammy Award–winning and six-time Emmy–nominated musician and songwriter. His work has been praised by NPR, Billboard magazine, and the New York Times. In 2020, his album Buenos Diaz was named an official selection of notable works for children by the American Library Association. He currently lives in Los Angeles with his wife, Alisha, daughter, Indiana Maven and their dog Django. His favorite paleta flavor is horchata." (Bio taken from paleteromanbook.com)
Find Lucky Diaz on the following platforms:
About the Illustrator: "Illustrator Micah Player began his career designing and illustrating for Paul Frank Industries in Southern California. He is the author of Chloe, Instead and the illustrator of several books and games for children, including Vote for Our Future! and Friday Night Wrestlefest. He lives in a little house beneath a giant tree in the Utah mountains, with a lovely schoolteacher named Stephanie. They are the parents of two rad kids, one Yorkshire terrier, and several Casio keyboards. His favorite paleta is fresas con crema" (Bio taken from plaeteromanbook.com)
Find Micah Player on the following platforms:
---
"Can you hear his call? Paletas for one! Paletas for all!"
On one of the hottest days, probably ever, the paletero man, José, pushes his cart through the neighborhood bringing sweet treats to the park for kids to buy. A boy, hoping to catch him, rushes across the neighborhood to buy a paleta. On his journey, he thinks of all the possible flavors he can indulge in and if José has his favorite; there's not a second to waste! However, once he reaches the paletero man, he discovers he has dropped all of his money on the way and is disappointed he can't buy one now. But thanks to his friends' kindness, everyone gets to enjoy a delectable treat!
Warning: this book is going to make your mouth water! This picture book acts as a companion for Lucky Diaz's song of the same name from his band known as "The Lucky Band," which is a celebration of the hard working vendors who bring all different kinds of people together for ice cream. The story emits pure joy and delight, and I absolutely love it! I think this is such a fun story about a boy simply chasing down the paletero man, and along the way we see him interact with all the people from his city that are equally important to his life such as Ms. Lee, Tío Ernesto, and Frank, all with their own businesses. I just love how in so few pages, we readers get to see a piece of the community and how everyone can come together. As the boy listed off the flavors, I couldn't help but yearn to hear the ringing of the paltero man's bell to grab a juicy sandia paleta of my own. Paletero Man perfectly captures the taste of summer and spirited youth.
In terms of design, Michah Player knocks the cuteness off the charts! The design under the dust jacket is so adorable with an array of different sweet treats. Player captures the excitement and warmth on every page, and they tie beautifully with Diaz's words. I can recall circling back in the bookstore for this book because the cover just beamed with all the colors of the ice cream. It made me so excited to see a picture book that celebrates such a jovial part of my childhood, and I'm sure others can relate. In a sea of beautiful picture books, this one stood out to me because of its specificity, and after reading it, I love the fact that this is an ode to the Latinx immigrant who works to bring the flavors of Mexico to the streets of LA.
Lastly, with more and more attacks occurring, here is a simple reminder: Love, respect, and thank your local street vendors!
PRR Writer, Jackie Balbastro