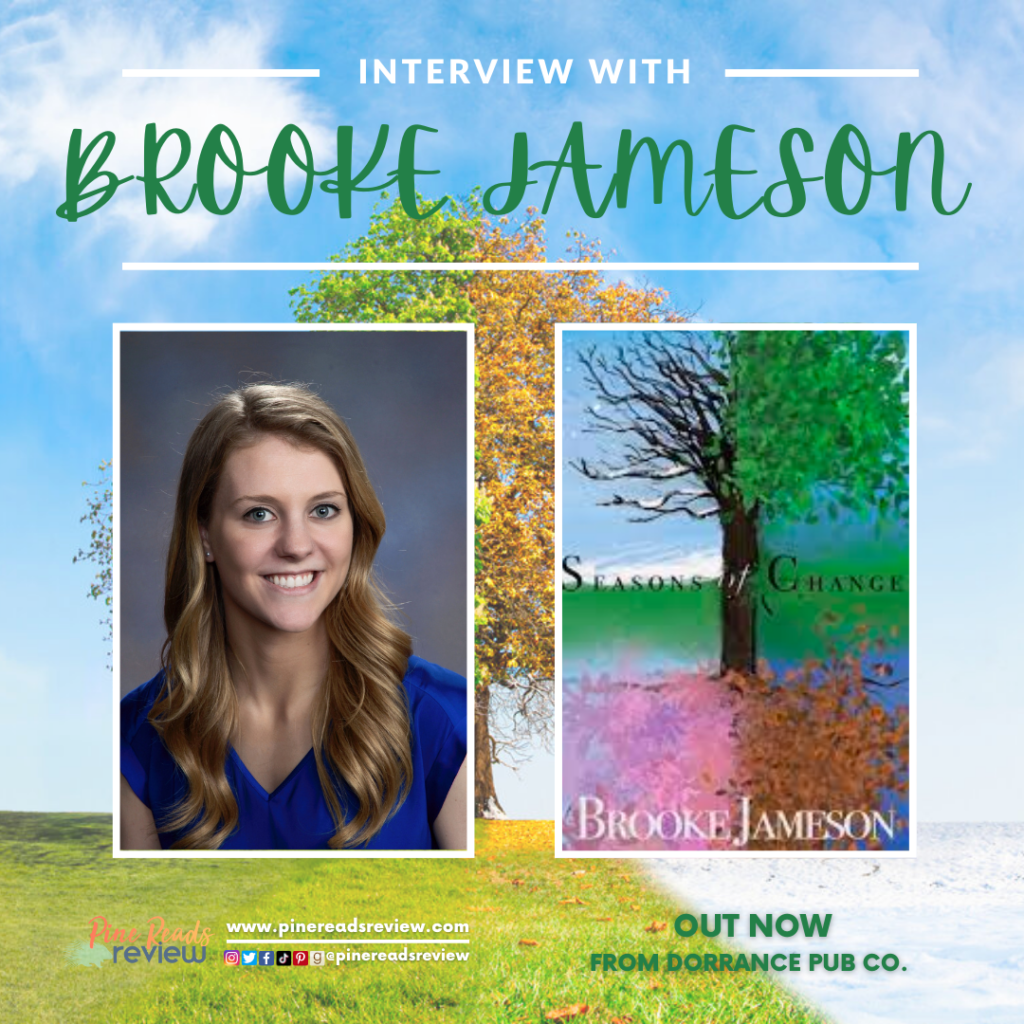 About the Author: "Brooke Jameson is a former collegiate swimmer. She dreamed up the idea for this story during countless laps in the pool. She has always had a passion for writing, poetry, and the arts. A Boston native, she received a bachelor's degree in marketing from Bentley University. In her spare time, she can be found cheering on Boston sports teams, playing golf, and spending time with family and friends" (Bio from publisher's website).

Find Brooke Jameson on the following platforms:
---
A huge thank you to Brooke Jameson for talking with Pine Reads Review. We enjoyed getting insight into her work as well as her publishing experience. Seasons of Change is out now from Dorrance Publishing. Make sure to check out our review of the book here!
---
Tereza Rascon: What inspired you to write Seasons of Change?
Brooke Jameson: I actually wrote Seasons of Change in college for a class assignment while attending Bentley University. The class was called "Enhancing Creativity," and we were instructed to write anything we wanted for the final exam. I was a varsity swimmer in college, and I remember thinking up the idea while doing laps in the pool. I remember trying to decide between fruits or seasons as main characters. I felt like fruits would be a bit more cartoonish, so I went with seasons because I liked the idea of a main character being something that did not have a specific face or appearance—rather, it was a form of nature that could be envisioned in many different ways.
TR: This picture book revolves around the tale of an arranged marriage between Winter and Summer and how the two learn to make compromises with each other in spite of their highly differing personalities. Illustration-wise, what went into the decision of illustrating the events of the story through physical changes of the seasons through nature rather than through creating anthropomorphic versions of Winter and Summer?
BJ: Funny, my answer to this question stemmed from the answer above! Since this started out as a short story for a college-level class, I initially wrote it with an adult audience in mind. The concept itself is very simple and therefore applicable to children, but initially, I chose to depict seasons through nature because it felt unique and sophisticated. When I decided to submit Seasons of Change for publishing after college, I realized I would need to edit some of the language to make it more age-appropriate for young children because the concept and short story format did not fit an adult audience. However, I knew I didn't want to change the depiction of the characters themselves as nature because that is what I envisioned for the story at its core.
TR: The art style of Seasons of Change is very calming and beautiful, highlighting both sides of Winter and Summer. What inspired this art style? Were there any other designs or versions of this book that you were playing around with?
BJ: Thank you! I worked with Dorrance Publishing to publish my story, and they assigned an illustrator to my project. I was able to provide photos and written direction for the angle I would like them to take when crafting the illustrations. I was nervous to surrender control with this piece of my book, but I provided thorough descriptions of what I wanted each page's illustrations to look like, and I was thrilled to see that the illustrations were exactly what I had hoped for.
TR: Do you have a favorite panel in the book?
BJ: My favorite panel in the book is the illustration on page 11, where Winter is working to warm her heart and spirits to compromise with Summer. Winter is my favorite season, and I love when there is sunshine beaming down on the freshly fallen snow. And, of course, I love the illustration on page 17, where Winter and Summer are in the background and Autumn and Spring take center stage. The illustration of these two seasons complementing one another is just beautiful. I love the way the tree trunks are depicted whimsically, and the fallen flowers and leaves seem to dance together on the grass.
TR: Moving away from the book, I'm interested in learning more about you and the publishing process. What is it like being a debut children's author? What was the publishing process like for you?
BJ: Working with Dorrance Publishing was a great experience! They have different team members assigned to authors for each step of the publishing process—from editing and illustrations to print and promotions. I am so glad I submitted my manuscript to them and that they loved the story as much as I do.
TR: What do you hope children will take away from this picture book?
BJ: I hope children will learn lessons of compromise from this story and also be able to appreciate the sanctity of nature and the uniqueness of each distinct season. Growing up and living in New England, I feel blessed to be able to experience summer, autumn, winter, and spring each year and enjoy the beauty each season has to offer.
TR: Do you have any more children's books coming out that we should keep an eye out for?
BJ: I don't currently have plans to publish another book, but never say never! Right now, I am working full-time in product marketing, and I plan to continue working in business long term. Writing is a passion and hobby of mine, so being able to hold my own book in my hands is an amazing accomplishment I am incredibly proud of!
---
PRR Writer, Web Designer, and Social Media Manager, Tereza Rascon