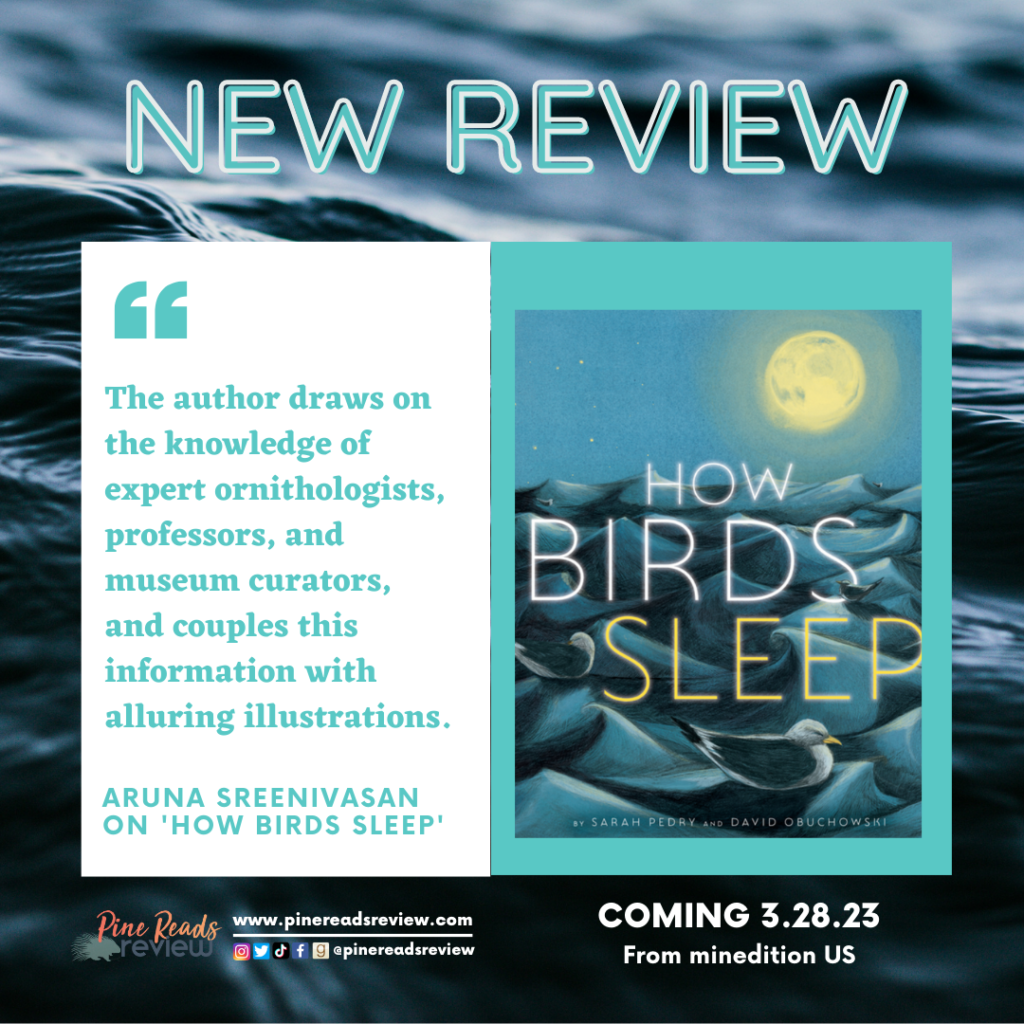 How Birds Sleep by David Obuchowski and illustrated by Sandra Pedry
Coming March 28, 2023 from minedition US (Astra Publishing House); 40 pages
About the Author: "After a decade of constant touring, David returned to writing, and his essays began appearing in publications such as The Daily Beast, Deadspin, and Gawker. David found success with his long-form essays, and quickly garnered a strong readership on Jalopnik, where David continues to write compelling and often heartbreaking features about individuals and their complicated relationship with cars. In 2017, David became a regular contributor to The Awl, writing features on a variety of subjects. In 2018, David became the sole writer, host, and producer of Jalopnik's first and only podcast, Tempest. As Jalopnik took on new corporate ownership, he moved Tempest to Acast for its second season, which premiered in the summer of 2019. His essays have appeared in a growing number of publications, which include Salon, Longreads, and more. He's also continued to write fiction, and his recent short stories can be found in the pages of The Baltimore Review, Adelaide Literary Magazine, Border Crossing, Willows Wept Review, Kaaterskill Basin Literary Journal, Garfield Lake Review, The Miracle Monocle, and many more. David recently completed two novels, and collaborates with his wife, Sarah Pedry (an artist and teaching artist) on books for children" (Bio from author's website).
Find David Obuchowski on the following platforms:
About the Illustrator: "Sarah Pedry is an artist and illustrator in love with the natural world…especially birds. Her first picture book will be published in March 2023 with mineditionUS. She is also a Teaching Artist at the School of Botanic Art and Illustration, at the Denver Botanic Gardens. Sarah earned a BFA from the Kansas City Art Institute, and an MFA from the Maine College of Art. She is currently living amongst the pine trees and nuthatches of Denver, CO" (Bio from illustrator's website).
Find Sarah Pedry on the following platforms:
---
"As the sun goes down, birds all over the world are preparing for a good night's rest. So how do birds sleep anyway?"
With breathtakingly gorgeous illustrations and elegant prose, How Birds Sleep teaches its readers about the sleep habits of birds across the world, from gulls getting cozy amongst the choppy waves of the North Atlantic to parrots hanging upside down in the lush forests of Thailand. The end of the book includes a detailed yet easily understandable afterward on the science of sleep and climate change's impact on avian life, which adds a little pragmatism to the dreaminess of the narrative and illustrations. This picture book sheds some light on an often underappreciated aspect of nature's beauty and might even encourage you to pay more attention to your local bird scene!
Whether you are a seasoned ornithologist or a newly curious bird watcher, you will find something to enjoy in How Birds Sleep. The writing draws you right in with immersive and engaging descriptions of birds and their behavior, and the illustrations are stunning renditions of our sleepy feathered friends. I particularly like how the cool color palette adds to the dreamy ambiance of the book—hues of blue and purple fill the page, with hints of warm oranges and reds scattered about, like a cheerful fireplace during a winter evening. This is the perfect nighttime read for a snug night in, especially when it's cold outside but you're all comfy in bed. Another impressive aspect of the book is the sheer depth of research that clearly went into it. The author draws on the knowledge of expert ornithologists, professors, and museum curators, and couples this information with alluring illustrations that leave readers with a comprehensive understanding of avian sleep. Even though I'm not a bird enthusiast by any means, this book still fascinated me. For example, I had no idea that some birds can sleep tight in termite nests!
How Birds Sleep is perfect for anyone with an interest in birds, sleep, or just looking for a fun picture book, as it is beautifully illustrated, gracefully written, well-researched, and, of course, full of fascinating insights into the sleep lives of birds.
PRR Community Outreach Lead, Writer, and Editor, Aruna Sreenivasan
---