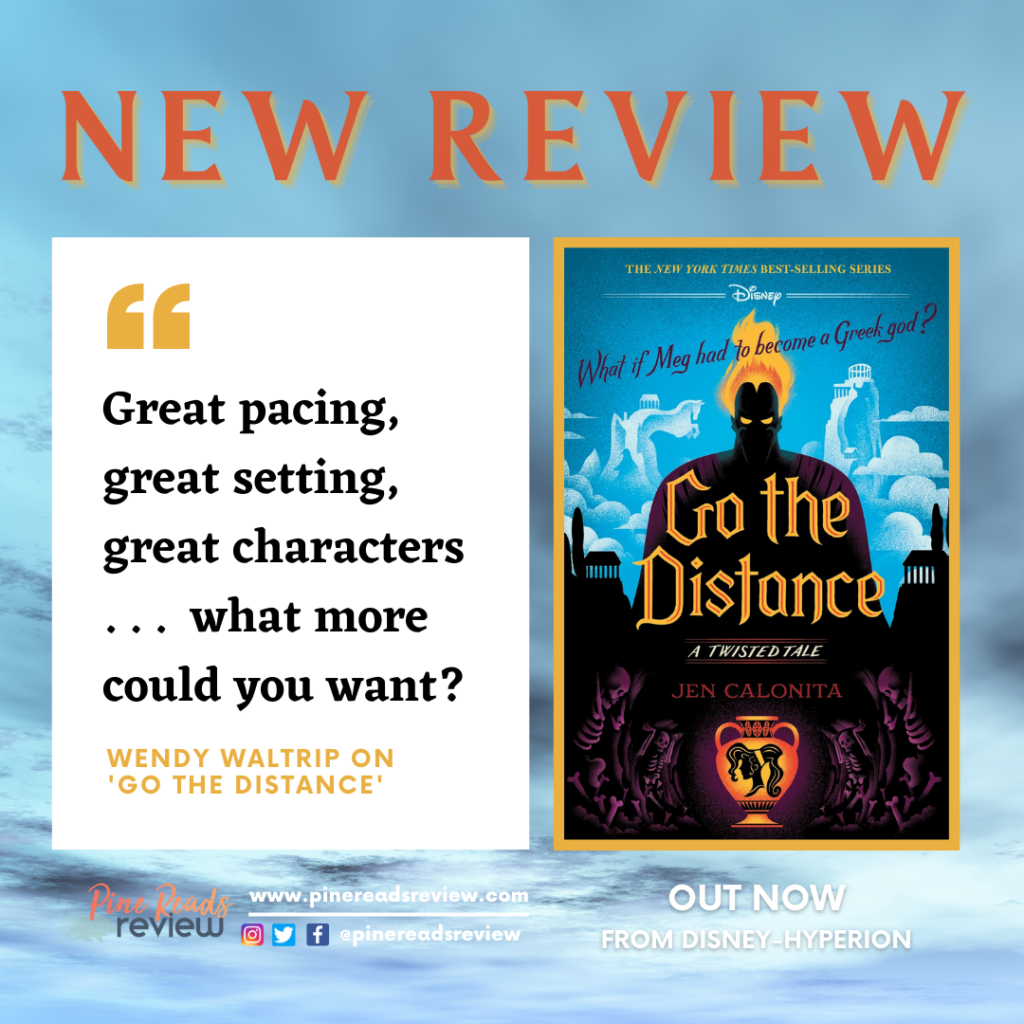 Go the Distance by Jen Calonita
Disney-Hyperion; 2021; 336 pages
Content Warnings: Divorce, some intense action scenes, blood, death, terminal illness
About the Author: "Jen Calonita is the author of the award-winning Secrets of My Hollywood Life and Fairy Tale Reform School series. She lives in New York with her husband, two boys, and two Chihuahuas named Captain Jack Sparrow and Ben Kenobi. A huge Disney fan, Jen dreams of moving the whole family into Cinderella Castle at Walt Disney World." (Bio taken from the back of Conceal, Don't Feel.)
Find Jen Calonita on the following platforms:
---
"This quest was about more than just having an opportunity to be with Hercules. It was about proving to herself that she was strong enough to face a challenge as daunting as this one through to the end. And to see what she could become on the other side of it."
After Hercules rescues Meg from the Underworld, she's hoping for a happy ending and thinks she's about to get it when Hercules turns down immortality to be with her. But then Zeus says no, and the tale that Disney told in the 1997 movie gets a twist. Luckily, Hera presents Meg with a solution that could change everything: go on a 'simple' quest to retrieve her ex-boyfriend's wife from the Underworld in just ten days and become a god so she can be with Hercules forever. The problem? That's the guy Meg sold her soul to Hades for, who then moved on almost immediately. There's more to the story than Meg realizes, though, and if she wants a chance to forge a future with Hercules, she'll first have to face her past—and the Underworld.
I love retellings, and Jen Calonita's third addition to the A Twisted Tale series definitely delivers. Meg is as feisty, fierce, and fun as she is in the movie. Of course, reading a book about her is different than watching a movie about her, but I enjoyed the chance to hear her thoughts and experience the story at her side. And speaking of the story, it's such a riveting plot that I read it in a single day! Great pacing, great setting, great characters…what more could you want? Even the themes are excellent, as readers are able to identify with Meg's journey of learning to trust others, her fight for family, and her indecision about the future (or maybe that last one is just me…college senior here!). With so many amazing elements, Go the Distance is perfect for fans of the A Twisted Tale series, Disney's Hercules, and retellings in general. Unlike Meg's popular song from the movie (and one of my personal favorite Disney numbers of all time), I will say I'm in love with this book!
(Pine Reads Review would like to thank NetGalley and the publisher for sending us an ARC in exchange for an honest review. Any quotes are taken from an advanced copy and may be subject to change upon publication.)
PRR Assistant Director, Wendy Waltrip