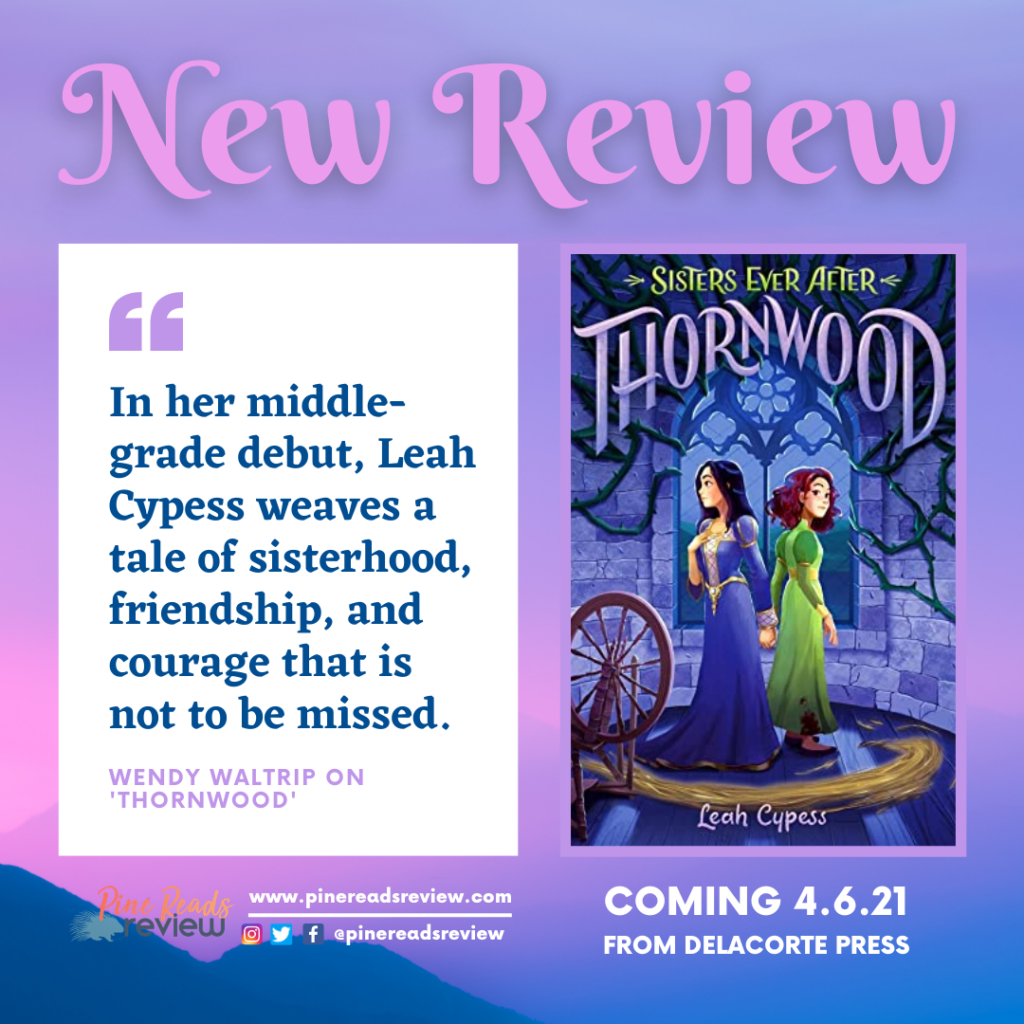 Thornwood by Leah Cypess
Delacorte Press; Releases April 6, 2021; 272 pages
Content Warnings: Blood, self-harm, amnesia, mentions of death, some minor violence, some intense action scenes
About the Author: "Leah Cypess is the author of four YA novels: Mistwood, Nightspell, Death Sworn, and Death Marked. Both Mistwood and Death Sworn were on the Kirkus Reviews Best Books for Teens list, and Death Sworn was a Teen Vogue Most Exciting YA Book of the Year. She lives in Silver Springs, Maryland. Thornwood is her middle-grade debut." (Bio taken from the back of Thornwood.)
Find Leah Cypess on the following platforms:
---
"The fairy tales don't mention me. They wouldn't. The stories you've heard are all about my sister, Sleeping Beauty…. So I'm going to tell you what really happened."
Eleven-year-old Briony has never been the princess people noticed. That would be her older sister Rosalin, the princess who's been cursed to prick her finger on a spinning wheel on her sixteenth birthday, sending the whole castle to sleep for one hundred years. No one can stop the evil magic, but when Rosalin is kissed by a prince and the castle wakes up, Briony believes the curse has been broken…until she looks outside. It turns out that the curse didn't fully break, and now the murderous Thornwood is threatening to overtake the castle. With time running out, it's up to Briony to figure out what's really going on to save her friends and family if they ever want to see the sun again.
In her middle-grade debut, Leah Cypess weaves a tale of sisterhood, friendship, and courage that is not to be missed. I always love fairy-tale retellings, and this was no exception. With brilliant characters and a setting that practically comes alive on the page, I found that I couldn't put it down for even a moment. Briony is a fantastic heroine: persistent, brave, and clever; yet also jealous, scared, and sometimes a little too trusting. Her voice is wonderful, and I enjoyed spending the story in her head. Although the bond between the sisters is admirable, my favorite element of Thornwood is the friendship that forms between Briony and Edwin. Fans of magical middle-grade adventures and twisted fairy-tales will delight in this sensational story.
Thornwood releases April 6, 2021.
(Pine Reads Review would like to thank NetGalley and the publisher for sending us an ARC in exchange for an honest review. Any quotes are taken from an advanced copy and may be subject to change upon final publication.)
PRR Assistant Director, Wendy Waltrip