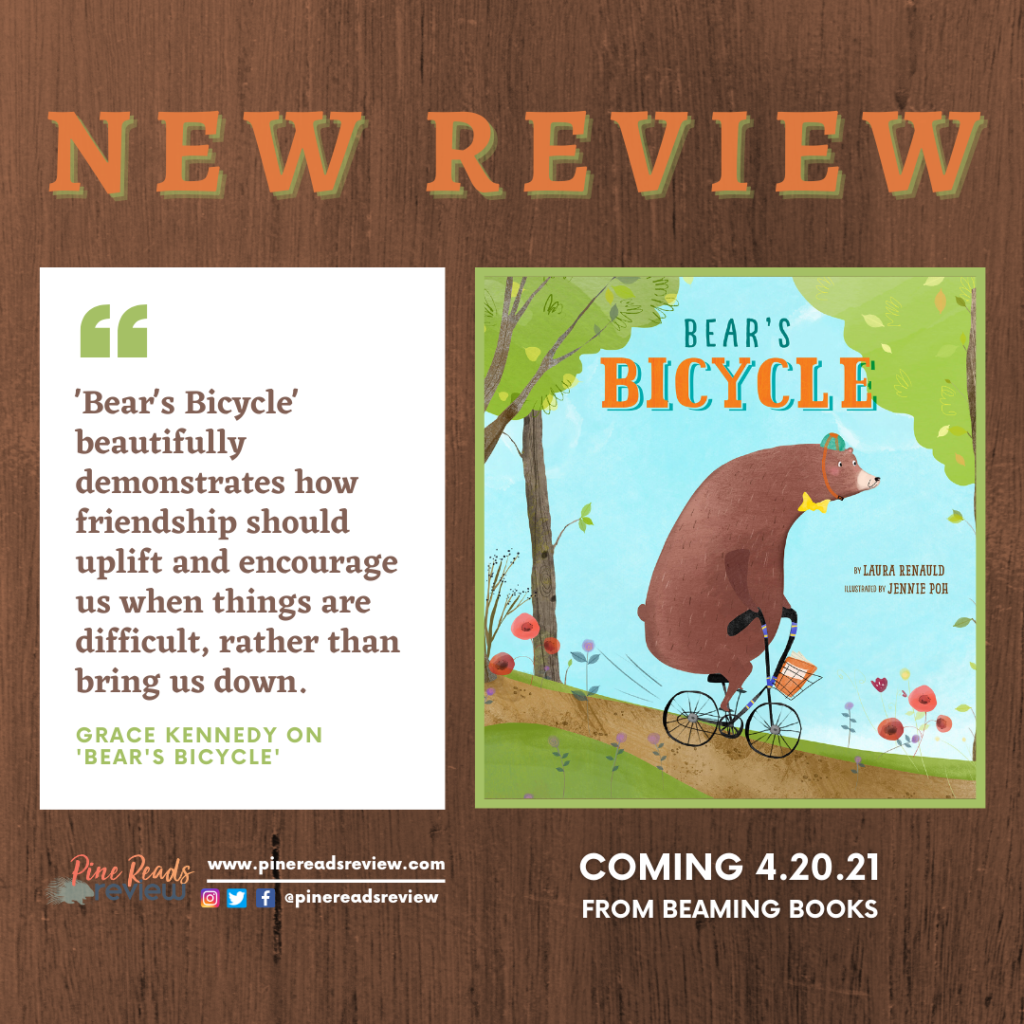 Bear's Bicycle written by Laura Renauld and illustrated by Jennie Poh
Beaming Books; Releases April 20, 2021; 32 pages
About the Author: "Prior to becoming a children's writer, Laura shared her love of books with her third grade students. After experiencing first-hand the power of story to captivate, amuse, and encourage, Laura knew that she wanted to create books for kids. Laura is a member of the Society of Children's Book Writers and Illustrators. When she is not writing picture books about porcupines, pirates, and pickles, Laura can be found on a trail, at the library, or in the kitchen. She lives in Northern Virginia with her husband and their two sons." (Bio provided by Beaming Books publicist)
Find Laura Renauld on the following platforms:
---
About the Illustrator: "Jennie Poh was born in England and grew up in Malaysia, in the jungle. At the age of ten, she moved back to England and went on to study Fine Art at the Surrey Institute of Art & Design, as well as Fashion Illustration at Central St Martins. Jennie loves the countryside, animals, tea and reading. She lives in Woking, England with her husband, two wonderful daughters, and two marmalade kittens." (Bio provided by Beaming Books publicist)
Find Jennie Poh on the following platforms:
---
"Bear looked at his friends and thought, Porcupine likes to practice, Doe rides better when a friend is with her, and Squirrel never gives up."
Bear is beginning to learn that sometimes doing things by the book doesn't always work out. In preparation for the Summer Scoot, he wants to learn how to ride his bike, but it's more difficult than he anticipated. So, Bear goes to the library in search of a new book to help him with his bike-riding skills, but he finds that it may not be the resource he really needs. Feeling discouraged, he comes to realize that everyone learns a little differently with the help of his friends, Squirrel and Porcupine.
Bear's Bicycle is a warm, heartfelt story that teaches an important lesson about the value of second, third, and even fourth tries. Riding a bicycle doesn't come easily or naturally to Bear, but as we come to see, practice is the key to learning something new. Even more importantly, Bear finds that he and his friends learn and practice in different ways, making it perfectly okay to learn to ride a bicycle at a different pace than others. Laura Renauld's uplifting story is accentuated by Jennie Poh's vibrant, rich illustrations of Bear and his forest friends. Real-life bicycling tips are also included in this work as a fun and helpful addition to a message that's applicable to learning any new skill. Bear's Bicycle beautifully demonstrates how friendship should uplift and encourage us when things are difficult, rather than bring us down.
Bear's Bicycle releases April 20, 2021.
(Pine Reads Review would like to thank the publisher for sending us an ARC in exchange for an honest review. Any quotes are taken from an advanced copy and may be subject to change upon final publication.)
PRR Writer, Grace Kennedy