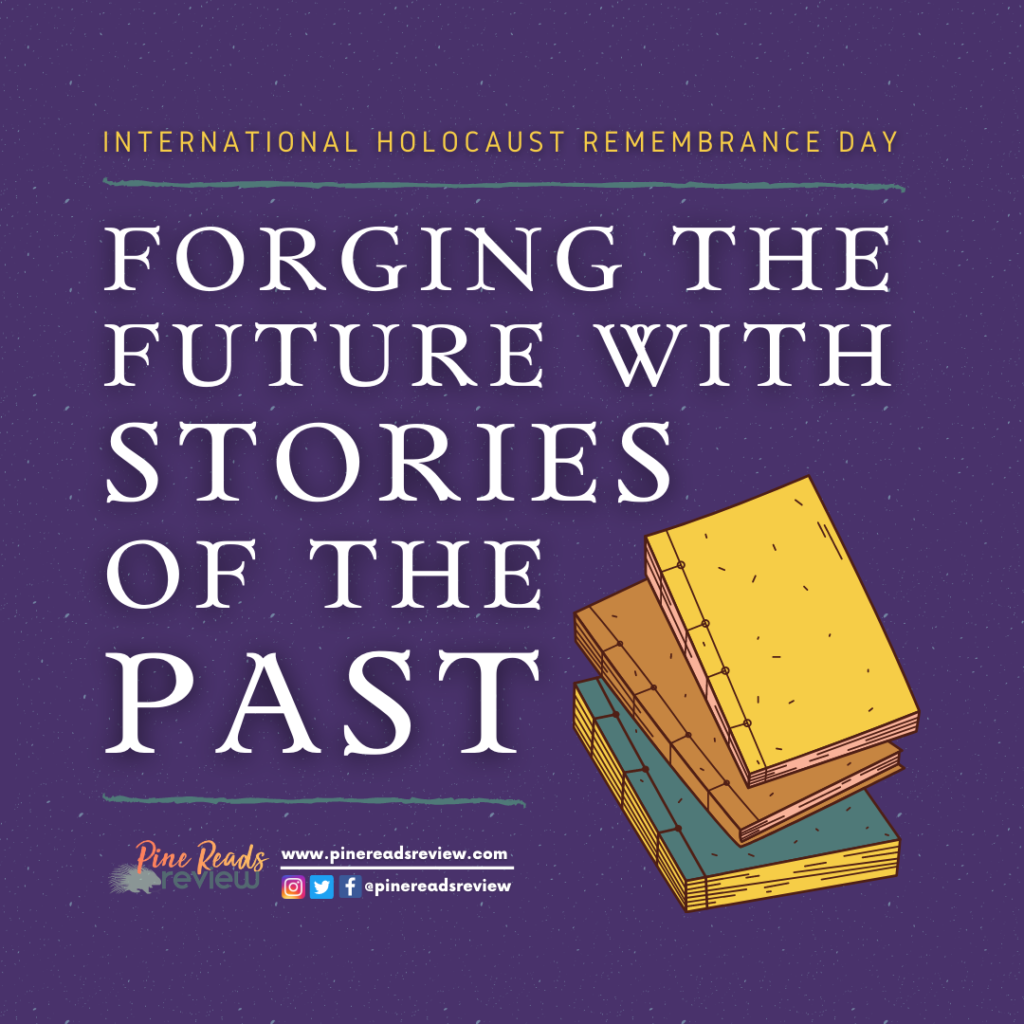 Without a crystal ball or time traveling machine, how can we envision the future? Well, while it may seem counterintuitive at first, the past is a pretty good place to start. On International Holocaust Remembrance Day, the anniversary of the liberation of Aushwitz-Burkenau, we can look to stories as a way to account for and experience history; a history where 6 million Jewish people and 5 million others (queer people, disabled people, and other persecuted groups) were systemically hunted, imprisoned, and executed; a history that we are still reckoning with today. Each narrative, whether historical fiction or entirely memoiristic, serves as but a single piece in a sprawling puzzle of the past. When placed side by side, they do not just "objectively" document a historical event—for history always has been and always will be a deeply personal and fallible entity— instead they create a living incarnation of memory. One that not only attempts to record history with accuracy and humanity, but actively expands into the present.
More often than not, history is compartmentalized and sanitized with clinical cruelty, treated as something "separate" and, for lack of a better phrase, "in the past," rather than a nebulous stream of human behavior and ideologies inseparable from today. Instead of viewing the present as a direct reflection (or aftershock), the social order encourages us to view the past as a parable: mythic and terrible, but neatly packed away within the pages of a book, stored on a shelf and out of sight. For history is indeed written by those who seek to distort the truth, mangle it, bury it alive, until the only version that exists solidifies their own power—mainly that of whiteness. And if the recent domestic terrorism at the U.S. capitol proves anything, it is that, as the reigning power structure of Eurocentric civilization, white supremacy is still as unchecked and volatile as ever.
Literature, however, attempts to bridge this gap between the atrocious truth of our past and the kind of state-sponsored genocide that exists cleanly within the pages of a dusty textbook filled with revisionist history. Western school curriculum often traumatizes children with sterile, exploitative statistics, rather than contextualizing and individualizing the Holocaust. What does persecution actually feel like? What are the generational effects of trauma? How does a culture and people not just survive but thrive in the decades afterwards? And how were millions of German citizens convinced that genocide was not only "acceptable" but "required"? These questions are never fully investigated within the walls of a classroom, nor in any mainstream portrayal of history. Instead answers to these questions are rationalized and whitewashed to serve the dominant powers at be. Imagine what the future would look like if not only Jewish children grew up with a more intimate experience of the Holocaust and its impact. This is where literature, specifically that made for children, can be our guide.
When we read someone's story—whether it be their own, their family's, or most likely a little of both—we engage with that living web of history in a way that is intensely personal and "relevant" in the truest sense of the word. Readers, especially non-Jewish readers, must continue to read, listen, and learn widely regardless of age. Only with more comprehensive and accurate engagement with history can we move closer to the "Truth" as well as a "better" future. We cannot just remember history; we must face its aftershocks, as countless marginalized communities have been doing for centuries, and actively make space for those voices who have long been silenced. What will the future look like? It may be time to look at the past as more than just an ominous lesson.
Pine Reads Review is dedicated to supporting Jewish voices across all genres and time periods—and not just around important historical dates—but we know that we can always be doing and learning more. Below are lists of both OwnVoices Jewish historical novels and Jewish works not focusing on the Holocaust, as well as other resources. While it is essential to recognize, and reckon with, the Holocaust and its contemporary importance, Jewishness and Jewish stories cannot and should not be relegated solely to this historical tragedy. For more on this topic, please read BrocheAroe Fabian's "Jewish Readers Deserve to See Themselves Outisde of the Holocaust and Holidays". Though we have checked the OwnVoices representation of these books, please let us know if we have mistakenly included any non-OwnVoices literature.
OwnVoices Historical Jewish Children's Books
Anna and the Swallow Man by Gavriel Savit
Mapping the Bones by Jane Yolen
Another Me by Eva Wiseman
Black Radishes by Susan Lynn Meyer
Escaping into the Night by D. Dina Friedman
The Librarian of Auschwitz by Antonio G. Iturbe (the author corresponded with and interviewed Edita Adlerova, whom the story is about, for many years in preparation for writing this book)
The Diary of a Young Girl by Anne Frank
The Magician of Auschwitz written by Kathy Kacer, illustrated by Gillian Newland
OwnVoices Contemporary Jewish Children's Books
Today Tonight Tomorrow by Rachel Lynn Solomon
What I Like About You by Marisa Kanter
Yes No Maybe So by Becky Albertalli and Aisha Saeed
The Neighborhood of True by Susan Kaplan Carlton
It's a Whole Spiel: Love, Latkes, and Other Jewish Stories edited by Katherin Locke and Laura Silverman
Invisible Ghosts by Robyn Schneider
Broken Strings by Eric Walters and Kathy Kacer
Not Your All-American Girl by Madelyn Rosenberg and Wendy Wan-Long Shang
A Place at the Table by Saadia Faruqi and Laura Shovan
The Way Back by Gavriel Savit
Color Me In by Natasha Díaz
Hope and Other Punchlines by Julie Buxbaum
Kissing in America by Margo Rabb
Recommended for You by Laura Silverman
Sick Kids in Love by Hannah Moskowitz
Grendel's Guide to Love and War by A.E. Kaplan
Every Day by David Levithan
Lucky Broken Girl by Ruth Behar
Anya and the Dragon by Sofiya Pasternack
Hereville: How Mirka Got Her Sword by Barry Deutsch
No Vacancy by Tziporah Cohen
Always an Olivia: A Remarkable Family History written by Carolivia Herron, illustrated by Jeremy Tugeau
Other Resources
We Need Diverse Books, "Resources for Holocaust Remembrance Day"
Auschwitz-Birkenau Museum Bookstore
United States Holocaust Memorial Museum, "Children's Books"
PRR Assistant Director, Hannah Miller
Update 1/31/21: A previous version stated that 11 million non-Jewish people were killed during the Holocaust. This has been corrected to 11 million people total (6 million Jewish people and 5 million non-Jewish people).