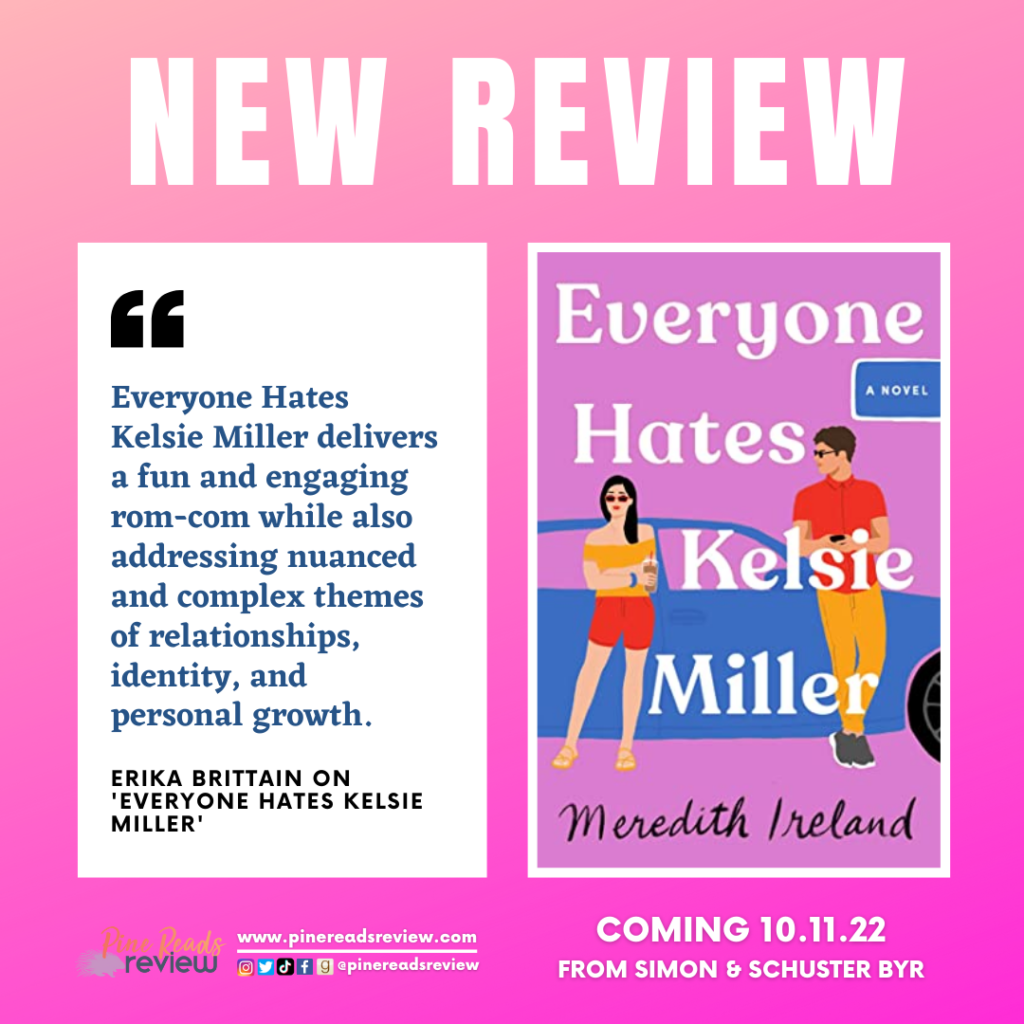 Everyone Hates Kelsie Miller by Meredith Ireland
Coming October 11, 2022 from Simon & Schuster Books for Young Readers; 288 pages
Content Warning: Underage drinking, sexual harassment, bullying, discussions of racism, academic pressure, character with divorced parents, discussion of reconnecting with biological family, death of child character (flashback), survivor's guilt
About the author: "Meredith Ireland is a Korean-American attorney and writer, born in Seoul. She is a Rollins College and University of Miami School of Law alumna. She writes young adult and children's books and is proudly represented by Lauren Spieller of Triadaus Literary Agency. Her debut novel, THE JASMINE PROJECT, was a Junior Library Guild Gold Standard selection, and is out now! The forthcoming follow up EVERYONE HATES KELSIE MILLER is scheduled for October 11, 2022 also from Simon & Schuster Books for Young Readers. Kelsie was named a best book of 2022 by Seventeen Magazine. Her short story will be featured in YOU ARE HERE, a middle grade anthology coming winter 2023. She will also have a short story in ADOPTEE TO ADOPTEE, a YA anthology coming 2023. EMMA & THE LOVE SPELL, her debut middle grade fantasy will be out in Winter of 2024 from Bloomsbury Kids. Meredith resides in New York with her two children and a county fair goldfish who will probably outlive them all." (Bio taken from author's website.)
Find Meredith Ireland on the following platforms:
---
"I wanted to freeze time and everyone in the same spot.
But that was impossibly selfish."
Kelsie Miller knows two things: first, her best friend Briana has moved across the country and has definitely been ignoring her, and second, nothing will ever make her like golden boy Eric Mulvaney Ortiz. But then Eric proposes a spontaneous road trip with the intention of reuniting with Jessica, the girlfriend who ghosted him. Now, Kelsie suddenly has the opportunity to face her former best friend in person. The biggest challenge? Surviving a car ride with her academic archnemesis. When a simple road trip turns into an overnight college-campus escapade, Kelsie starts to examine why exactly 'everyone hates Kelsie Miller.'
I absolutely loved Meredith Ireland's debut book, The Jasmine Project, so when I heard her second book was an academic rivals-to-lovers road trip rom-com, I knew I had to get my hands on Everyone Hates Kelsie Miller. A primary issue in Kelsie's story is her friendship with Briana. Readers learn about the depth of their friendship and how impactful platonic intimacy can be. "Friendship breakups" are a valid yet underrepresented heartbreak in YA books, and I think Kelsie's internal dialogue and flashbacks offer a lot of relatable musings on unintentionally causing hurt in friendships. With that, I also appreciate how much development Kelsie undergoes as the book progresses. Kelsie not only realizes how she hurt Briana in their friendship, but also how her own insecurities and pride impacted her relationships with other people. People like Eric—who, by the way, checks so many of the best rom-com character tropes. Eric is the academic-rival-turned-lover, the football star who's also on track to being valedictorian, and the one who falls first! Seeing the tension between Kelsie and Eric evolve throughout the book was so satisfying. For all you movie fans, the book also ends with a nod to an iconic rom-com (another trope I adore)!
Lastly, I want to highlight how Meredith Ireland incorporates adoption and surrogate families into the backgrounds of Kelsie and Eric. Kelsie is a Korean adoptee, and Eric was born via surrogacy. Both characters openly discuss their backgrounds, particularly through conversations about meeting biological parents, navigating family dynamics, and exploring personal identities. As a transnational and transracial adoptee, I felt so seen by Kelsie's conversations and feelings. I loved reading about an adopted character who sees adoption as a positive part of their story– not something to "fix" or some kind of personal roadblock. We love seeing casual representation!
Everyone Hates Kelsie Miller delivers a fun and engaging rom-com while also addressing nuanced and complex themes of relationships, identity, and personal growth. The book was a great and quick read, and one I'll definitely recommend!
Everyone Hates Kelsie Miller releases October 11, 2022.
(Pine Reads Review would like to thank NetGalley and the publisher for sending us an ARC in exchange for an honest review. Any quotes are taken from an advanced copy and may be subject to change upon final publication.)
PRR Assistant Director, Erika Brittain
---