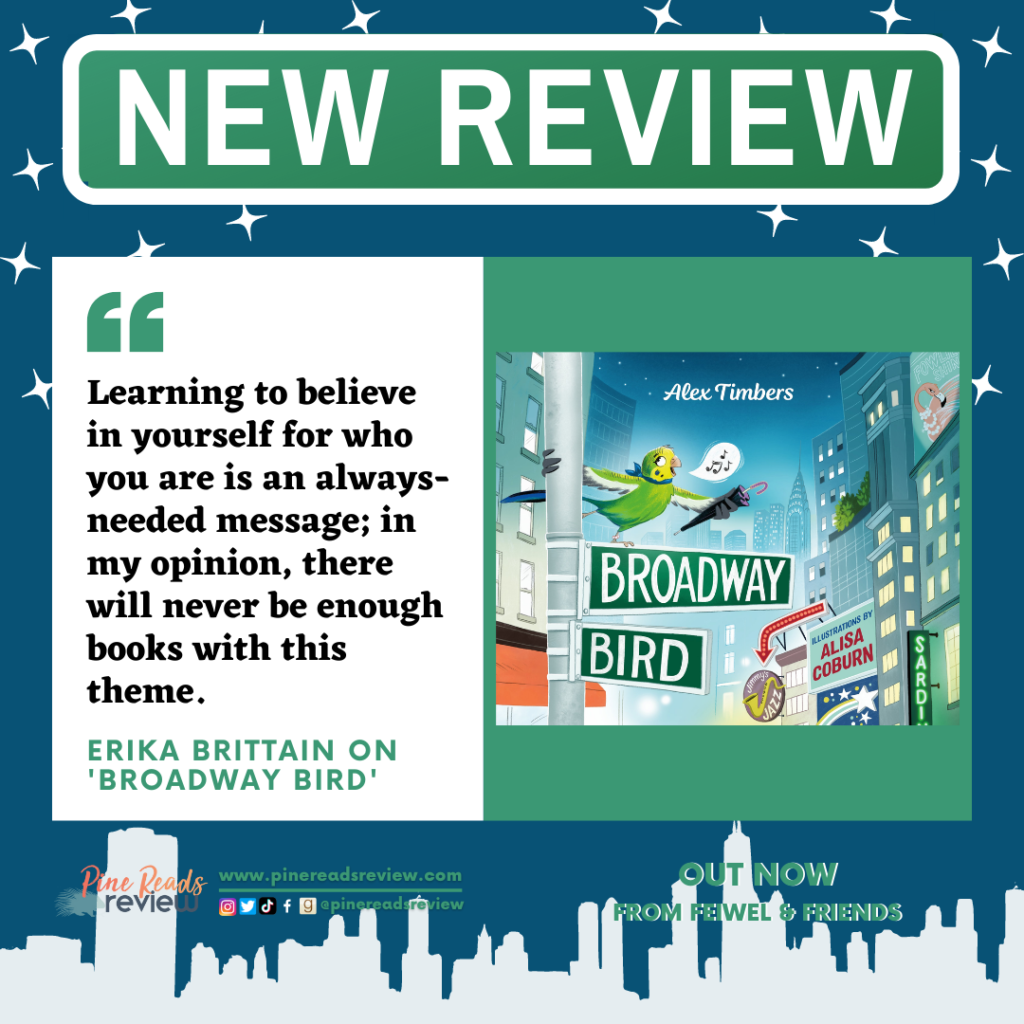 Broadway Bird written by Alex Timbers & illustrated by Alisa Coburn
Out Now from Feiwel & Friends; 40 pages
About the author: "Alex Timbers is a Tony Award-winning writer and director and the recipient of Golden Globe, Drama Desk, Drama League, Outer Critics Circle, OBIE, and Lucille Lortel Awards. His many Broadway credits include Moulin Rouge!, Beetlejuice, David Byrne's American Utopia, The Pee-wee Herman Show, Nick Kroll and John Mulaney's Oh Hello on Broadway, Bloody Bloody Andrew Jackson, and Disney's Peter and the Starcatcher. Alex lives in Times Square with his partner, Rebekah, and three mischievous parakeets." (Bio taken from the book.)
Find Alex Timbers on the following platforms:
About the illustrator: "Alisa Coburn is the illustrator of more than a dozen books for children including Hello, Door and the Billie's Adventure series. Before coming to children's books, she worked in advertising, broadcasting, and animation. She now lives in the picturesque English countryside finding fresh ways to weave narrative and design together." (Bio taken from the book.)
Find Geraldine Rodríguez on the following platforms:
---
"Just because you're little doesn't mean you can't be big."
Louisa Parakeet has had one dream since she hatched: being on Broadway! Though Louisa has gone to countless auditions, she's always told that she's too small to become a star. Louisa soon starts to believe she'll never make it big. But after watching a brand new musical, and getting a pep talk from a former dancer, Louisa's determination grows. She nails her next audition and finally becomes a Broadway bird! 
I saw Broadway Bird at The Drama Book Shop earlier this summer (it was my first time in New York). As a theatre-lover and picture book enthusiast, I knew I had to take this book home. Amongst the many things I adored about this story, I particularly enjoyed that Louisa's main struggle is not just rejection in the audition room (something that every actor faces), but a specific rejection for her physically not matching what is "expected" of a star. In her journey to Broadway, Louisa has to believe in herself as she is. This is important because there is no one way someone needs to look, or a certain way someone needs to be, in order to "make it big". Learning to believe in yourself for who you are is an always-needed message; in my opinion, there will never be enough books with this theme. I also loved the short Broadway actor bios at the end of the book. Coburn's illustrations of each person, as their charming animal personas, definitely added extra pizzazz. In fact, all of Coburn's clever illustrated references to New York made my cheeks hurt from smiling so much! Broadway Bird is a perfect story for those in the theatre industry, fans of Broadway, and anyone who wants an uplifting story. A round of applause for Alex Timbers' debut picture book and Alisa Coburn's lively illustrations!
PRR Assistant Director, Erika Brittain
---