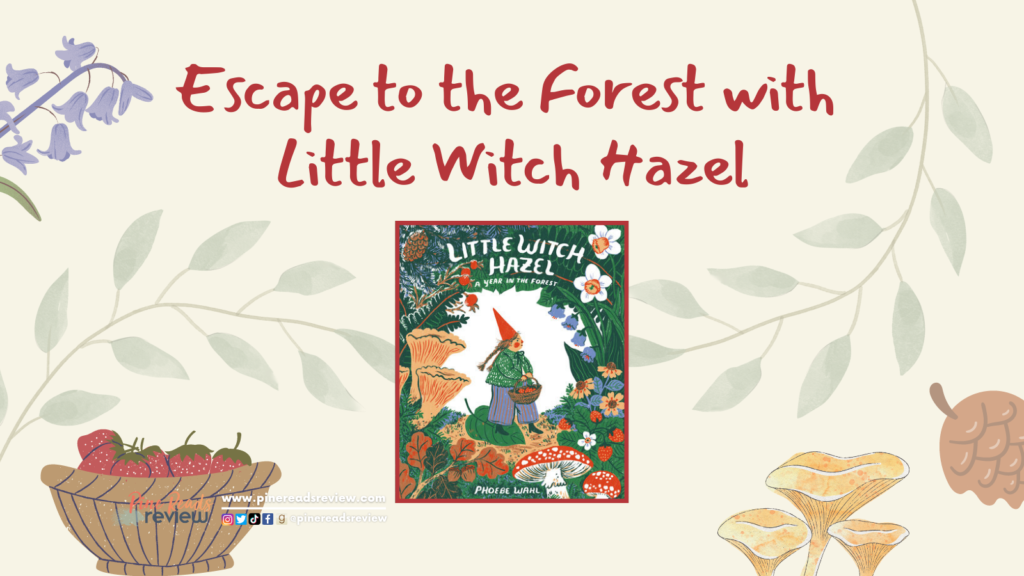 When I saw Little Witch Hazel by Phoebe Wahl on display at my local library, its beautiful cover instantly caught my eye. After checking out the book and taking it home with me, I found inside a collection of stories that I haven't stopped thinking about ever since. Set in a forest full of fairies, elves, and anthropomorphized animals, this book is reminiscent of beloved classics like Wind in the Willows and Frog and Toad. Animal lovers, fantasy fans, and anyone who feels at home in nature will find much to love in the enchanting world Wahl has created. 
I've noticed that when picture books are written and illustrated by one person alone, the story is sometimes more pared down to let the art shine (which isn't necessarily a bad thing). However, that wasn't the case with Little Witch Hazel at all. In fact, the plot is incredibly complex for a picture book, yet still accessible for young readers. At a lofty ninety-six pages, Little Witch Hazel is actually a series of four interconnected tales rather than a single story. I appreciated that certain characters pop up in multiple sections, and that loose ends are tied up by the final section, creating a sense that everything has come full circle. That being said, the art in this book is truly in a league of its own. From the woodland scene splayed across the cover, to the endpapers that act as a map of the village where the story takes place, and everything in between, every inch of Little Witch Hazel is a pure delight to behold.
One of my favorite aspects of this book is its seasonal structure. Little Witch Hazel is quite long for a picture book and not necessarily meant to be read all in one sitting. The book is divided into four stories, with each one being connected to a particular season. I love how Wahl created a unique story for each section, adding in special details that do a great job of rooting the reader to a particular time of year. There's a spring story about a mysterious egg and the owl who hatches from it, a leisurely summer story full of hot weather and watery fun, a spooky story for autumn about a quest to discover the source of a strange wailing that sounds an awful lot like a ghost, and a wintry tale in which Little Witch Hazel gets caught in a blizzard.
In a similar vein, I also enjoyed the heavy emphasis that Wahl places on nature, including gorgeous woodland scenes throughout the book. Thanks to the fact that the entire book is set in a small village in the middle of the forest, flora and fauna (and fungi of course) are all around. Every page was full to the brim with lush greenery, majestic trees, and mushrooms of all sorts. I especially loved Wahl's illustrations of the moon and stars, which look impossibly luminous set against the black background of the night sky. Wahl also uses the seasonal shifts of each subsequent tale as an opportunity to include a wide variety of natural delights. The spring story has plenty of blooming flowers and vibrant green plants. Summer, meanwhile, has cherry trees, berries growing on the vine, and a refreshing blue stream. The autumn tale is littered with acorns, brown and orange leaves, and even some spiderwebs for ambiance. Last but not least is the winter story, with its pinecones, holly berries, pomegranates, frost-tipped greenery, and plenty of snow. The illustrations aren't the only place where high quality depictions of nature can be found – beautiful lines such as, "The tall, dark trees whose branches usually danced and swayed in the wind now sagged and creaked under their new coats," are sprinkled throughout each story.
Another aspect of this book that I love is the superb characterization. Little Witch Hazel, with her rosy cheeks and signature pointy red hat, makes for an adorable yet strong protagonist. Not only is she kind to her friends and neighbors, but she also makes house calls as the village's healer and midwife. Another favorite character of mine was the timid tiny troll featured in the autumn portion of the story, whose blue and green hair stands straight up. There are several talking animals introduced over the course of the four stories, including a frog named Wendell, a newt, chipmunks, rabbits, a pair of mole sisters, and a family of mice. Even Otis the owl, who never utters a word (aside from "pleep" and "WHOOOOOOOWHOOO," that is), has a simultaneously stoic and warm presence.
The cozy details Wahl infused into the book took an already wonderful collection of stories to the next level. Full of whimsy and cottage-core vibes galore, every page of this book made me want to escape into the forest and go on an adventure. I would love to live in the little woodland village where the book takes place, especially in Little Witch Hazel's snug-looking cottage. Fun locations like the Mosswood Public Library and village post office (which is housed in a large toadstool) help give the woods a homey feel. From tea cakes to berries to cheese, the food in the book also looks good enough to eat – except maybe the fungus soup with pine needles and moss.
Little Witch Hazel is also highly inclusive and full of positive representation. Throughout the book, Wahl challenges gender stereotypes and promotes community, kindness, and lending a helping hand. There's a lot of little moments shown in the illustrations that highlight the book's themes of acceptance and celebrating diversity. Characters with a variety of skin tones, hair textures, and body sizes are represented. Little Witch Hazel is also drawn with unshaven legs during the summer portion of the story. Other things that Wahl included that I appreciated are a mother breastfeeding a baby, a stay-at-home dad in a floral apron caring for his children, two women sharing a kiss while dancing, and a character in a wheelchair playing in a band.
With its gorgeous illustrations and heartwarming, memorable stories, Little Witch Hazel is a book I would recommend to readers of all ages. Whether devoured in one sitting or pulled out over the course of the year to mark the passing of each season, this book feels bound to become a modern classic in the rich tradition of magical stories set in the woods. I hope you enjoy it as much as I did! 
---
Emily Pimental, PRR Writer