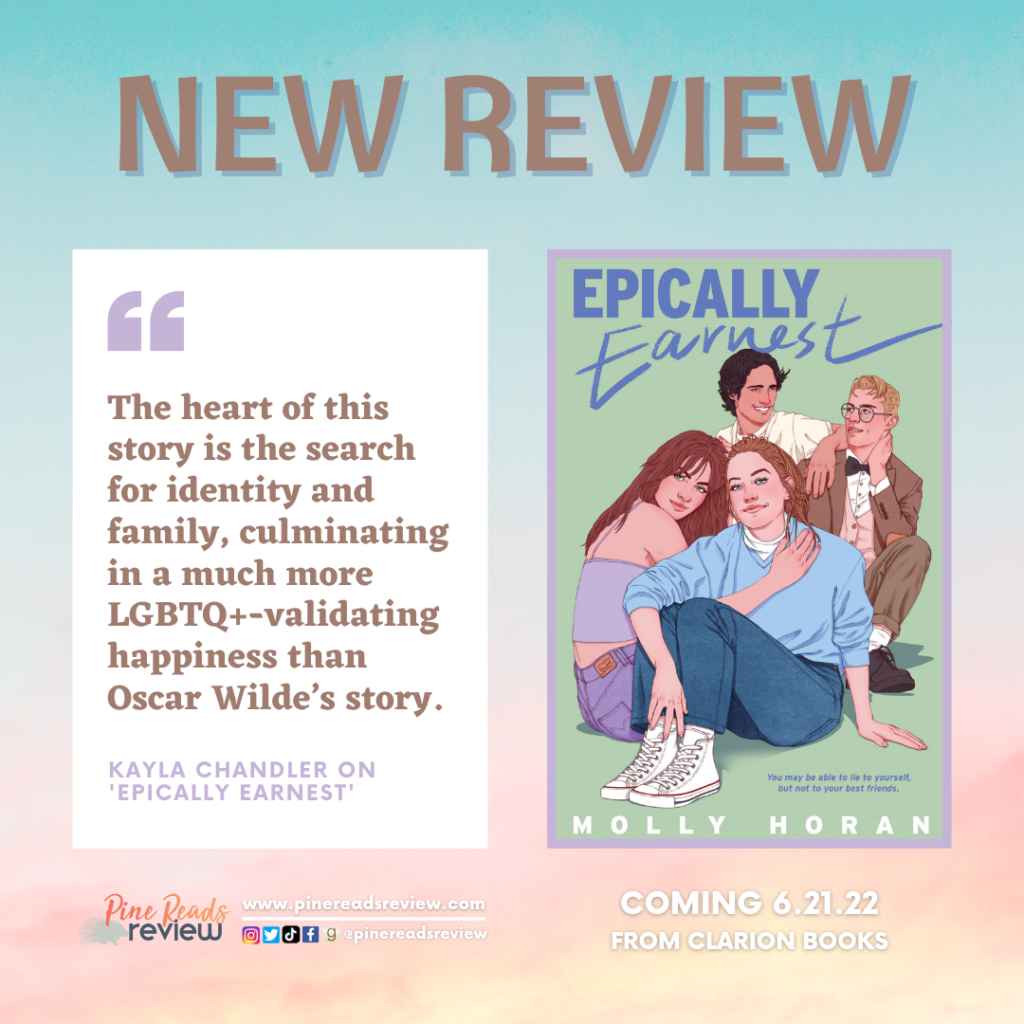 Out June 21st from Clarion Books; 208 pages
Content Warnings: Discussion of adoption and biological families, references to child abandonment, adoptee meeting their birth family
About the Author: "Molly Horan is an adjunct professor teaching YA literature at NYU and writing for the web at The School of Visual Arts. A member of the BMI musical theater workshop, her plays and songs have been performed at 54 Below, The Duplex, and The PIT. Her debut picture book, I Have Seven Dogs, will be published in 2023 by Penguin/Paulsen." (Bio taken from Author's Goodreads profile)
Find Molly Horan on the following platforms:
---
"When I closed my eyes, I saw that stupid cartoon acorn getting bigger and bigger, ready to explode and rain down all sorts of relations on me. Uncles and second cousins and third cousins once removed."
Molly Horan's novel Epically Earnest winds together two love stories with the main character's journey to reconnecting with her birth family. The protagonist is a New York high school senior named Jane who, while debating promposing to her long-time crush Gwen, is DNA tested by her best friend Algie and matched with biological relatives. To further complicate her identity struggles, Jane must also contend with her childhood internet fame, when her adoptive family found her abandoned in a designer bag left in a train station. While Jane struggles to balance her love life with the new opportunity to know her biological family, her best friend Algie grows closer to her cousin Cecil. The heart of this story is the search for identity and family, culminating in a much more LGBTQ+-validating happiness than Oscar Wilde's story.
In my senior year of high school I read The Importance of Being Earnest for the first time, and while I wasn't facing anything as emotionally turbulent as Jane's struggle for familial balance, the coded queerness and social absurdity of Wilde's comedy resonated with me in a way that few classics had previously. While Molly Horan's book is only loosely inspired by Oscar Wilde's play, for me it perfectly encapsulates the deep honesty and wild irrationality of The Importance of Being Earnest. The backdrop of senior year– with the standard realization of impending adulthood– is made to feel much more relatable and beautiful as Jane remains strong while learning who she is and what defines family, while facing the truly scary task of asking a girl to prom. The distinct lack of homophobia was a much needed break for me as a queer reader, and as we move towards the end of pride month I would wholeheartedly recommend this book to anyone looking for an authentic and thoughtful exploration of identity that centralizes two queer relationships. 
(Pine Reads Review would like to thank NetGalley and the publisher for sending us an ARC in exchange for an honest review. Any quotes are taken from an advanced copy and may be subject to change upon final publication.)
PRR Writer, Kayla Chandler
---