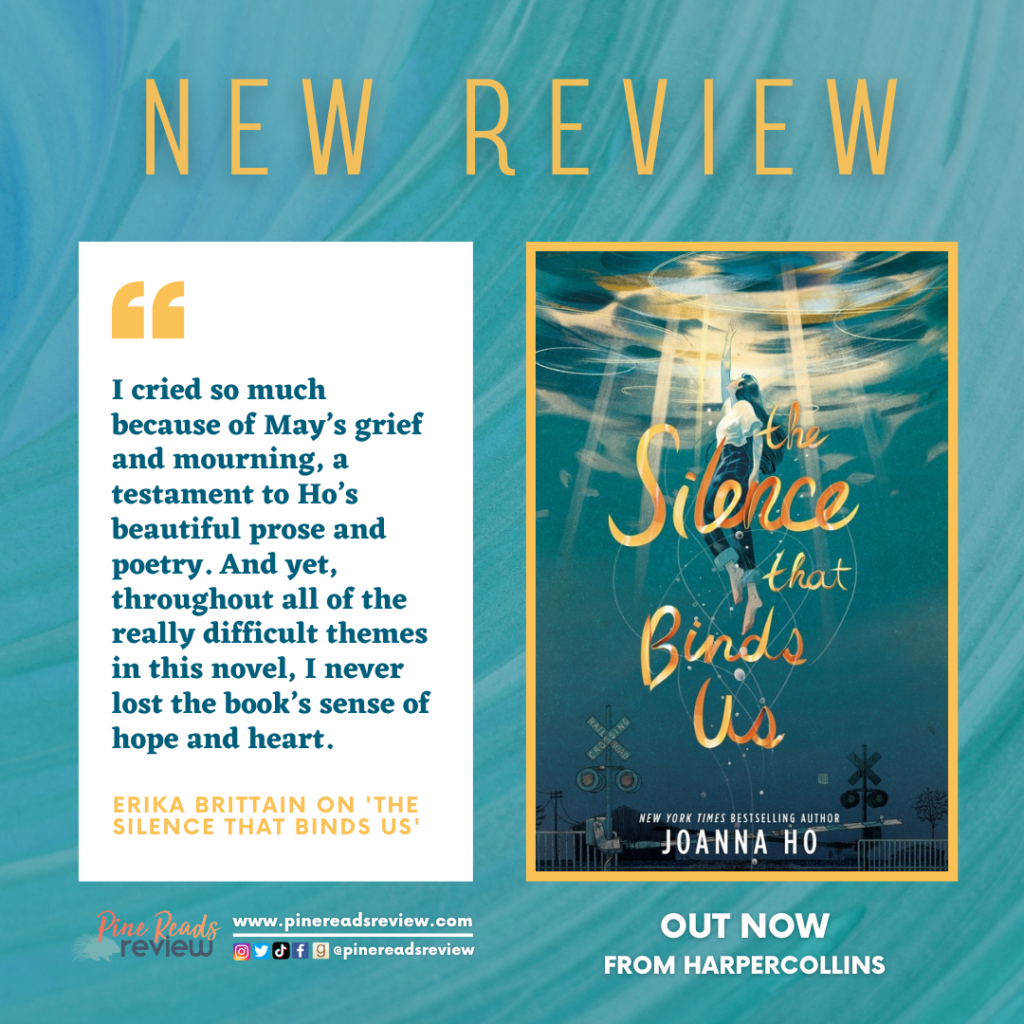 The Silence That Binds Us by Joanna Ho
Out Now from HarperCollins; 448 pages
Content Warning: Suicide, sibling death, sibling suicide, grief, racism, xenophobia, Asian hate, hate crimes, depression, survivor's guilt, underage drinking, strong language, intergenerational trauma, discussion of police brutality, discussion of shootings, discussion of anti-black racism, mentions of racial fetishization, parental pressure, academic pressure
About the author: "Joanna Ho is the New York Times bestselling and award-winning author of many books for kids. Her debut picture book, Eyes that Kiss in the Corners, won the Golden Kite Award. Playing at the Border: A Story of Yo-Yo Ma, was an Ezra Jack Keats Honor Book. Her other picture books include Eyes that Speak to the Stars, One Day (2023), The Wave Riders (2023), Say My Name (2023), Eyes that Weave the World's Wonders (2024), and When Light Divides (2024). Her debut YA novel, The Silence that Binds Us will be released in June 2022." (Bio taken from author's website.)
Find Joanna Ho on the following platforms:
---
"Hearts and minds are changed through stories."
Maybelline Chen loves her brother Danny. He's the perfect Chinese-Taiwanese-American son, he's always been there for her, and now he's going to Princeton. May's always understood Danny– until he commits suicide. Reeling in her grief, May questions if she ever really knew her brother. Meanwhile, the community has turned against May's parents, blaming them for Danny's suicide. When May's attempts to take back her family's narrative spurs a controversy about racism, things start to spin out of May's control. A schoolwide protest gets planned, her mom's job is threatened, and May learns the consequences and challenges of breaking the silence.
Joanna Ho's debut YA novel hit home in so many different ways. I appreciate how this book digs into how our culture– regardless of skin color or immigrant status– perpetuates the value of competitive success. I love seeing the intimate and casual representation of Chinese families, from the food and language to the cultural customs. I cried so much because of May's grief and mourning, a testament to Ho's beautiful prose and poetry. And yet, throughout all of the really difficult themes in this novel, I never lost the book's sense of hope and heart. May's arc does a great job of examining intersectionality and systemic racism on personal and community levels. May's closest friends Tiya and Marc are Haitian-American and strongly advocate for racial justice for Black Americans. Tiya and Marc are the best support system for May, and they're major contributors to May's growth as a character. They're the kind of friends who get real and have the hard conversations that force May to confront her own biases and ignorance. I loved seeing that dynamic in a YA book. There are also really fun pop-culture references, ranging from Broadway musicals to Star Wars, as well as a vibrant cast of characters that we get to meet. I recommend The Silence That Binds Us to all readers, especially my fellow Chinese/Taiwanese book lovers. This story isn't easy because it's so real, but I think this book can allow those who know these experiences to feel really, truly seen.
(Pine Reads Review would like to thank NetGalley and the publisher for sending us an ARC in exchange for an honest review. Any quotes are taken from an advanced copy and may be subject to change upon final publication.)
PRR Writer, Erika Brittain
---