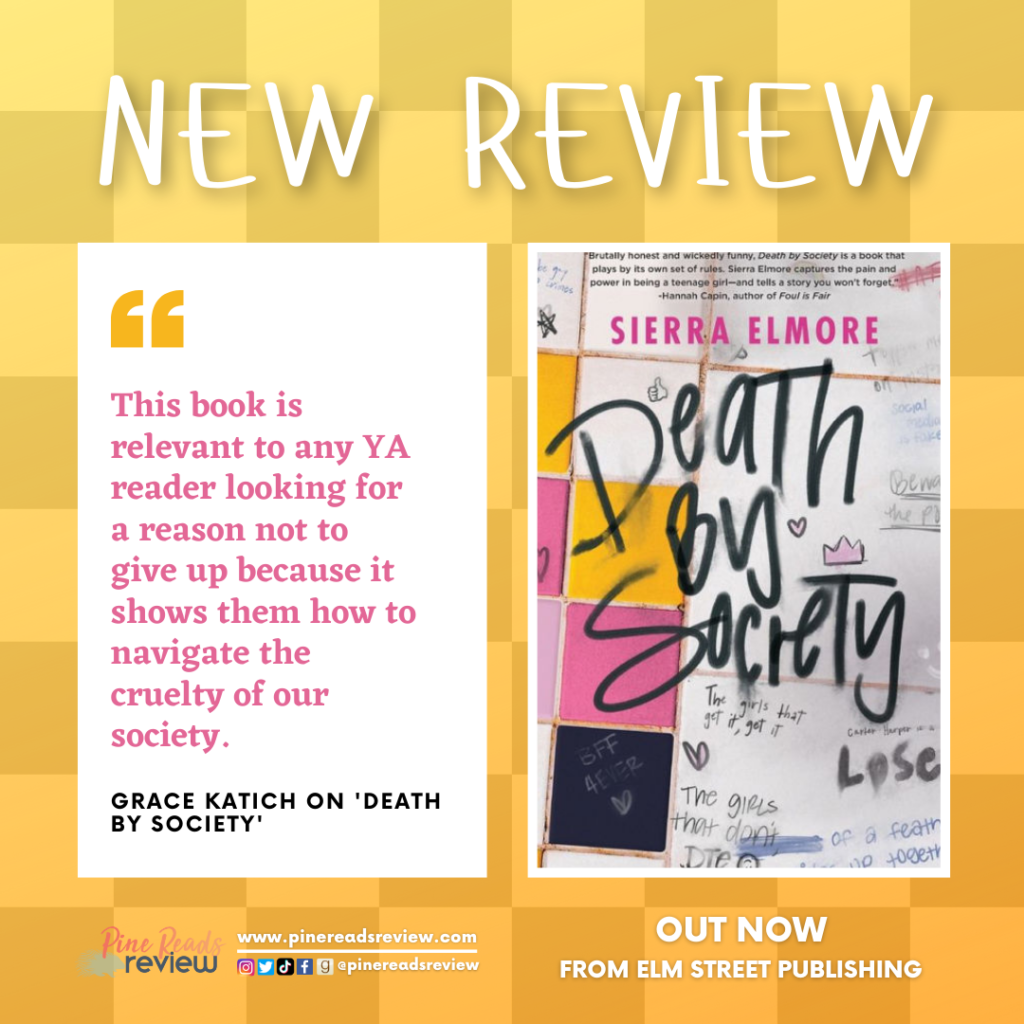 Death By Society by Sierra Elmore 
Out now from Elm Street Publishing; 376 Pages 
Content warning: suicide 
Bio: Sierra Elmore is a YA contemporary and thriller novel writer as well as a crisis text line volunteer. Her body of work consists of writing about "girls wreaking havoc while fighting trauma," according to Goodreads. She lives and writes in NYC (bio taken from Goodreads).
Find Sierra Elmore on the following platforms:
---
"Challenges have kept me alive thus far, and they will continue to. I'm ready to keep playing the game of life. It gets better by day."
This YA contemporary novel is a classic enemies-to-friends tale. Death by Society shifts back and forth between two protagonists who couldn't be more different from each other. Meet Abby Wallace — a classic and cruel mean girl who is disguised by beautiful looks and a popular friend group. Then there's Carter Harper, the poster girl for social outcasts. She spends most of her time in the books while hanging her head down low in shame and fear. So how do these two even know each other? They are academic enemies fighting for a spot at the top. Abby sets out to tear Carter down by bullying her to the point of death. Once Carter attempts suicide and Abby finds her with her hands covered in her blood the girls become bonded in one way or another. The two navigate the cruelness of high school girls, sexuality, and mental health — leading to a friendship no one saw coming.
This novel is a very relevant read to many pre-teen/teen girls of this generation. The way the characters are narrated is so realistic, and as a reader, over the course of the book, we get to see these girls both develop into young women with a voice that captures the struggles of being a girl. It was unique to have Abby's voice, the perpetrator, in it as well allowing the reader to witness the reasoning behind a bully's actions. Elmore uses her debut novel as a way to tackle all the harsh realities of bullying without holding back, diving into the realities of living with various traumas at a young age. Sierra Elmore infuses her knowledge of mental health studies into the story making this book a resource to any young reader- and she does all of this while still including humor at times. This book is relevant to any YA reader looking for a reason not to give up because it shows them how to navigate the cruelty of our society. I am excited to see what Elmore gives us next after such a strong debut! 
Grace Katich, PRR Writer, Social Media
---