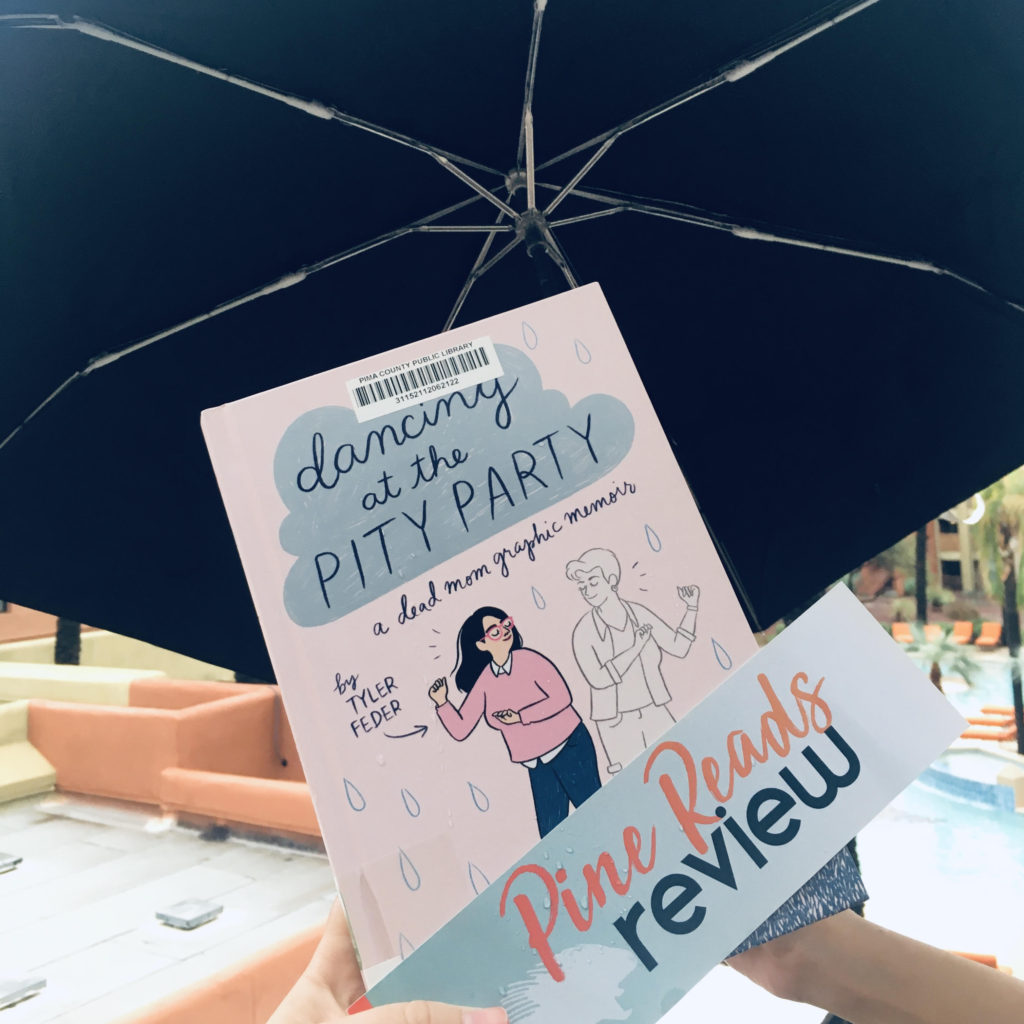 Dancing at the Pity Party, written and illustrated by Tyler Feder
Dial Books, 2020, 208 pages
Trigger Warnings: Death, loss of a parent
About the Creator: "Tyler Feder is an artist whose work explores big feelings, feminism, and pop culture. She illustrated Unladylike: A Field Guide to Smashing the Patriarchy and Claiming Your Space (Ten Speed) by Cristen Conger and Caroline Ervin and her first solo book, Dancing at the Pity Party(Dial), a graphic memoir about the premature death of her super cool mom, is now available for preorder.  Selected freelance clients include Netflix, Comedy Central, and ESPN.  Tyler also runs Roaring Softly, where she sells prints and merchandise featuring her illustrations. Tyler graduated from Northwestern University in 2011 with a B.A. in Radio/TV/Film and a certificate in Creative Writing for the Media.  She completed the Writing Program at the Second City Training Center in 2013. When she is not making art, Tyler enjoys milky coffee, jigsaw puzzles, and staring emo-ly into Lake Michigan.  She currently lives and works out of a teeny apartment in Chicago with her beloved cat son, Mitzvah Bear.  Tyler's favorite color is pink (obviously)." (Bio taken from the creator's website.)
Twitter: @roaringsoftly
Instagram: @tylerfeder
Facebook: @roaringsoftly
Website: https://www.tylerfeder.com/
"Long before my mom ever got sick, her death felt like the number one scariest thing that could ever happen. And then it happened. And it was the scariest thing that could ever happen. But I survived."
Author and illustrator Tyler Feder tells the story of the unthinkable: losing her mom at the age of nineteen. Writing on the subject a decade later, she takes the reader through both her mom's declining health after her cancer diagnosis as well as through a myriad of childhood memories with her. Feder shows her readers the hard and blunt truths about loss, love, and the utter unfairness of a loved one dying young—and how to navigate the aftermath. Part memoir, part comic, and part handbook-for-newly-motherless-children, Feder tells her story and her mom's story with honesty, and—more impressively—optimism. 
Dancing at the Pity Party is as funny and vibrant as it is sad. The concept of this book itself is striking—a book intertwining something devastating with joy. It's impossible not to shed a few tears as Feder brings you through some of her darkest moments, but her personal style and humor shine through in even the hardest parts. If you've ever lost someone, you know how badly you want someone to just get it, and this book is for those people. She writes about having to go through the awkwardness of telling people your mom died (and the even more awkward moment of trying to comfort them), the in-depth process of Jewish funeral arrangements, and more potently, about those deep, dark feelings that only those who have grieved for a loved one can imagine. It's a difficult task to write about pain, but Feder both writes and illustrates it in a genuine, heartwarming way. 
PRR Writer, Grace Kennedy
Pick up your own copy today!