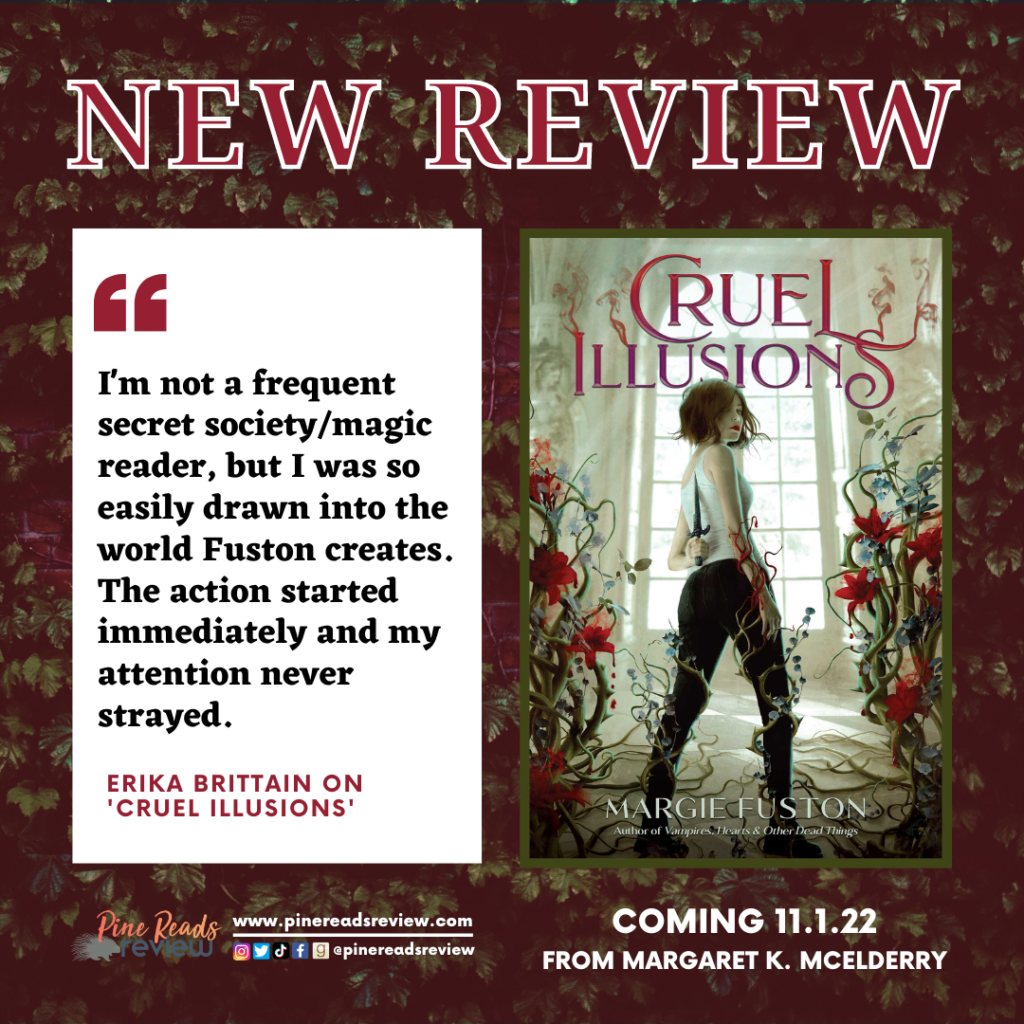 Cruel Illusions by Margie Fuston
Coming November 1, 2022 from Margaret K. McElderry Books; 448 pages
Content Warning: ​Graphic violence, blood, gore, use of knives, use of guns, murder, strong language, mild sexual content, character in the foster care system, loss of parents, mentions of loss of a younger sibling, mentions of domestic abuse
About the author: "Margie lives in California but dreams of being in New Orleans, eating thin-cut, fried catfish or a muffuletta for every meal. (Followed by beignets for dessert of course.) She's the author of VAMPIRES, HEARTS & OTHER DEAD THINGS (out now) and CRUEL ILLUSIONS (Nov. 1, 2022). She has an MA in Creative Writing. Her poetry has appeared in Writer's Digest, Gargoyle, and Late Peaches: An Anthology of Sacramento Poets, among others. She does a little bit of everything to make a living, but she mostly flips houses to support her very spoiled cats. When she's not working, writing, or wrangling cats, she's getting lost in the forest, wandering the beach, or curling up on the couch to watch The Vampire Diaries one more time." (Bio taken from author's website.)
Find Margie Fuston on the following platforms:
---
"I can think of only two reasons you join a secret magic society of vampire hunters: you love magic or you hate vampires. I do both."
Ava's parents were killed years ago. Both were magicians who died from attacks, but her mother's death was different. Vampires killed Ava's mother. Since then, Ava has trained and vowed she will become a true vampire hunter. Her desire for vengeance burns almost as strong as her love for magic and performing. After Ava meets a troupe of magicians one night, she discovers that her mother might have left more than one secret for Ava to discover. Ava is soon taken in by the vampire-hunting magicians and thrust into an elite secret society— full of dark and dangerous games that must now be played. Ava will need more than a sleight of hand card trick to keep herself alive.
When Margie Fuston shared about her second book in our interview last year, I made sure to get an ARC as soon as I could. I adored Fuston's debut, Vampires, Hearts, & Other Dead Things, and I was eager to read Cruel Illusions. I am quite happy to say that Cruel Illusions does not disappoint! I'm not a frequent secret society/magic reader, but I was so easily drawn into the world Fuston creates. The action started immediately and my attention never strayed. The history, rules, and different presentations of magic in this story are nothing short of captivating. The vampire lore in this story is likewise very original and creative within YA paranormal spaces. Magicians, vampires, and vampire hunters are all entwined in ways that add intrigue and complexity to the plot and the characters' motivations. As far as the plot goes, readers may be able to predict certain events, but I guarantee that the twists and revelations throughout the second half of the story will make you love the book. Another reason to love the book? The great cast of characters. Our heroine, Ava, is engaging, determined, and healing. A major part of Ava's arc is processing her emotions as a child in the foster care system and reconciling her trauma with her desire for vulnerability. As Ava learns how to open up her heart to other people, she also learns how to forgive and be supported by her newfound family. Fuston also does well in developing Ava's found family. Character backstories are woven throughout the novel, and readers easily establish emotional connections with the ensemble. Still, I'm greedy and I want to know more about these magicians and vampire hunters! I truly applaud Margie Fuston for both an incredible second novel and an excellent transition from contemporary, metaphorical vampires to a darker, nuanced world of magic and fantasy. Cruel Illusions is a wonderful addition to any magic-loving, vampire-slaying reader's shelf! 
(Pine Reads Review would like to thank NetGalley and the publisher for sending us an ARC in exchange for an honest review. Any quotes are taken from an advanced copy and may be subject to change upon final publication.)
PRR Assistant Director, Erika Brittain
---