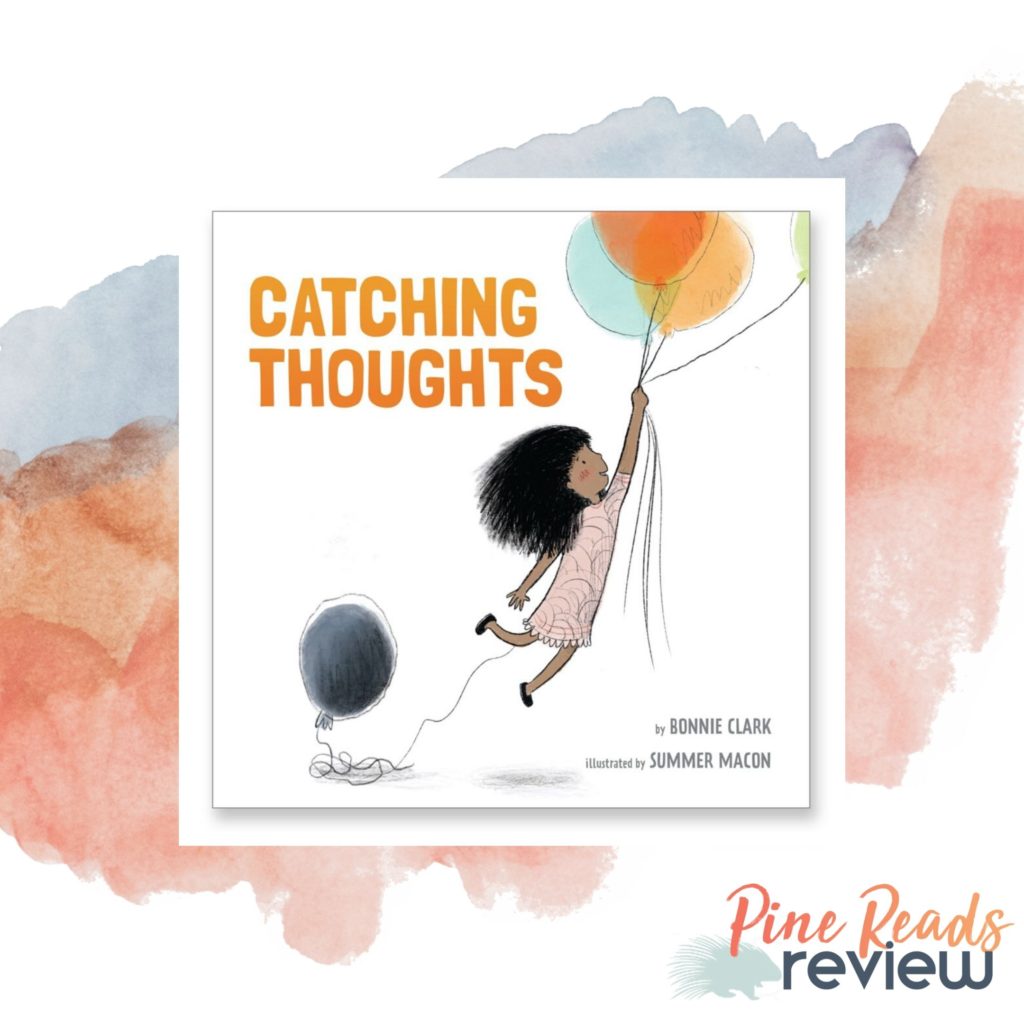 Catching Thoughts by Bonnie Clark
Illustrated by Summer Macon
Beaming Books, Released on August 11th 2020, 32 pages
About the Author: "Bonnie Clark  lives in Canton, Georgia, with her husband and three children. She enjoys writing for children because she believes that childhood is the most important time in a person's life–the part that shapes who we become as adults. She believes that picture books are magical and can encourage children to love who they are, to look outside themselves, and to find their place in the world. Clark hopes her children (and others who read her books) will remember the messages and draw from them when they need to." (Bio provided by Beaming Books publicist.)
Website: https://bonnieclarkbooks.com
Twitter: @bonclark
Instagram: @bonnieclarkbooks
About the Illustrator: "Summer Macon  was raised in an itty bitty town in southern New Mexico. As a child, she quickly became known as 'Tiger' as this is how she would sign her homework next to the many doodles covering the pages. However, she has now decided to go by her real name and currently lives in an even smaller itty bitty town (population 32!) in the beautiful mountains of Colorado. In the summertime you can find her rock-climbing, paddle-boarding, mountain-biking, or doodling on her contracts." (Bio provided by Beaming Books publicist.)
Website: https://summermacondesign.myportfolio.com
Twitter: @MaconSummer
Instagram: @summermaconart
"Have you ever had an unwelcome thought that you just couldn't get rid of, no matter how hard you tried to push it away?"
Bonnie Clark makes this children's book a must-read. She does an excellent job of showcasing how children can begin to navigate through their thoughts. Her book follows a little girl, who, no matter how hard she tries, can't get an unwanted thought out of her mind. This unwanted thought takes the form of a dark balloon that follows her and grows bigger. She tries and tries to release it from her mind, and then finally notices light and colorful balloons. By using these balloons, which represent happy and joyful thoughts, she is able to push away the bad thought. 
I think that this book is so important for children, to teach them that when they get thoughts that they don't like — whether they are sad or angry — that it is okay to be upset and to take it in, but that there are so many other things that can fill our minds. By using the balloon as a symbol for thoughts (grey and dark for those more serious thoughts, and beautiful colors to represent happy and light thoughts), Clark explains in a simplistic way how to grasp onto the greater things in life.
Even as a twenty-year-old, I still enjoyed reading this book because it reminded me that I too can use the reassurance that even if dark thoughts may come, there are so many positives in life. This book is the perfect gateway to parents and teachers having conversations with children about being mindful of their thoughts and emotions. I think that learning about emotions, being mindful, and harnessing the power to control what we feel and do is something everyone should learn. This is definitely a book I wish that I had read when I was growing up.
Catching Thoughts releases on August 11th, 2020.
(Pine Reads Review would like to thank Beaming Books for providing us with an ARC in exchange for an honest review. Any quotes taken are from an advanced copy and may be subject to change upon final publication.)
PRR Writer, Adrienne Park
Pick up your own copy today!