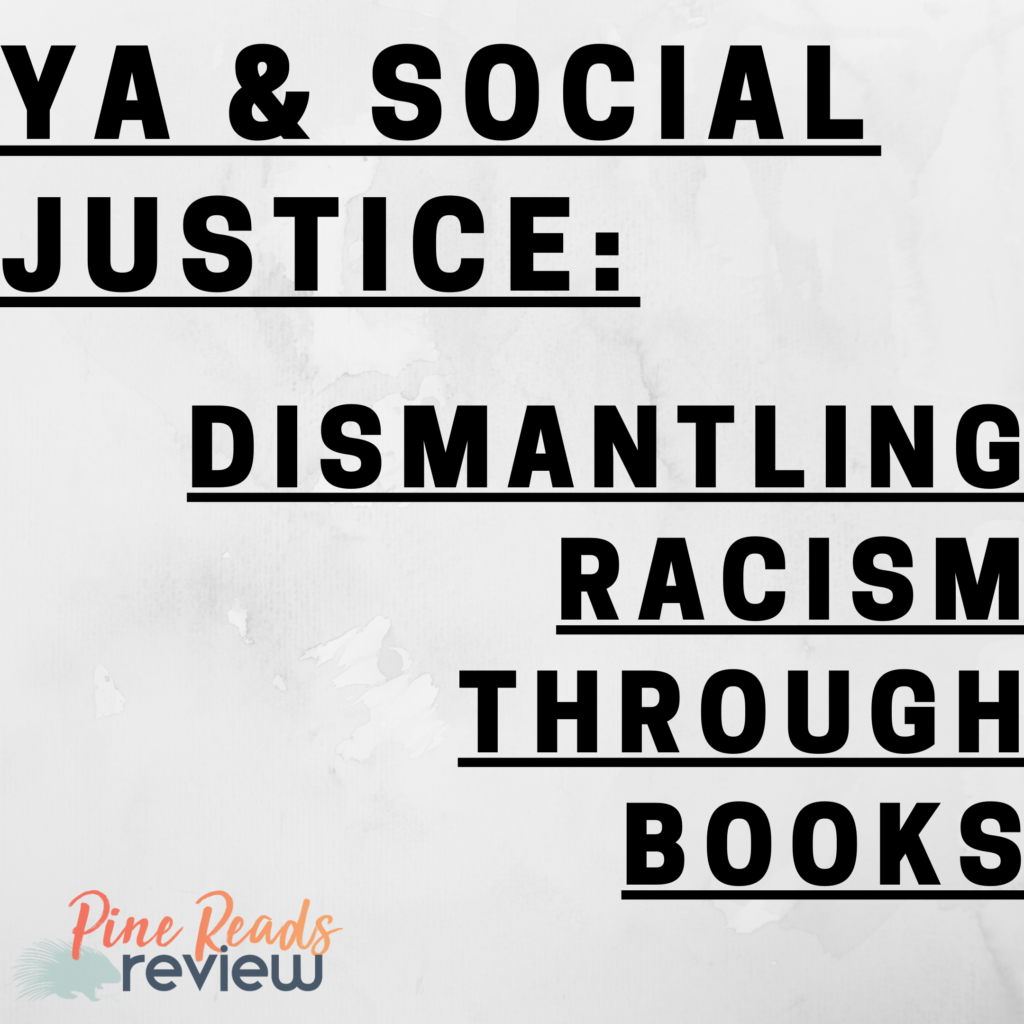 The last few months have been especially tumultuous and filled with incredible loss. Through the struggle has come a togetherness in the Black Live Matter Movement, and I hope genuine change will arise. For starters, Black creatives are finally getting the recognition they deserve.
Several Black authors are topping the New York Times Best Sellers lists in multiple genres, with their books selling out across online stores. For example, Angie Thomas' critically acclaimed The Hate U Give continues to capture readers. While the Black experience spans way beyond stories about police brutality and racism, it's important to highlight how these types of stories reflect our current day. It's time to recognize internalized racism and become allies to our Black peers. Support these and other marginalized authors every day! 
Below is a list of more books like Thomas' with strong themes regarding racial injustice and police brutality*.
1. All American Boys by Jason Reynolds and Brendan Kiely (Atheneum/Caitlyn Dlougy Books, 2015)
"A bag of chips. That's all sixteen-year-old Rashad is looking for at the corner bodega. What he finds instead is a fist-happy cop, Paul Galluzzo, who mistakes Rashad for a shoplifter, mistakes Rashad's pleadings that he's stolen nothing for belligerence, mistakes Rashad's resistance to leave the bodega as resisting arrest, mistakes Rashad's every flinch at every punch the cop throws as further resistance and refusal to STAY STILL as ordered. But how can you stay still when someone is pounding your face into the concrete pavement?
There were witnesses: Quinn Collins—a varsity basketball player and Rashad's classmate who has been raised by Paul since his own father died in Afghanistan—and a video camera. Soon the beating is all over the news and Paul is getting threatened with accusations of prejudice and racial brutality. Quinn refuses to believe that the man who has basically been his savior could possibly be guilty. But then Rashad is absent. And absent again. And again. And the basketball team—half of whom are Rashad's best friends—start to take sides. As does the school. And the town. Simmering tensions threaten to explode as Rashad and Quinn are forced to face decisions and consequences they had never considered before."
(Synopsis taken from the author's website).
2. Dear Martin by Nic Stone (Crown Books, 2017)
"Justyce McAllister is top of his class, captain of the debate team, and set for the Ivy League next year—but none of that matters to the police officer who just put him in handcuffs. He is eventually released without charges (or an apology), but the incident has Justyce spooked. Despite leaving his rough neighborhood, he can't seem to escape the scorn of his former peers or the attitude of his prep school classmates. The only exception: Sarah Jane, Justyce's gorgeous—and white—debate partner he wishes he didn't have a thing for.
Struggling to cope with it all, Justyce starts a journal to Dr. Martin Luther King Jr. But do Dr. King's teachings hold up in the modern world? Justyce isn't so sure.
Then comes the day Justyce goes driving with his best friend, Manny, windows rolled down, music turned up. Way up. Much to the fury of the white off-duty cop beside them. Words fly. Shots are fired. And Justyce and Manny get caught in the crosshairs. In that media fallout, it's Justyce who is under attack. The truth of what happened that night—some would kill to know. Justyce is dying to forget."
(Synopsis taken from the author's website).
3. I Am Alfonso Jones by Tony Medina  (Tu Books, 2017)
"Alfonso Jones can't wait to play the role of Hamlet in his school's hip-hop rendition of the classic Shakespearean play. He also wants to let his best friend, Danetta, know how he really feels about her. But as he is buying his first suit, an off-duty police officer mistakes a clothes hanger for a gun, and he shoots Alfonso.
When Alfonso wakes up in the afterlife, he's on a ghost train guided by well-known victims of police shootings, who teach him what he needs to know about this subterranean spiritual world. Meanwhile, Alfonso's family and friends struggle with their grief and seek justice for Alfonso in the streets. As they confront their new realities, both Alfonso and those he loves realize the work that lies ahead in the fight for justice."
(Synopsis taken from Goodreads.)
4. Light it Up by Kekla Magoon (Henry Holt & Company, 2019)
"A girl walks home from school. She's tall for her age. She's wearing her winter coat. Her headphones are in. She's hurrying.
She never makes it home.
In the aftermath, while law enforcement tries to justify the response, one fact remains: a police officer has shot and killed an unarmed thirteen-year-old girl. The community is thrown into upheaval, leading to unrest, a growing movement to protest the senseless taking of black lives, and the arrival of white supremacist counter demonstrators."
(Synopsis taken from Goodreads.)
5. A Song Below Water by Bethany C. Marrow (Tor Teen, 2020)
"Tavia is already at odds with the world, forced to keep her siren identity under wraps in a society that wants to keep her kind under lock and key. Nevermind she's also stuck in Portland, Oregon, a city with only a handful of black folk and even fewer of those with magical powers. At least she has her bestie Effie by her side as they tackle high school drama, family secrets, and unrequited crushes.
But everything changes in the aftermath of a siren murder trial that rocks the nation; the girls' favorite Internet fashion icon reveals she's also a siren, and the news rips through their community. Tensions escalate when Effie starts being haunted by demons from her past, and Tavia accidentally lets out her magical voice during a police stop. No secret seems safe anymore―soon Portland won't be either."
(Synopsis taken from the author's website.)
6. This is My America by Kim Johnson (Random House Children's Books, Releasing on July 28th 2020)
"Every week, seventeen-year-old Tracy Beaumont writes letters to Innocence X, asking them to help her father, an innocent Black man on death row. After seven years, Tracy is running out of time—her dad has 267 days left.
Then one night changes everything. The police arrive, pounding on the door, and Tracy's older brother, Jamal, goes from being a bright, promising track star to a 'thug' on the run, accused of killing a white girl. Determined to save her brother, Tracy investigates what really happened between Jamal and Angela down at the Pike. And as Tracy discovers the racist history that still haunts her small town's present, she begins to wonder if she's lighting the torch that will illuminate her family's innocence . . . or lighting the fuse that will cause her world to explode."
(Synopsis taken from author's website.)
7. The Black Kids by Christina Hammonds Reed (Simon & Schuster Books for Young Readers, Releasing on August 4th 2020)
"Los Angeles, 1992
Ashley Bennett and her friends are living the charmed life. It's the end of senior year and they're spending more time at the beach than in the classroom. They can already feel the sunny days and endless possibilities of summer.
Everything changes one afternoon in April, when four LAPD officers are acquitted after beating a black man named Rodney King half to death. Suddenly, Ashley's not just one of the girls. She's one of the black kids.
As violent protests engulf LA and the city burns, Ashley tries to continue on as if life were normal. Even as her self-destructive sister gets dangerously involved in the riots. Even as the model black family façade her wealthy and prominent parents have built starts to crumble. Even as her best friends help spread a rumor that could completely derail the future of her classmate and fellow black kid, LaShawn Johnson.
With her world splintering around her, Ashley, along with the rest of LA, is left to question who is the us? And who is the them?"
(Synopsis taken from Simon & Schuster website.)
8. Punching the Air by Ibi Zoboi and Yusef Salaam (Balzer + Bray, Releasing on September 1st 2020)
"Amal Shahid has always been an artist and a poet. But even in a diverse art school, he's seen as disruptive and unmotivated by a biased system. Then one fateful night, an altercation in a gentrifying neighborhood escalates into tragedy. "Boys just being boys" turns out to be true only when those boys are white. 
Suddenly, at just sixteen years old, Amal's bright future is upended: he is convicted of a crime he didn't commit and sent to prison. Despair and rage almost sink him until he turns to the refuge of his words, his art. This never should have been his story. But can he change it?" 
(Synopsis taken from the author's website.)
9. Dear Justyce by Nic Stone (Crown Books, Releasing on September 29th 2020)
"Shortly after teenager Quan enters a not guilty plea for the shooting death of a police officer, he is placed in a holding cell to await trial. Through a series of flashbacks and letters to Justyce, the protagonist of Dear Martin, Quan's story unravels.
From a troubled childhood and bad timing to a coerced confession and prejudiced police work, Nic Stone's newest novel takes an unflinching look at the flawed practices and ideologies that discriminate against African American boys and minorities in the American justice system."
(Synopsis taken from Goodreads.)
10. One of the Good Ones by Maika and Maritza Moulite (Inkyard Press, Releasing on January 5th 2021)
"When teen social activist and history buff Kezi Smith is killed under mysterious circumstances after attending a social justice rally, her devastated sister Happi and their family are left reeling in the aftermath. As Kezi becomes another immortalized victim in the fight against police brutality, Happi begins to question the idealized way her sister is remembered. Perfect. Angelic.
One of the good ones.
Even as the phrase rings wrong in her mind—why are only certain people deemed worthy to be missed?—Happi and her sister Genny embark on a journey to honor Kezi in their own way, using an heirloom copy of The Negro Motorist Green Book as their guide. But there's a twist to Kezi's story that no one could've ever expected—one that will change everything all over again."
(Synopsis taken from authors' website.)
*Note: These types of stories are not limited to this list! I implore you to dive into these authors' works in romance, fantasy, mystery, poetry, and so on. Reminder: Blackness is not a monolith.
PRR Writer, Jackie Balbastro
Pick up these titles and more today!