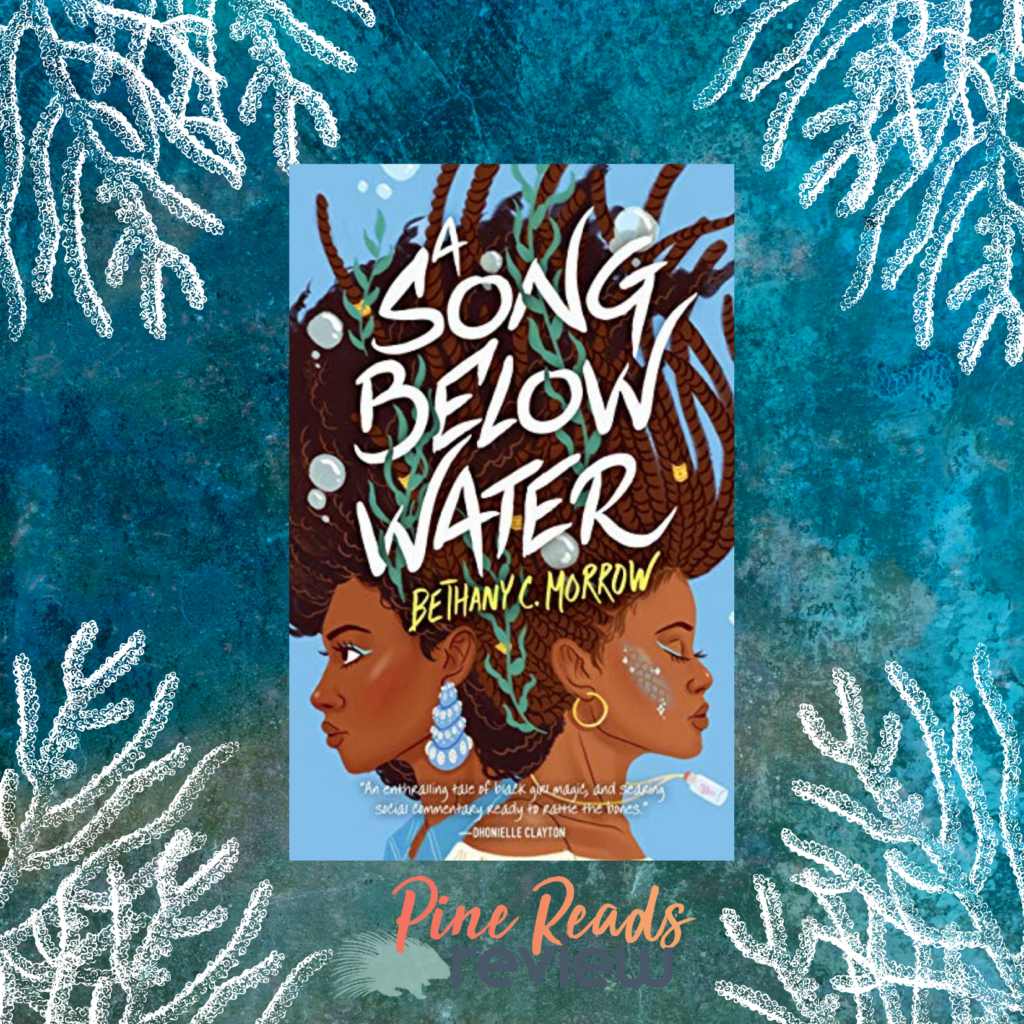 A Song Below Water by Bethany C. Morrow
Tor Teen, 2020, 288 pages
Trigger Warnings: Misogynoir, murder, police brutality, racism, self-harm, death of a parent
About the Author: "Bethany is a recovering expat splitting her time between Montreal, Quebec, and upstate New York – yet another foreign place. A California native, Bethany graduated from the University of California, Santa Cruz with a BA in Sociology (but took notable detours in the Film and Theatre departments). Following undergrad, she studied Clinical Psychological Research at the University of Wales, Bangor, in Great Britain before returning to North America to focus on her literary work. Though sociology and forensic psychology will always be among her passions, writing has been a lifelong endeavor. Whether in novels for the YA or adult market, novellas, short stories, stage plays, television pilots or short film scripts, Bethany's speculative literary fiction uses a focus on character and language to engage with, comment on and investigate worlds not unlike our own." (Bio taken from the author's website.)
Instagram: @bcmorrow
Twitter: @BCMorrow
Website: bethanycmorrow.com
"The only ones who seem to stand for Black girls are Black girls."
In A Song Below Water, play-sisters and friends Tavia and Effie must figure out their complex identities while also struggling with crushes, high school drama, and family secrets. While Tavia is forced to hide her identity as a siren, it is Effie who struggles to uncover who she really is. The story takes place in modern day Portland, Oregon with the twist, as gargoyles, sirens, elokos, sprites and more uncovered magical beings live among the 'everyday' citizens. With growing discomfort over the recent murder of a suspected siren, and the reveal that a popular Black YouTuber is also a siren, Tavia and Effie are left to tackle the aftermath of these events and their own decisions. The girls' lives and their community is threatened, and as magical powers seem to be growing within both Tavia and Effie, they have no other choice but to finally take charge and incite change.
Tavia and Effie are reliant on one another and, though they are not sisters by blood, the love between them is so strong. Effie grieves for the loss of her mother and the fact that she never knew her father. This takes a toll on Effie's mental state and she internalizes this while concerning herself with the freedom of her sister. As Black girls, the two of them have been taught to silence their voice for fear of what might happen. Since sirens have the capability to manipulate others and have been exclusively Black women for decades, they have long been perceived as weapons. Sirens are demonized and in Morrow's novel their treatment can be equated to the mistreatment of Black women in our society. Tavia and Effie are not entirely alone in their fight to survive, they are protected by what's known as the 'network,' their families, and even a gargoyle perched on their roof. It was beautiful coming upon a story of Black sisterhood where these two girls cared for one another so deeply. The novel even confronts the reality that sometimes non-Black POC can be harmful in their treatment of the Black community.
It was wonderful to have read a story where ASL is used throughout as well. Tavia and Effie utilize the language to communicate so Tavia won't run the risk of exposing her siren voice, no matter how much her throat burns to release it. Effie's comfort is in the water, and though she only plays a mermaid at the renaissance fair, she wonders if that's who she's truly meant to be. At the renaissance fair where she works, she is conflicted with the legacy of her mother who also performed there and is thus stuck at a crossroads. Tavia and Effie are led down two paths to discover themselves, but in the end come together to protect and uplift one another. Their bond is the most powerful magic within this novel.
Morrow manifests a fantasy world that is a reflection of our own. She melds mythos with difficult political topics fantastically. With anti-Blackness, police brutality, and microaggressions present within this story, it is clear that this story is bigger than the magic it creates. From the setting in Portland, a city with an intricate history of racism, to the inclusion of 'siren collars,' it's clear that Morrow is using her platform to call out the oppressive past and present of our world— and I love it. A Song Below Water is both captivating and thought-provoking as Morrow shines a light on Black women through the lens of fantasy, showcasing the power in using your voice for change. Her novel is sure to resonate and inspire so many. Everyone should pick up this poignant tale that confronts misogynoir head-on.
PRR Writer, Jackie Balbastro
Pick up your own copy today!