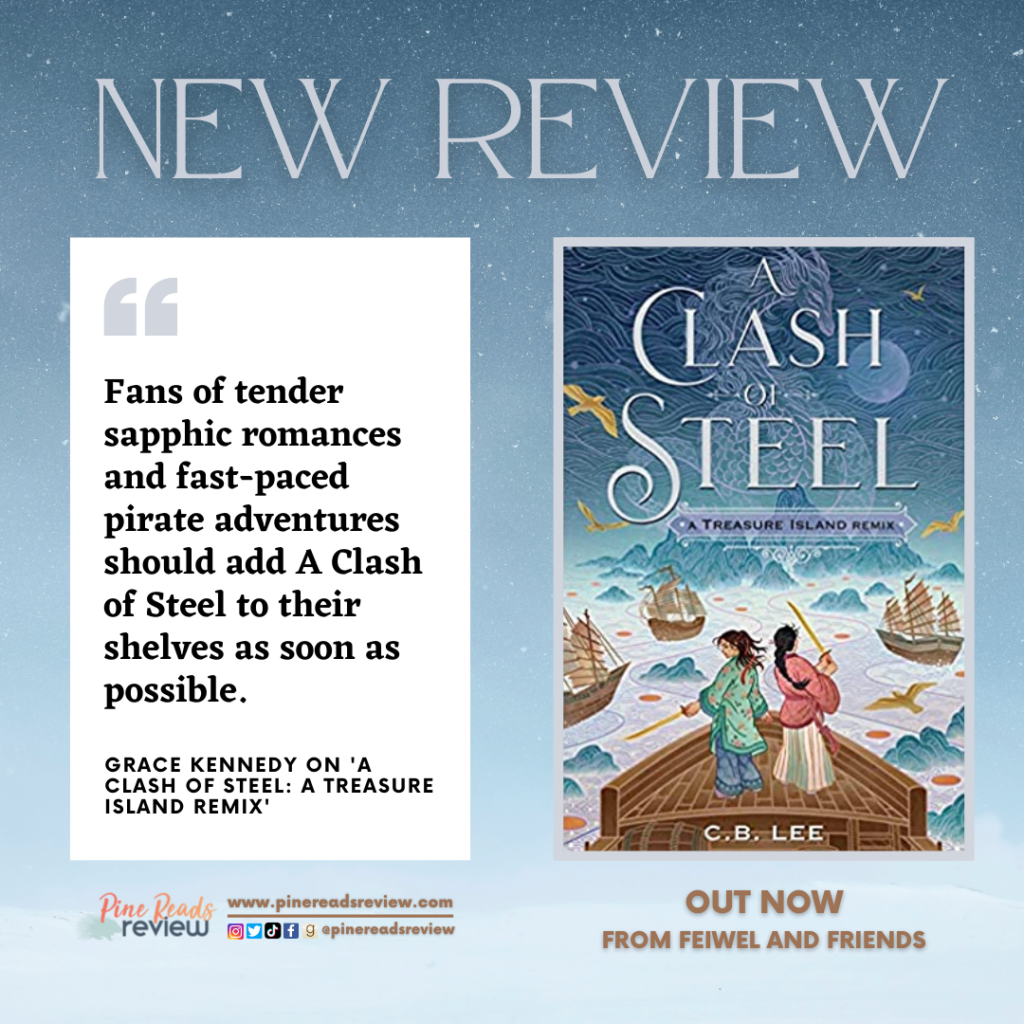 Out Now from Feiwel and Friends; 399 pages
Content Warnings: Absent and deceased parents, alcohol, violence, mentions of war, murder
About the Author: "C.B. Lee is a Lambda Literary Award nominated writer of young adult and middle grade fiction. Her works include the Junior Library Guild selected A Clash of Steel: A Treasure Island Remix (Feiwel and Friends), the Sidekick Squad series (Duet Books), Ben 10 graphic novels (Boom! Studios), Out Now: Queer We Go Again (HarperTeen), Minecraft: The Shipwreck (Del Rey Books), From A Certain Point Of View: The Empire Strikes Back (Del Rey Books). Lee's work has been featured in Teen Vogue, Wired Magazine, Hypable, Tor's Best of Fantasy and Sci Fi and the American Library Association's Rainbow List." (Bio taken from author's website.)
Find C.B. Lee on the following platforms:
---
"I've felt so alone my whole life, waiting to fulfill some expectation, to perform in some way. All my life I've been waiting, and now I'm doing."
Xiang had spent all her life sequestered in her humble village while her mother was often gone for business, but all the while she couldn't help watching ships pass by and crave more. She strives her best to impress her cold, absent mother but is constantly left craving her approval. Xiang's father died before she was even born, a worn gold pendant and a whole host of unanswered questions are all she has to remember him by. But after a strange girl named Anh steals Xiang's father's pendant, she is surprised to see Anh return to say that the necklace contains a piece of a coded treasure map—revealing to Xiang that her father may not have been the man she had imagined. Though the successful pirate empire of the ruthless Zheng Yi Sao has ended, the fabled legacy of her Dragon Fleet's hidden treasure lives on in the hearts of many—Xiang included. Determined to find adventure, get answers about her father, and prove her worth to her mother, Xiang and the mysterious Ahn embark on the trip of a lifetime with a whole ocean of danger before them.
Action, adventure, diverse Asian rep, found family, queer yearning, sapphic romance and pirates—what doesn't this book have to offer! First off, Xiang and Anh are incredible foil characters. While Xiang has lived a life of (boring) comfort and safety, Anh grew up with nothing but wild adventures and (sometimes life-threatening) uncertainty. Their romance is turbulent and filled with trust issues, but I found that the complicated nature of their relationship and desires made it all the more satisfying to read. I loved the found family dynamic that Xiang grew to be a part of on board Anh's mother's ship and how her interactions with the other sailors helped develop her character. With a variety of scenes showcasing the diverse crew's backstories, personalities, and a lot of raunchy, swash-buckling crewmanship, this book was invigorating to read. I found myself so deeply immersed in the vivid settings C.B. Lee creates that I swore I could smell the sea. Fans of tender sapphic romances and fast-paced pirate adventures should add A Clash of Steel to their shelves as soon as possible.
PRR Assistant Director, Grace Kennedy