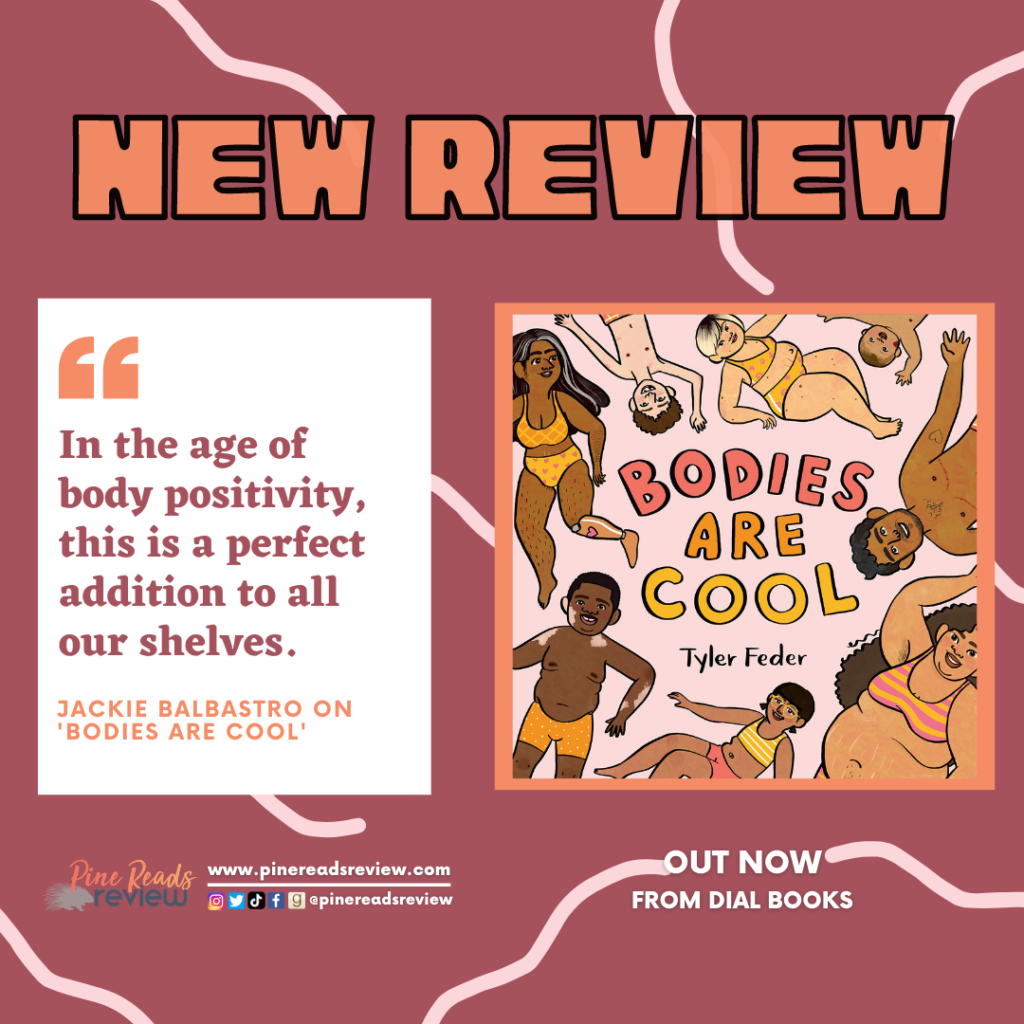 Bodies Are Cool written & illustrated by Tyler Feder
Out Now from Dial Books; 32 pages
About the Author-Illustrator: "Tyler Feder is an artist whose work explores big feelings, feminism and pop culture. Her debut solo work, Dancing at the Pity Party (Dial), a graphic memoir about the premature death of her super cool mom, won the Sydney Taylor gold medal for young adult literature. Her next work, a body positive picture book for preschoolers called Bodies Are Cool (Dial) comes out June 1! Tyler also illustrated Together We March (Simon & Shuster) by Leah Henderson and Unladylike: A Field Guide to Smashing the Patriarchy and Claiming Your Space (Ten Speed) by Cristen Conger and Caroline Ervin. Selected freelance clients include Netflix, Comedy Central, and ESPN.  Tyler also runs Roaring Softly, where she sells prints and merchandise featuring her illustrations. Tyler graduated from Northwestern University in 2011 with a B.A. in Radio/TV/Film and a certificate in Creative Writing for the Media.  She completed the Writing Program at the Second City Training Center in 2013. When she is not making art, Tyler enjoys milky coffee, jigsaw puzzles, and staring emo-ly into Lake Michigan.  She currently lives and works out of a cozy apartment in Chicago with her beloved cat son, Mitzvah Bear. Tyler's favorite color is pink (obviously)." (Bio taken from author's website.)
Find Tyler Feder on the following platforms:
---
"This body, that body, his and her and their body. However YOU define your body! Bodies are cool!"
From the author and illustrator of the gorgeous and solemn graphic memoir, Dancing at the Pity Party, comes a lively and glorious picture book that is all about body positivity from head to toe. The story is anthemic and reads like an affirmation, highlighting all the lovely types of bodies out there and how they are really cool. Feder's inclusive book will instill confidence and pride!
This book literally came out yesterday (as of me writing this review), and I bought it immediately. This was one of the books included in my list of most anticipated 2021 releases, and it was certainly worth the wait. I mean, the cover alone promises a celebration of bodies and lovely artwork. Speaking of the artwork, each page turn opens to a new two-page spread full of diversity, from hair types, skin tones, height, body shapes, and so much more. The details are impeccable and so, so beautiful that I cried. I don't think I've ever seen underarm hair or a stretch mark or even the slightest "imperfection" on a person in a picture book. These images go above and beyond to not only display our reality in a way that shows acceptance, but in a way that also naturally encourages it. The soft and warm colors that Feder uses emanate such a cozy feeling throughout the book. By having a plethora of different types of people all in one place, whether it be at a movie theater, party, a pool, or literally anywhere, this book shows how wonderful it can be if we all enjoyed one another just as we are. Because bodies ARE cool! Feder's illustrations not only normalize the human body in all its glory, but they also normalize fatness and queer and interracial couples/families to the child reader. In the age of body positivity, this is a perfect addition to all our shelves. While this is a quick read, if you're like me, you will stop at every page and devour the art from top to bottom, really ruminating on how valuable this book is. For cover artists out there conveying blemish free, thin, white people on many books, take note!
I also wanted to share that upon getting the book, my sister could not wait to read it herself. She read it on the ride home, with her phone flashlight in the backseat of the car, and gave it a resounding 10 out of 10 stars! What stood out to me is that my sister is not a reader or someone who particularly enjoys picture books, but she really spent her time appreciating the art, the representation, and the joy that this book can give even a novice reader. For that, I highly recommend this book to everyone. Please buy it for yourself and the younger ones in your life.
PRR Writer, Jackie Balbastro 
Check out our review of Tyler Feder's 2020 release, Dancing at the Pity Party, here!