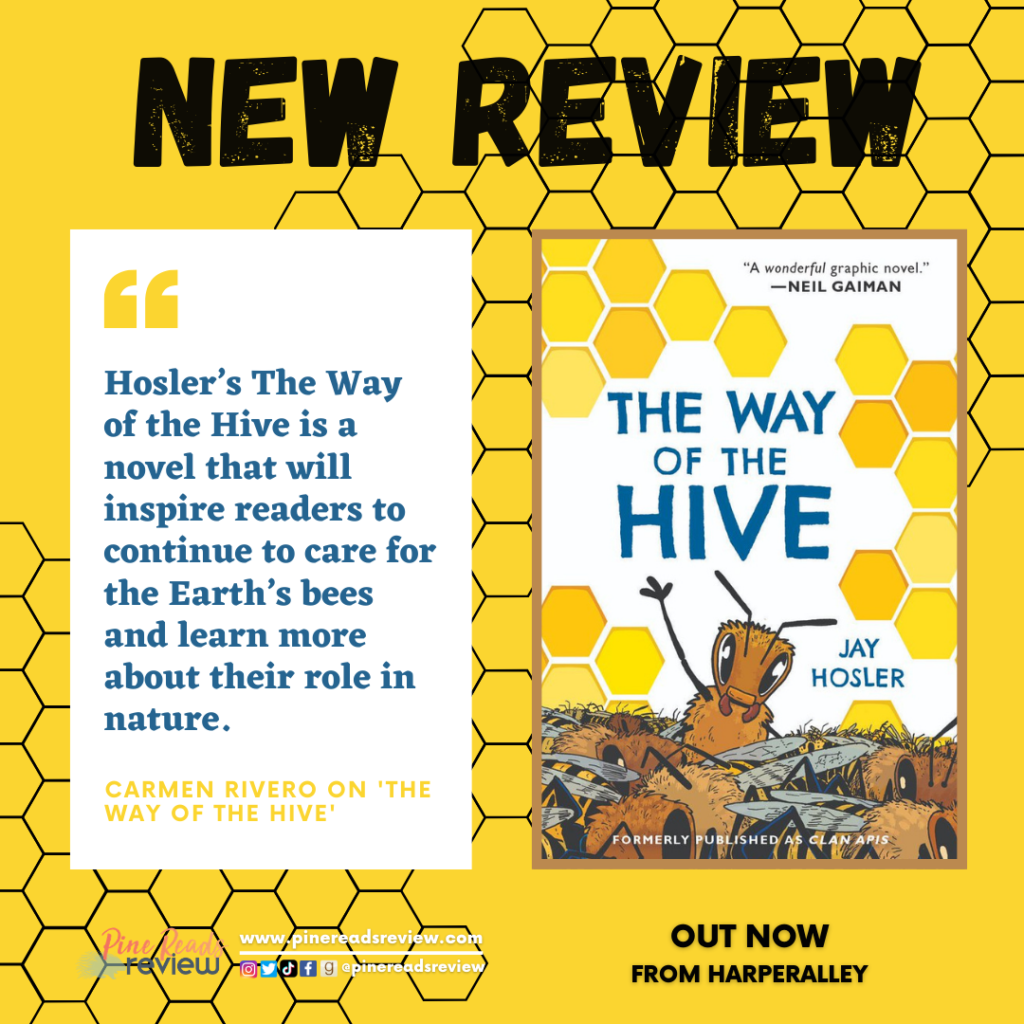 The Way of the Hive: A Honey Bee's Story by Jay Hosler
Out Now from HarperAlley; 160 pages
Content Warning: Bugs
About the Author: Jay Hosler is a biology professor by day and a scheming cartoonist by night. His diabolical plan is to weave his love of the natural world into thrilling tales of adventure. So far, the plan seems to be working. Unsuspecting readers fall into stories about creepy-crawly things and discovering the wondrous world right under their feet. His books have been translated into several languages, but he can only read the ones in English. In his spare time, Jay likes to read comics and watch Godzilla movies. He lives in Pennsylvania with his queen and two drones. (Bio taken from back of book)
Find Jay Hosler on the following platforms:
---
"We both do things differently, but that doesn't make my way better than his. We both play our role in nature."
Honey bee Nyuki learns what it means to be part of Clan Apis, as she experiences a bee's life cycle. Accompanied by sister bees Dvorah and Melissa, Nyuki navigates perilous circumstances and grows to learn the way of the hive. Nyuki's friendships with creatures outside the hive, like Sisyphus the beetle and Bloomington the flower, provide Nyuki with new encounters, which lead to Nyuki learning an insect's life cycle, along with its many factors and participants. Nyuki's story is a great example of a honey bee's life and the many processes which accompany it, both in and outside the hive.
Jay Hosler's The Way of the Hive is a perfect mix of science and entertainment. Hosler presents the science behind the life cycle of bees, both their creation and survival, with comedic dialogue and lively imagery. The use of detailed illustrations emphasizes the actions and movements of honey bees to the reader, such as Nyuki's nectar dance and the laying of the Queen Bee's eggs. Both circumstances would be difficult for readers to imagine without a visual representation. Paired with the dialogue, the illustrations humanize the bees and the intricate cycle of nature they partake in. To me, the personification of the bees is impactful because it provides educational context for movements like Save the Bees. Ecological campaigns will often change into trends, and as they continue to be shared, sadly lose their initial message. This graphic novel is a perfect accompaniment to movements like these because the humanization of the bees also fosters the necessary compassion and care that should follow this movement. Hosler's The Way of the Hive is a novel that will inspire readers to continue to care for the Earth's bees and learn more about their role in nature.
(Pine Reads would like to thank NetGalley and the publisher for sending us an ARC in exchange for an honest review. Any quotes are taken from an advanced copy and may be subject to change upon final publication.)
PRR Lead Social Media, Carmen Rivero