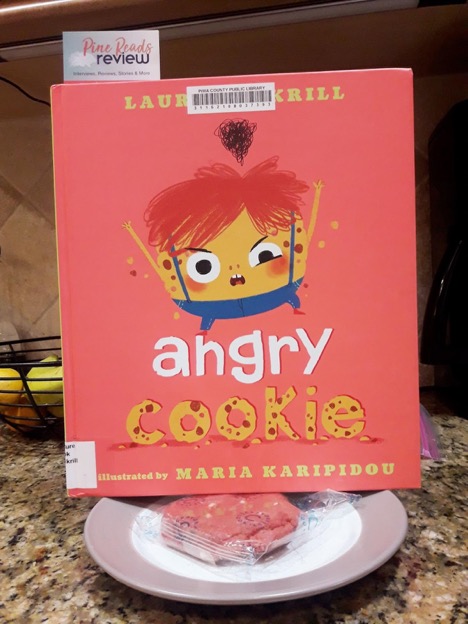 Angry Cookie by Laura Dockrill
Illustrated by: Maria Karipidou
Walker Books, 2018, 38 pages
Trigger Warnings: one VERY angry cookie
About the Author: Laura Dockrill "writes draws and talks," working as an author/illustrator and performance poet in London. Her YA novel Lorali was nominated for the CILIP Carnegie Medal, and she has authored numerous books for young adults and kids. You can find out more about her at: www.lauradockrill.co.uk.
Twitter: @LauraDockrill
About the Illustrator: Maria Karipidou is a freelance illustrator living and working in Karlsruhe. She received her degree in Communication Design in Germany. You can find more about her at: www.mariakaripidou.de.
"Well, well well… I guess if you are planning on sticking around, perhaps I could tell you a little bit about why I'm so angry…"
Dockrill and Karipidou's work seems to answer a single question: why is Angry Cookie so ANGRY?
Written as an address from Angry Cookie to readers, in a similar style to children's classic The Monster at the End of this Book, Angry Cookie details the saga of a young cookie, who must endure his roommate's terrible recorder practice, "grown-up spicy toothpaste" and a horrible haircut, among other distressing woes, which all contribute to his angry disposition. The comical illustrations and casual, dialogue-based text all help the reader to sympathize with Angry Cookie while still remaining engaged by his struggles.
The book is best for older picture book readers, because of vocabulary and length, and will keep parents engaged during story times. Angry Cookie showcases the importance of listening and providing support for a friend in need, even despite a terrible temper.
PRR Writer, Mandy Becker