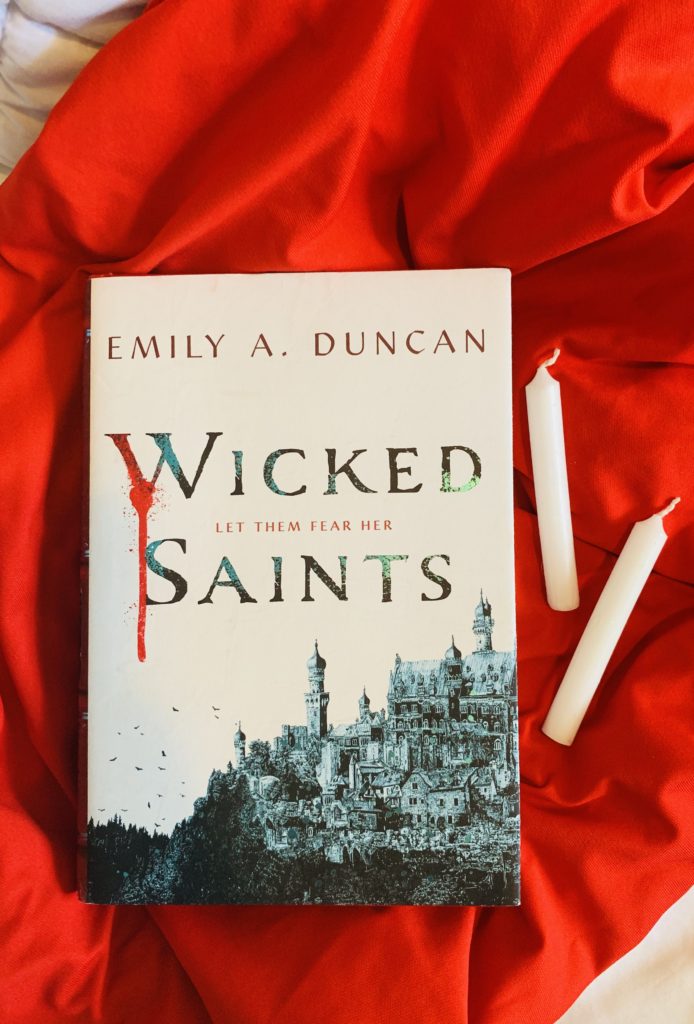 Wicked Saints by Emily A. Duncan
Wednesday Books, 2019, 381 pages
Trigger Warnings: Alcohol, blood, self-harm, violence, war themes
About the Author: Emily A. Duncan is the New York Times bestselling author of Wicked Saints. She was born and raised in Ohio and works as a youth services librarian. She received a master's degree in library science from Kent State University, which mostly taught her how to find obscure Slavic folklore texts through interlibrary loan systems. When not reading or writing, she enjoys playing copious amounts of video games and Dungeons & Dragons. She is represented by Thao Le of the Sandra Dijkstra Literary Agency. You can follow her on Instagram and Twitter at @glitzandshadows, or visit her website at www.eaduncan.com.
"Blood and blood and bone. Magic and monsters and tragic power."
Nadya is the last Kalyazi cleric who lives with a pantheon of gods communicating in her head; Serefin is the High Prince of Tranavia with extraordinary powers far exceeding his father's; and Malachaisz is the defected leader of powerful Tranavian monsters. These unlikely three find their paths crossing when they share one common goal: to finally put an end to the senseless holy war that Kalyazin and Tranavia have been waging for centuries. Alliances shift and trust is broken as the Tranavian king's schemes to transcend mortality and achieve godly power are revealed, shedding light on other fragilely crafted lies and thickly veiled motives. Wicked Saints will have you constantly wondering what and whom to believe.
The themes of magic, politics and religion are intertwined throughout Wicked Saints, albeit somewhat clumsily at times. The novel asks thought-provoking questions often, as we see Nadya struggling with her faith in her Kalyazi saints and Serefin's wavering stance in his position in the war. Unfortunately, Wicked Saints leaves much to be desired. The patchy pacing had me wondering often if I should even finish the book because I was so bored at times. The reader never receives more of an explanation behind the Kalyazin-Tranavia war than that each country harbors different beliefs about the sanctity of magic and power, which can make each of the characters' purposes seem flat. Additionally, the characters are too one-dimensional to be fully invested, which takes away from the overall tension and intrigue of the book. I found myself dreading Nadya's POV chapters—the majority of the narration—because she was so focused on her fluctuating and cliché enemies-to-lovers relationship with Malachaisz, while I would have rather had more insight into Serefin and Malachaisz's stories who had more compelling personalities. Nadya and Malachaisz's romance arc is so heavy-handed and tedious that I couldn't even find it within myself to be interested in it. The most disappointing aspect of Wicked Saints is that Nadya is reduced to a love interest in her own story, instead of coming into her own power and having enough wit to navigate the bloody magic-filled world of Tranavia.
PRR Writer – Caroline Ross