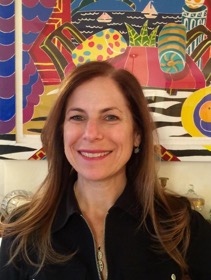 Melissa Stoller is the author of the chapter book series The Enchanted Snow Globe Collection – Book One: Return to Coney Island and Book Two: The Liberty Bell Train Ride (Clear Fork Publishing, 2017 and 2019); and the picture books Scarlet's Magic Paintbrush and Ready, Set, GOrilla! (Clear Fork, 2018). Upcoming picture books include Return of the Magic Paintbrush and Sadie's Shabbat Stories. She is also the co-author of The Parent-Child Book Club: Connecting With Your Kids Through Reading (HorizonLine Publishing, 2009). Melissa is an Assistant and Blogger for the Children's Book Academy, a Regional Ambassador for The Chapter Book Challenge, a Moderator for The Debut Picture Book Study Group, and a volunteer with the Society of Children's Book Writers and Illustrators/MetroNY. Melissa has worked as a lawyer, legal writing instructor, freelance writer and editor, and early childhood educator. Additionally, she is a member of the Board of Trustees at Temple Shaaray Tefila, and a past Trustee at The Hewitt School. Melissa lives in New York City with her husband, three daughters, and one puppy.
Social Media:
www.MelissaStoller.com
http://www.facebook.com/MelissaStoller
http://www.twitter.com/melissastoller
http://www.instagram.com/Melissa_Stoller
http://www.pinterest.com/melissa_stoller
Mandy Becker: How did you get the idea for your picture book, SCARLET'S MAGIC PAINTBRUSH?
Melissa Stoller: I love art history and visiting museums. I captured the idea for SCARLET'S MAGIC PAINTBRUSH when I was standing in front of the Impressionist paintings at the Metropolitan Museum of Art in New York City. I thought to myself, "I wonder what it would be like to hold a magic paintbrush and paint like Monet?" And then I imagined a little girl using a magic brush. From there, I wondered what would happen if she painted perfect pictures with the magic brush, but then one day, she lost the brush. Where would she go from there? And the story was born!
MB: Did you enjoy painting as a child, like Scarlet?
MS: I did love painting as a child and I still love arts and craft projects! This summer, I'm painting mostly on shells and beach rocks.
MB: Is there a big difference in writing stories for chapter book readers, like your Enchanted Snow Globe Collection Series, versus writing picture books?
MS: Yes, definitely. For picture books, I aim for the story to be under 500 words, and the main characters are all young, between 4-7 years old. There is one storyline and one problem to be solved. And the illustrations tell half the story. In a chapter book like THE ENCHANTED SNOW GLOBE COLLECTION: RETURN TO CONEY ISLAND, the main character is between 6-9 years old, and the story has ten chapters. There is one main story, but there can be a few subplots as well. In a chapter book, the illustrations amplify the story. I really enjoy writing both picture books and chapter books – it's fun to write to both audiences. I'm thrilled that THE LIBERTY BELL TRAIN RIDE (illustrated by Callie Metler-Smith, Clear Fork Publishing), the second book in my time travel adventure chapter book series, will chug down the tracks in 2020!
MB: How do you think illustrations help to work with the text in your books?
MS: In a picture book, illustrations and text work together to create the story magic. I'm so lucky that Sandie Sonke illustrated SCARLET'S MAGIC PAINTBRUSH and Sandy Steen Bartholomew illustrated READY, SET, GORILLA! Both books were edited and art directed by Mira Reisberg, and published by Clear Fork Publishing. These illustrators brought their unique styles and talents to the projects. I remember seeing first glimpses of cover and interior art for each project. It was incredible to see my words and story brought to life by both of these amazing artists. And I'm very excited about the illustrations Sandie Sonke is creating for our upcoming sequel, RETURN OF THE MAGIC PAINTBRUSH! Stay tuned for more adventures with Scarlet, Brush, and a new, mischievous character.

MB: Do you collaborate closely with your illustrators?
MS: For my picture books, the illustrators work closely with the art director and I'm lucky to get a few sneak peaks that I can offer comments on.
For my chapter books, I love working more closely with Callie Metler-Smith, who is also my publisher at Clear Fork. Since the books are set in historical periods, It's fun to think about and research together historical locations, clothing, and styles.
MB: Are there any topics, issues or themes that you actively try to address in your books?
MS: So far, my published books have touched on themes of creativity and letting go of perfection; friendship, competition, and fair play; and family connections, adventure, and time travel.
MB: Do you draw inspiration from your real life for your books?
MS: Absolutely! I live in New York City, and I'm always keen about observing the city flowing around me. Also, I love to mine my family history for ideas. For READY, SET, GORILLA!, I was inspired by a billboard that read, "Ready, Set, Go!" I wondered what would happen if a little gorilla said, "Ready, Set, GOrilla!" For SCARLET, I was inspired by paintings at the Metropolitan Museum of Art. For RETURN TO CONEY ISLAND, I drew inspiration from the family story of how my grandparents met on the Coney Island Trolley in the 1920s. And I included my dog, Molly, in the story! And with THE LIBERTY BELL TRAIN RIDE, I visit Philadelphia quite often, and I decided to write a story surrounding the Liberty Bell and its last historic cross-country train ride. For my upcoming picture book, SADIE'S SHABBAT STORIES, (illustrated by Lisa Goldberg, Clear Fork Publishing, 2020), which is truly a story of my heart, I was inspired by pieces of history from my family and my husband's family.
MB: How did you get from your past career, as a practicing attorney, to your place now as an author?
MS: It was a long road! Throughout my career as an attorney, legal writing instructor, career counselor, and freelance writer, I have always loved writing and telling stories. When my oldest daughter was two, I decided to try writing picture books. Well, I have a draw full of rejections! Since that time, I wrote many parenting articles and also a parent's resource book about organizing parent-child book clubs. Then, I went back to writing for children and immersed myself in the KidLit world: taking classes, attending conferences, and joining writing and critique groups! I'm so happy I stuck with my dream! My advice to writers is to keep going . . . keep searching for ideas, write and rewrite, and polish up those stories. Study craft and immerse yourself in everything KidLit. Critique partners are also key to the process – I'm sending out a HUGE shout-out to my amazing writing pals!
MB: What can we expect from you in the next year?
MS: I'm so excited that RETURN OF THE MAGIC PAINTBRUSH, SADIE'S SHABBAT STORIES, and THE LIBERTY BELL TRAIN RIDE, will be releasing in 2020! I'm hoping to do cover reveals soon, and I'll do book trailers as well. I can't wait to do more school and library visits to share my stories with children everywhere. Stay tuned!
Thank you so much for this wonderful interview! I'm so happy to be here today.