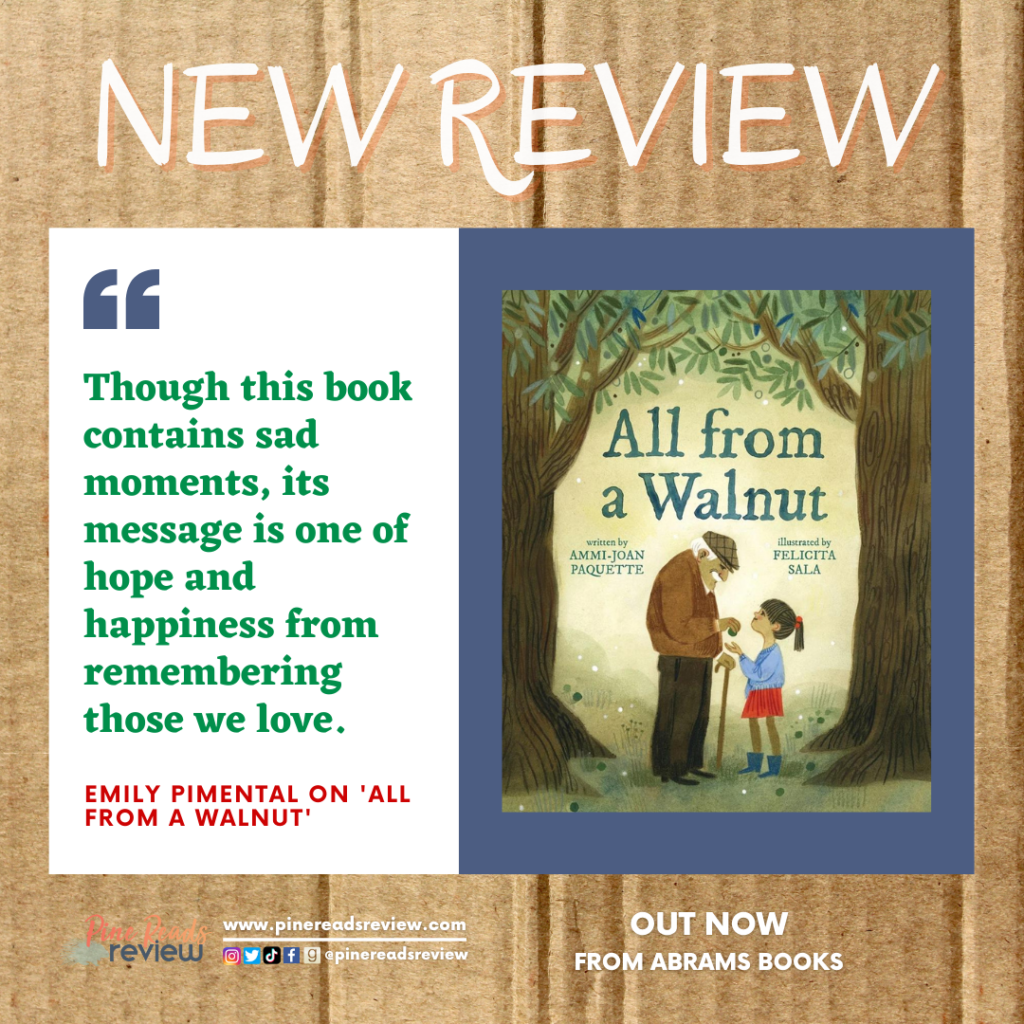 All from a Walnut written by Ammi-Joan Paquette and illustrated by Felicita Sala
Out Now from Abrams Books for Young Readers; 40 pages
Content Warnings: death, grief
About the Author: "Ammi-Joan Paquette writes a bit of everything, grew up a bit of everywhere, and believes that every day is a brand new adventure. She has published 16 books for young readers—including the picture books Ghost in the House and The Tiptoe Guide to Tracking Fairies, the magical middle-grade adventure The Train of Lost Things, and the award-winning non-fiction series Two Truths and a Lie, co-written with Laurie Ann Thompson—and many more on the way. Her books have been recognized with starred reviews, Junior Library Guild selections, and a wide range of Best of the Year and State Reading Lists. In her non-writing life, she is a senior literary agent with Erin Murphy Literary Agency. She lives in the Boston area with her family and zero pets (unless you count the towering book piles!). (Always count the towering book piles!)" (Bio taken from author's website)
Find Ammi-Joan Paquette on the following platforms:
About the Illustrator: "Felicita was born in Rome but grew up in Perth, Australia. She graduated with Honours in Philosophy form the University of WA. She moved back to Italy in 2007 where she taught herself illustration and very slowly started making picture books. Over the years she collaborated on various papercut animations with husband and animator Gianluca Maruotti. She now works as a full time illustrator. One of her books 'She Made a Monster' was selected among the 10 best picture books of 2018 by the New York Times, and her self authored book 'Lunch at 10 Pomegranate Street' has been translated in over 10 languages. In 2020 she won the Premio Andersen as best illustrator in Italy. She lives in Rome with her family." (Bio taken from illustrator's website)
Find Felicita Sala on the following platforms:
---
"As she dug, Emilia thought of Grandpa's journey. Her own tree had come from a nut that had come from his tree. They would always be a part of each other."
One morning, Emilia wakes to find a walnut resting on her nightstand. After carrying the nut downstairs, Emilia finds her grandfather waiting to let her in on a beloved rite of passage in their family: planting her very own walnut tree. Beginning with the day he left his homeland for an unfamiliar continent, Emilia's grandfather tells her the story of a walnut that grew into a tree and the boy who grew up alongside it. Just like that of trees, the human life cycle has a beginning and an end. But, as Emilia learns, every ending is a new beginning of its own.
All from a Walnut is a beautiful story about family, love, and loss. This picture book conveys the close bond between Emilia and her elderly grandfather and the pain of saying goodbye to a loved one with an incredible amount of tenderness. Felicita Sala's soothing illustrations, with their earthy color scheme and emphasis on nature, act as the perfect companion to this moving tale. I loved the way that walnut trees are used throughout the story as a symbol for a person's journey from childhood to old age, with the walnuts that grow into new trees acting as future generations. This idea works perfectly with the immigration story shared by Grandpa, showing that a new life can begin from the ground up with patience and dedication. Grief does play a significant role in this book, which I feel would make a gentle and thoughtful introduction to the concept of death for children, as well as a cathartic perspective for adult readers. Though this book contains some sad moments, its ultimate message is one of hope and the happiness that comes from remembering those we love.
PRR Writer, Emily Pimental
---