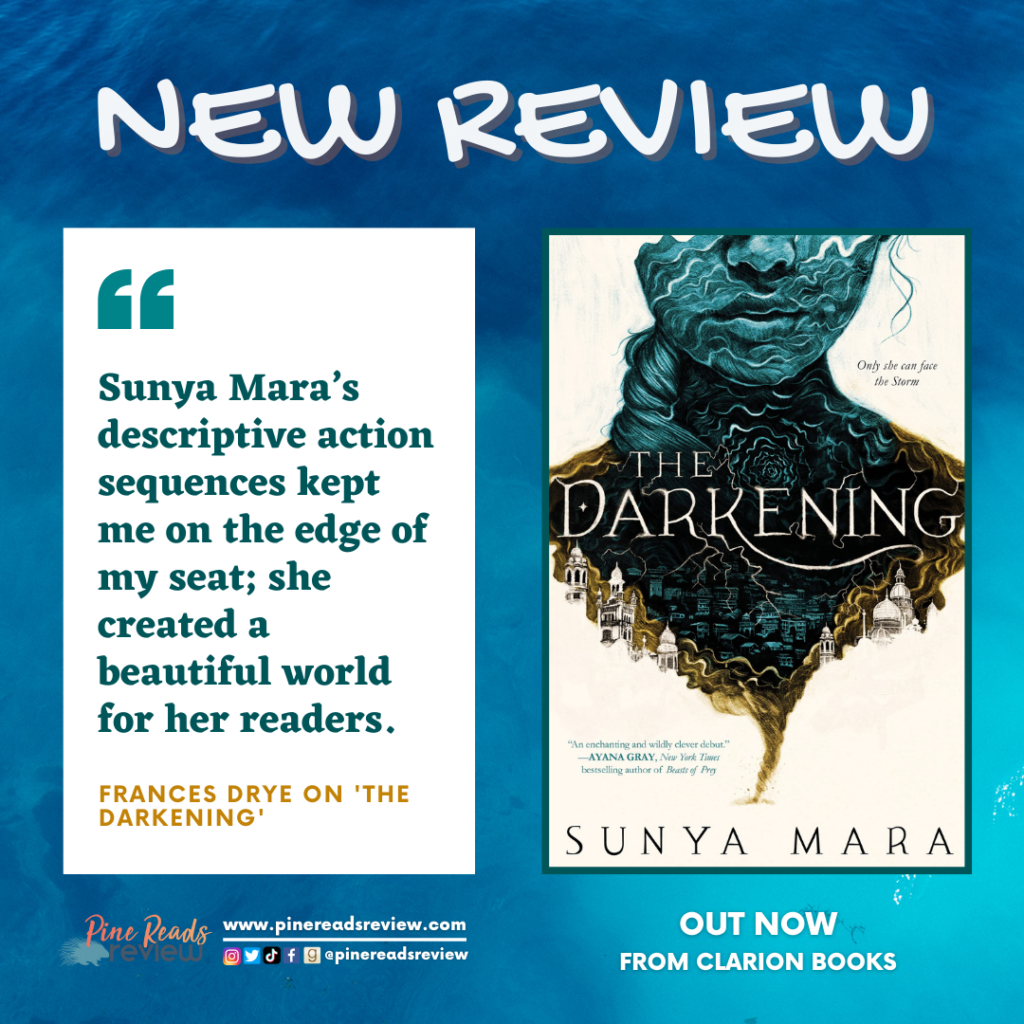 The Darkening by Sunya Mara
Out July 5, 2022 from Clarion Books at HarperCollins; 400 pages
Content Warning: Death, violence, parent death
About the Author: "Sunya Mara grew up in six different cities across five different states and now calls Los Angeles home. She studied film and business at the University of Southern California and went on to write and illustrate at Kobe Bryant's Granity Studios. When not telling stories, she spends her time haunting old movie theaters and staring at museum walls." (Bio taken from author's website)
Follow Sunya Mara on the following platforms:
---
"If nightmares had music, they'd sound like the Storm."
Vesper Vale's life has been anything but easy. After her parents' failed rebellion, her mother was sent into the Storm, a cloud of nightmares and monsters that surround the city Vesper lives in. Her mother was never seen again and after twelve years of attempting to avoid the same fate, Vesper's father has been captured by her city's cunning sorcerers, the Wardana. Vesper will do anything to save her father, even if that includes infiltrating the insidious group that trapped him. As she works to save her father, Vesper discovers that her mother's death was not all that it seemed. And in order to save her city, free her father, and avoid being sent into the Storm herself, Vesper may have to put her faith in the very people she's attempting to fool.
Sunya Mara's The Darkening is everything that a YA novel should be. With a one-of-a-kind setting, an intricate magic system, and a compelling plot, Mara has created a wonderfully written debut novel. Her writing style is so expressive and passionate, I truly felt that I was transported into the world she has created. The characters were my favorite part of the novel. As the story progresses, the bonds between Vesper and the other characters developed and the dynamics between them made for a much more entertaining read. Vesper was a fantastic main character, her simple goal to save her father and her growth made for a much more realistic and engaging character. Sunya Mara's incredibly descriptive action sequences kept me on the edge of my seat, and her lyrical prose created a beautiful world for her readers. I recommend this book to anyone looking for an electrifying fantasy thriller that will have them begging for a sequel.
(Pine Reads Review would like to thank NetGalley and the publisher for providing us with an ARC in exchange for an honest review. Any quotes are taken from an advanced copy and may be subject to change upon final publication.)
PRR Writer, Frances Drye
---