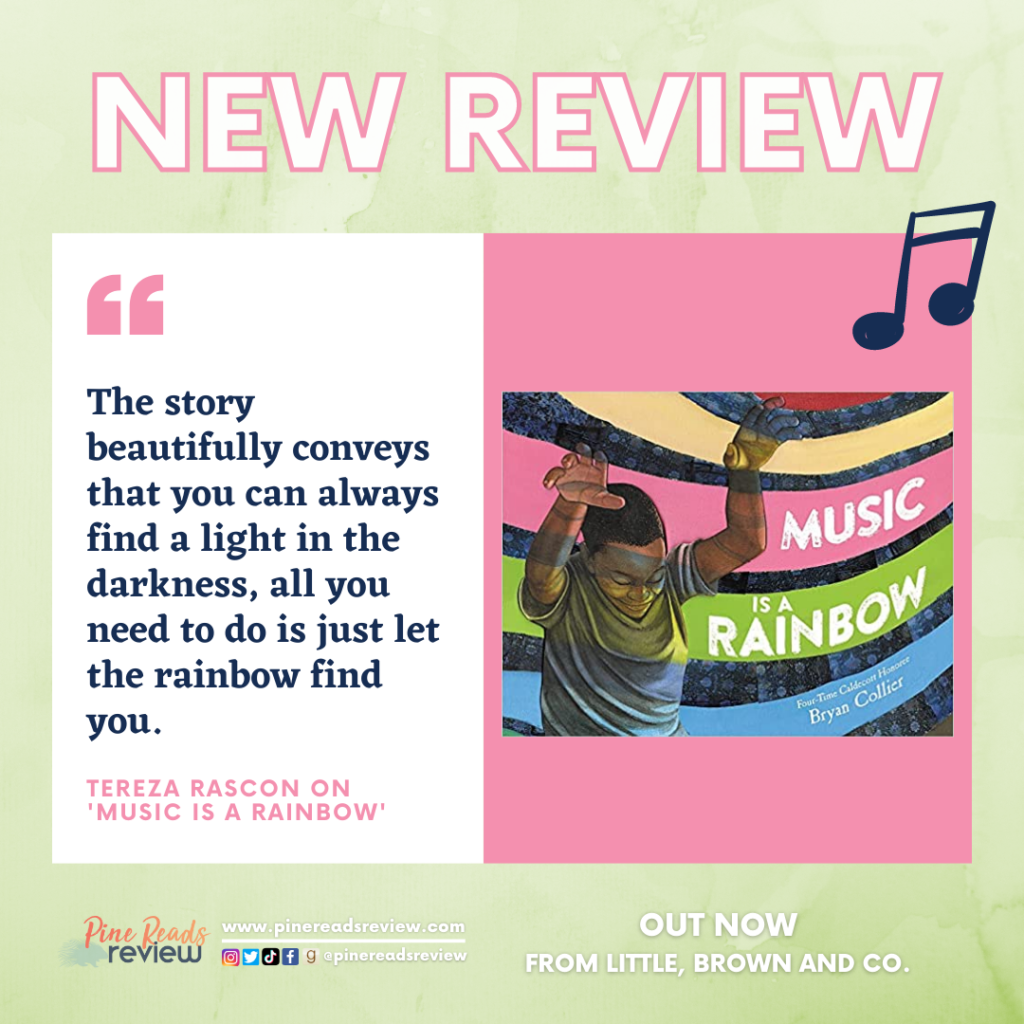 Music Is A Rainbow is written by Bryan Collier.
Out now from Little, Brown and Company; 48 pages.
About the Author: "Bryan Collier has illustrated more than twenty-five picture books, including the award-winning Trombone Shorty, Dave the Potter, and Knock Knock: My Father's Dream for Me, as well as City Shapes, and Fifty Cents and a Dream, and has received four Caldecott Honors and six Coretta Scott King Awards. He lives with his wife and children in Marlboro, New York." (Taken from Hatchett Book Group Bio)

Find Bryan Collier on the following platform:
---
"The sounds became music, and the music changed into colors. The rainbow had found him. And then that feeling lasted forever."

Bryan Collier's Music Is A Rainbow is a story about a young boy whose love and admiration for his father
and momma shape the way he sees his surroundings. However, with his father constantly away for work
and his momma suddenly falling ill, he is faced with pressures that darken his world. It isn't until he hears
music seep through the walls that his journey of self-discovery begins. With each exposure to music, he
begins to see the colors in the music form a rainbow. That rainbow sparks a light in him to make his
deepest wishes and dreams a reality.

I'm still stunned by how beautiful the artwork in this book is and how powerful the message of the story
itself is. Collier did an amazing job tying the artwork to reflect the emotions and feelings of the little boy
on every page. Whenever the boy was faced with darkness and social pressures, the colors of the pages
were dark and chaotic, but whenever he heard the music, the pages would be filled with bright colors of
reds, yellows, pinks, greens, blues, highlighting the happiness and joy the boy was feeling. Music Is A
Rainbow lives up to that old saying "A picture is worth a thousand words." I was constantly examining
every detail on every page — the use of color, the expressions on the character's faces, even the
background — for all these details added more to the story than the text itself. Music Is A Rainbow subtly
explored topics of sadness, confusion, and even anger that a child may feel when the world around them
feels like it's falling apart. However, like the story beautifully conveys, you can always find a light in the
darkness, all you need to do is just let the rainbow find you.

PRR Writer, Tereza Rascon
---