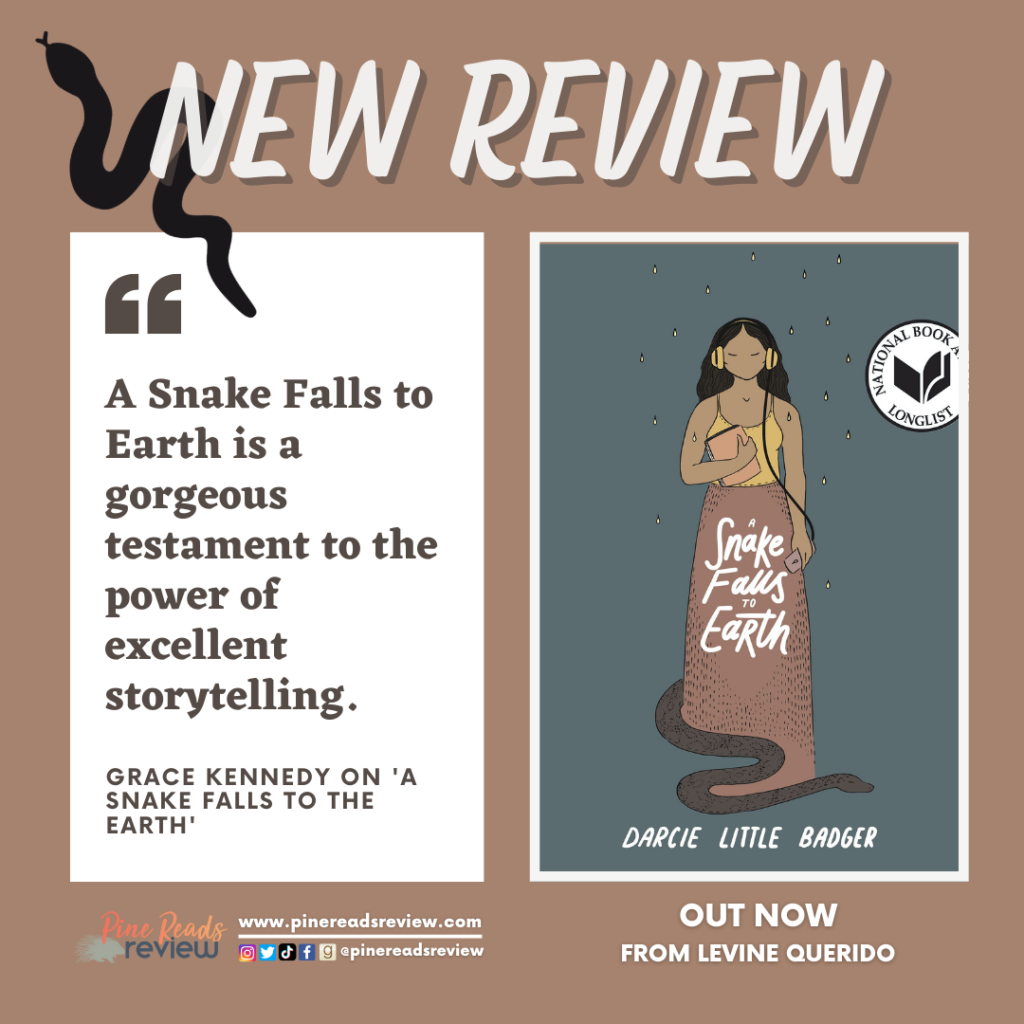 A Snake Falls to Earth by Darcie Little Badger
Out Now from Levine Querido; 352 pages
Content Warnings: fantasy violence, brief mentions of colonization,
About the Author: "Darcie Little Badger is a Lipan Apache writer with a PhD in oceanography. Her critically acclaimed debut novel, Elatsoe, was featured in Time Magazine as one of the best 100 fantasy books of all time. Elatsoe also won the Locus award for Best First Novel and is a Nebula, Ignyte, and Lodestar finalist. Her second fantasy novel, A Snake Falls to Earth, is coming in November 2021 and is on the National Book Awards longlist. Darcie is married to a veterinarian named T."

Find Darcie Little Badger on the following platforms:
---
"There did not seem to be any kindness in the world beyond my childhood, and I could never return to the past."
Nina is a Lipan girl who lives an ordinary life in our ordinary world, but she knows there's something else out there — something that lives and breathes in her family's stories. Oli is a cottonmouth, a snake person, who lives in a world of monsters, animal people, and danger around every corner. Like most cottonmouths, he was forced to leave home on a treacherous journey and make his own. The two have never met, but when Earth is struck by disaster and Oli's closest friend becomes gravely ill, the worlds of humans and monsters collide in a way no one has seen for eons. Soon Nina and Oli find that some forces will do anything to keep them apart.
While Darcie Little Badger's stunning debut novel, Elatsoe, is a deeply focused, fast-paced mystery, A Snake Falls to Earth is anything but. As much as I adored reading Elatsoe, this contrast is not a bad thing. A Snake Falls to Earth is a winding, beautifully written narrative about the feelings of growing up as experienced by the cottonmouth Oli and the Lipan girl Nina. Though both books contain Little Badger's rich, deeply lyrical prose and strong storytelling abilities, this new novel reads at a much more leisurely pace. The inspiration taken from Lipan Apache storytelling is incredibly clear from the expertly interwoven structure of the narrative. I loved that the book takes place over the span of several years, showing vividly how Nina becomes gripped by the desire to piece together her family's stories. I was drawn in even more while reading about Oli's fantastical homeland. But what's really special about this book is how easy it was for me to get lost in it. Past the captivating plotline, A Snake Falls to Earth is a gorgeous testament to the power of excellent storytelling.
PRR Assistant Director, Grace Kennedy