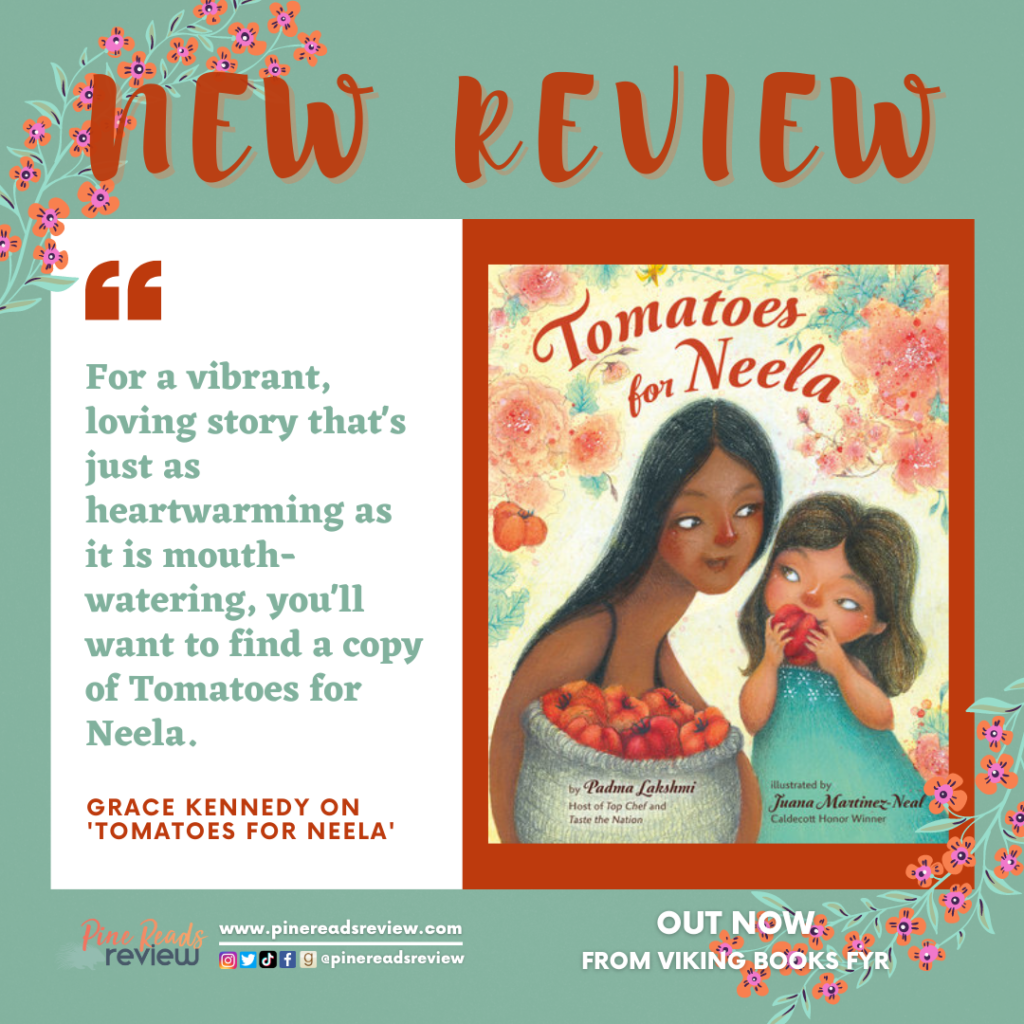 Tomatoes for Neela written by Padma Lakshmi and illustrated by Juana Martinez-Neal
Out Now from Viking Books for Young Readers; 32 pages
About the Author: "Padma Lakshmi is the Emmy-nominated host of the highly rated and critically acclaimed, Emmy-winning Bravo series Top Chef, and the author of three cookbooks and food titles: the award-winning Easy Exotic; Tangy, Tart, Hot & Sweet; and the Encyclopedia of Spices and Herbs. In addition to her culinary achievements, Lakshmi has contributed to such magazines as Vogue, Gourmet, and Harper's Bazaar (UK and US), and penned a syndicated column on fashion and food for the New York Times. Her television-hosting credits include Planet Food and Padma's Passport, as well as other programs in the United States and abroad. A global style icon and the first internationally successful Indian supermodel, Lakshmi also helms companies of her own such as the Padma Collection and Easy Exotic. Lakshmi is a cofounder of the Endometriosis Foundation of America. Since 2009, the organization has advocated for early diagnosis, promoted research, and raised awareness in the medical community and the greater public about this devastating chronic disease which affects over 190 million women worldwide. She lives in New York City with her daughter." (Bio taken from Goodreads)
Find Padma Lakshmi on the following platforms:
About the Illustrator: "I'm Juana and I write and illustrate books for young readers. Alma and How She Got Her Name (Candlewick Press) was my debut picture book as an author-illustrator, and was awarded the 2019 Caldecott Honor. I am also the illustrator of La Princesa and the Pea (written by Susan M. Elya, Putnam/Penguin), winner of the 2018 Pura Belpré Medal for Illustration, and Fry Bread: A Native American Family Story (written by Kevin Noble Maillard, Roaring Brook Press), winner of the 2020 Robert F. Sibert Medal. I was born in the busy city of Lima, the capital of Peru. Now I live in the woods in Eastern Connecticut. Here I share a home with my husband, two sons, daughter, our two dogs, and the souls of our late cat, Kitty, and ginormous dog, Puppy. For interviews and publicity requests, write to my publicist at Candlewick Press–publicity(at)candlewick.com. For events and library and school presentations, contact The Author Village. For children's books projects, contact Stefanie Sanchez Von Borstel of Full Circle Literary. Nací y crecí en Lima, y soy bilingüe. No duden en escribirme en español." (Bio taken from illustrator's website.)
Find Juana Martinez-Neal on the following platforms:
---
"Neela loved listening to her amma tell stories while they cooked together. Many of these tales had been passed down from mothers to their daughters."
Neela loves cooking with her amma at home, though she misses Paati, her grandmother, in India. Neela's warm kitchen is always bursting with the most flavorful dishes and aromatic smells, from ramen and dosas to sweet mango pudding. She always tries her best to be helpful in the kitchen as her amma tells her how each dish is made, much like many past generations of mothers and daughters have done. As Neela watches her mother write down recipes in her special cookbook, she feels closer to her Paati, too. At the green market, Neela is ecstatic to see the fresh, end-of-summer produce piled high here and there, but the tomatoes are especially exciting. Together, she and her amma learn about the history and use of tomatoes while they make a special sauce. Neela makes sure to save some for her Paati's next visit!
Tomatoes for Neela is a sweet, wonderful book about cooking, feeling connected to your culture, food history, and an intergenerational story all wrapped in one lovely, watercolor bow. There is a lot of text, which contains details about Neela's feelings on her family, as well as the kinds of dishes she cooks. I think the labels of the different dishes and different kinds of tomatoes are a great way to get kids more interested in cooking, in addition to the importance of feeling cultural connections. There is even a recipe for Paati's special tomato sauce in the back matter! Juana Martinez-Neal's delicate yet bright illustrations really help make the book feel as warm as a kitchen filled with family love. I loved the inclusion of gray illustrations of Neela's Paati looking over her shoulder, showing the impact family has on her as well as the way recipes are passed down over generations. For a vibrant, loving story that's just as heartwarming as it is mouth-watering, you'll want to find a copy of Tomatoes for Neela.
PRR Assistant Director, Grace Kennedy