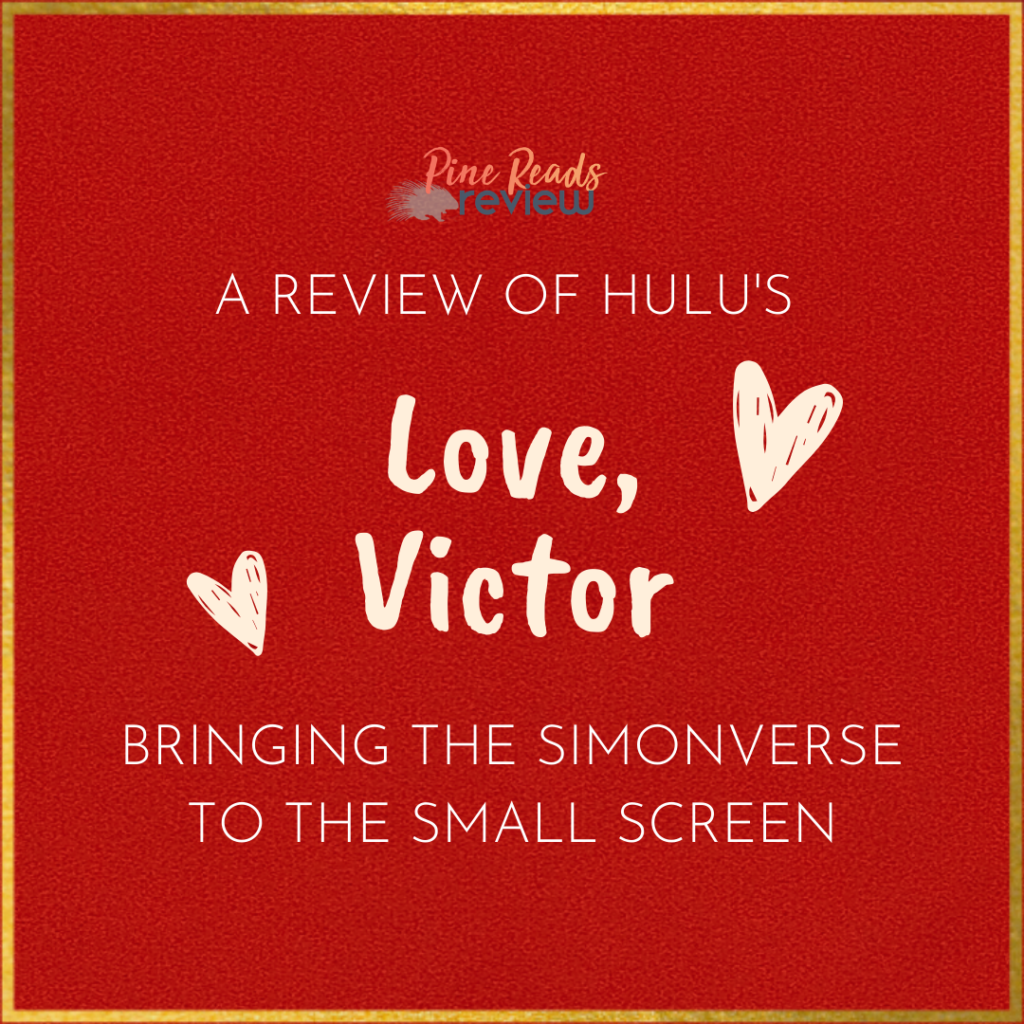 Warning: Major spoilers below for the film, Love, Simon; Simon vs. the Homo Sapiens Agenda by Becky Albertalli; and the Hulu original television series, Love, Victor.
Back in 2018, 20th Century Fox released Love, Simon, a feature film inspired by Becky Albertalli's young adult novel, Simon vs. the Homo Sapiens Agenda (HarperCollins, 2015). Both the film and original book follow Simon Spier, a closeted gay teenager who's blackmailed by a fellow classmate after he discovers Simon's sexuality via his online correspondence with an anonymous pen pal, Blue, whom Simon is also in love with. At the climax of the story, Simon is publicly outed by the same classmate, but is eventually able to find acceptance from his friends and family. Plus, he finally meets Blue (revealed to be a classmate named Bram) and the two begin a relationship.
Albertalli has since written several subsequent novels set in the same world, and some even follow side characters from the original novel, creating a fictional universe lovingly deemed the "Simonverse." Besides Simon, none are yet to be adapted as feature films, but that doesn't mean that Love, Simon was the end of the onscreen existence of Albertalli's Simonverse.
On June 17th of this year, Hulu released Love, Victor, a spinoff television series set in the same Atlanta, Georgia, suburb as the original film, but now following Victor Salazar (Michael Cimino), a newcomer to Creekwood High School whose family just moved from Texas looking for a fresh start. Hoping that Atlanta will be more progressive than back home, especially when he hears about Simon's story, Victor feels like he can finally start to figure out who he really is. Struggling with his sexuality in particular, Victor turns to a now-graduated Simon living in New York with his boyfriend Bram. Throughout the first season, actor Nick Robinson returns as Simon, who offers advice to Victor in voice-over as the two form a wonderful mentor-mentee relationship over instant messaging. (A platonic and endearing mirror to the online correspondence that Simon and Bram have in the original book and feature film.)
In the opening scene of the pilot, Victor types his first message to Simon, in which, after briefly recounting Simon's coming-out story and happily ever after, Victor abruptly says, "Screw you," and goes on to contrast their two very different lives. "Screw you for having the world's most perfect, accepting parents. The world's most supportive friends," Victor continues. "Because for some of us, it's not that easy." While Love, Simon marked a huge milestone for queer representation on screen—as the first feature film released by a major Hollywood studio to focus on a gay teenage romance—the film is still just one kid's coming-out story. And critics were quick to point out the film's limited scope. Simon's journey is by no means easy. He's blackmailed, publicly outed, and repeatedly harassed because of his sexuality. However, Simon is also very privileged in some respects, being a white, straight-passing, upper-class, cisgender young man with a liberal family and (in the end) accepting friends. As such, Simon's story is not one that every queer person can relate to . . . including Victor.
Victor is a Texas-born, Latinx teenager who comes from a working class, religious family. So, it's safe to say that he is not privy to the same liberal, wealthy, white privilege that Simon is. And with ten episodes, each clocking in at around 30 minutes, Love, Victor has a lot more screentime to unpack the intersectionality of Victor's life—and this is where the series really shines. While time is also spent on plotlines concerning peripheral characters—such as Victor's goofy neighbor, Felix, or his rebellious sister, Pilar— the most poignant moments of the first season are, arguably, the ones focused on Victor's complex inner struggle.
From getting a part-time job to pay for basketball fees (as Victor says, his family isn't "Creekwood rich") to trying to keep the peace in a tense homelife, Victor has a lot on his plate. On top of that, he just wants some time and space to figure out who he is. (Though, instead, he is met time and time again by rampant queerphobia from both schoolmates and family, like being warned by Felix to watch his interactions with an openly gay classmate because, "you don't want people to get the wrong idea.") Throughout the first season, viewers watch as Victor discovers and explores the fluid spectrum of human sexuality. "Some guys like girls. Some guys like guys. Some guys like both," he says in episode three. "I'm not even sure what I like." When we meet Simon, he already knows he's gay—he just hasn't told anyone yet. For Victor, his journey starts several clicks back, where his sexuality doesn't yet fit a clean label like pansexual or gay.
And you know what, I love that.
As much as it hurts to see Victor struggle and question and doubt himself, nothing could be more real or raw. Figuring out who you are is a messy business, especially when you're young— and Love, Victor doesn't shy away from that. For instance, in episode seven, Victor collapses after kissing his crush, Benji. Afterwards, he talks about his internalized homophobia with Simon: "I can't keep denying this. I am what you think I am, but I hate it. I don't want my life to be this hard." It's painful to watch Victor hate himself, but it's unfortunately an all-too-real experience that many queer people go through. Moreover, giving Victor the opportunity to express his shame is the first step in transcending it. (And don't worry, Simon is there to tell Victor that "the part of you that you wish you could cut out. That's the part that makes you… you.")
My favorite scene, though, comes at the tail end of episode eight when Victor visits Simon and Bram in New York City, meeting their group of out-and-proud roommates and even visiting a queer club and playing with a gay basketball league. After a weekend of Bram (Keiynan Lonsdale) helping Victor realize that there's "no one way to be gay," Simon shows up in the flesh for a heart-to-heart chat with Victor. Beforehand, Victor discovers that Simon told his roommates all about his life, and is rightfully upset about someone he trusted sharing such personal information.
However, Simon tries to explain his reasoning as he says, "I know you want me to be like this guru who has all the answers, but the truth is, I don't […] Like you said in your first message, we're not the same." Simon clarifies that he asked his friends for help because they each offered a "little piece of the puzzle" when it comes understanding to the plethora of queer experiences. Simon doesn't have religious parents like Victor, but his roommate Justin does. "To me, that's the best part about all this," Simon continues. "Having a community. A group of friends that gave up an entire weekend to help a kid they've never met, just because they know that on some level, we've all been through the same thing." Simon's heartfelt monologue emphasizes that queerness is diverse, and said diversity should be acknowledged and celebrated; but the queer community also has such a propensity for unity, support, and of course, love.
Therefore, I hope that the series provides queer viewers, especially queer teens, with the same sense of community that Simon gives Victor. To know that, even when you're hurting, there are people in the world who love you, just the way you are, even if they don't know you personally. To know that it's okay to continue to redefine yourself because not everything is cut and dry or a straight and narrow line. To know that someone out there has been where you are. But most of all, to know that you're going to be okay.
And no, the series isn't perfect—rarely, anything is—but with this in mind, I'm excited to see how Love, Victor continues to explore the complexity of what it means to be queer in (a hopeful) season two.
PRR Writer, Hannah Miller