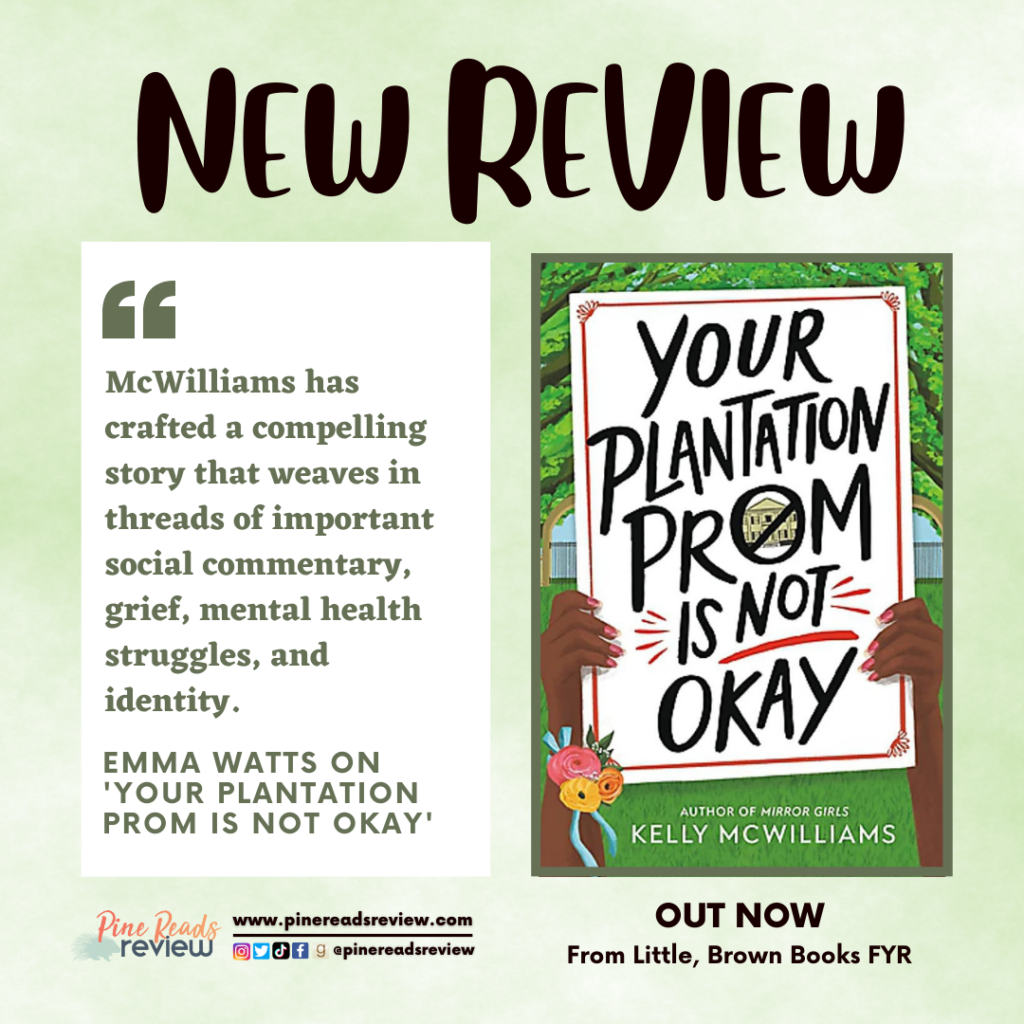 Your Plantation Prom is Not Okay by Kelly McWilliams
Out now from Little, Brown Books for Young Readers; 320 pages
Content warning: Racism, death of a parent, depression, mental health issues, medical negligence
About the Author: "Kelly is a mixed-race writer. AGNES AT THE END OF THE WORLD (2022) was a finalist for the Golden Kite Award, and MIRROR GIRLS (2022) is a Junior Library Guild Gold Standard Selection. She's written for TIME, Romper, and Bustle, among other outlets" (Bio from author's website).
Find Kelly McWilliams on the following platform:
---
"When it remains abstract, horror's hard to catch hold of. Misty as a dream and all too easy to forget."
When Harriet Douglass was in elementary school, her family moved to a plantation in Louisiana and turned it into an enslaved people's museum—one of the only ones in the South. After her mother passes away from cancer when Harriet is in high school, she throws herself into giving tours of the museum to help her keep the past alive and feel close to her mom at the same time. Harriet loves her home, and she loves history. When she finds out that a celebrity bought plantation land right next door to the museum with the hopes of turning it into a wedding venue, Harriet is rightfully angry. She gets even angrier when she discovers that her private school is planning on hosting their prom on the grounds. Is there anything she can do to make people realize just how horrible plantation weddings and proms are?
This novel is one that I would recommend to everyone. It tackles the topic of racism head-on, exposing the micro-and macro-aggressive actions of multiple characters. It points out how common white saviorism and performative activism is, as well as the direct harm it causes. McWilliams has crafted a compelling story that weaves in threads of important social commentary, grief, mental health struggles, and identity. It tackles heavy topics, and readers see Harriet experience a lot of anguish, but the novel also highlights the importance of community, hope, and education in the fight against racism. This is a novel that will make you laugh and cry, and you won't be able to help falling in love with Harriet. She has her flaws, but her stubborn heart is in the right place—as a reader, you'll either be able to relate to her struggles and her frustration, or you'll be able to listen to them and learn how to be a better ally to the Black community.
(Pine Reads Review would like to thank NetGalley and the publisher for sending us an ARC in exchange for an honest review. Any quotes are taken from an advanced copy and may be subject to change before final publication.)
PRR Writer and Co-Director, Emma Watts
---