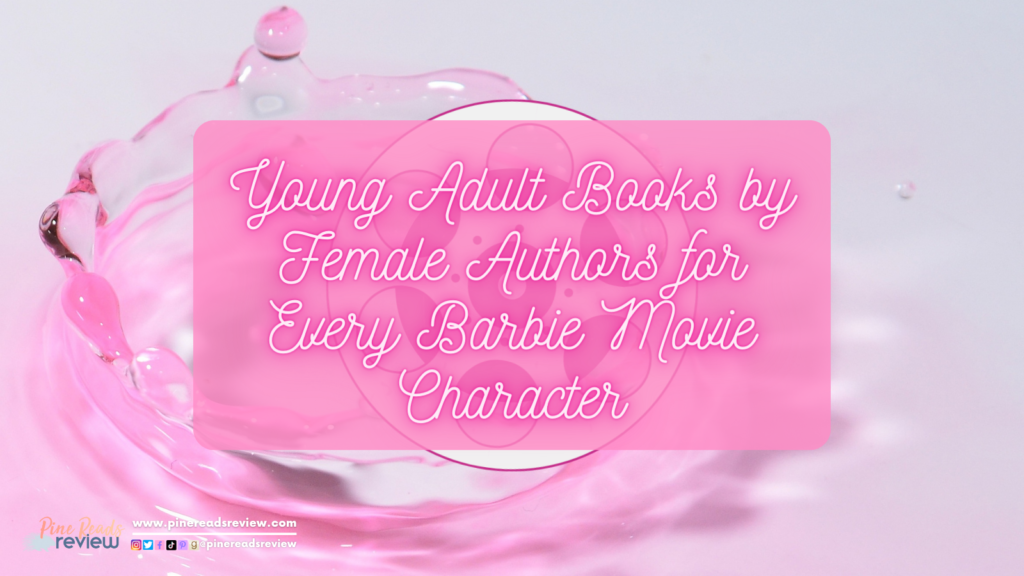 Like almost every person ever, I'm obsessed with Barbie right now. I'm also obsessed with books (obviously), so of course I had to blend the two together! After a considerable amount of reflection, contemplation, deliberation, and revision, I've finally arrived at a list of books best suited, in my humble opinion, for each Barbie character. Just in case you are dying to know which Barbie you are and which book you should read from this painstakingly-curated list, here's a "Which Barbie Are You?" quiz from IDR Labs! If you were wondering, Pine Reads is proud to have many a Writer Barbie amongst our ranks.
Warning: mild spoilers ahead!
---
Stereotypical Barbie: Legendborn by Tracy Deonn
As Barbie said in the movie, when you think of Barbie, you think of Stereotypical Barbie. When I think of the best YA fantasy, I think of the Legendborn series. It has all the classic hallmarks of YA fantasy: a girl with unique magical powers, brooding bad boys, perfect golden boys, a love triangle with said boys, ancient evil, plenty of perilous quests, at least one dead parent, etc. All the good stuff. Except it's done well, with enough unique elements that make Legendborn a stand-out in the genre. Who doesn't want to read about the descendants of King Arthur's knights and a magic system steeped in ancestral magic? I can already see Stereotypical Barbie picking up Legendborn from the Barbieland bookstore!
---
After Ken's disastrous experience with the real world resulted in him inflicting patriarchy upon Barbieland, maybe he should learn about masculinity from a less toxic source. Enter this Gatsby retelling, which follows Nicolás Caraveo, a seventeen-year-old trans boy, as he navigates the treacherous gilt of New York City, alongside his cousin Daisy, who now hides her Latina identity to pass as white. He finds an unlikely ally in the midst of the ostentatious glitz and glam—his obscenely rich neighbor, Jay Gatsby, who he learns is not only head-over-heels for his cousin but also a self-made boy, just like him. Ken is a hopeless romantic at heart; there's no doubt in my mind that he'll love this classic love story, especially since this book doesn't end in tragedy.
---
Gloria went through a lot in this movie—she deserves a fun, humorous fantasy romp of a book so she can relax and can lose herself in another world for a bit. That being said, Momo Arashima does deal with weighty themes such as dealing with grief and toxic masculinity (maybe Ken should give this book a read too…), but, if anything, that would make Gloria even more excited to read this novel. You don't make Irrepressible Thoughts of Death Barbie if you can't handle some discussion about serious subjects. Anyways, this book is basically about a daughter trying to save her mother, who is a Shinto goddess, from a fate worse than death, and so she goes on a classic hero's journey, fights lots of monsters, and has serious conversations about the nature of humanity. The perfect blend of serious and silly, which is also the perfect way to describe Gloria's personality, in my opinion.
---
I would select nothing but the finest feminist fantasy for Sasha! She's a teenager starting to gain awareness of all the horrid injustice and oppression present in the real world, and all of that can be so, like, disheartening. In Ten Thousand Doors, the protagonist, January, also faces a similar dilemma: no one in the real world takes her seriously because of her gender and race. But then she discovers doors that lead to other worlds and to long-buried secrets that reveal more about her, and her mother, than she could ever have imagined. There are no damsels in distress here—the heroine saves herself every time, just as the girls in Barbie do.
---
President Barbie: Renegades by Marissa Meyer
All rise for the President! Madam President certainly has her hands full running Barbieland, but hopefully she can make time for a book or two. I would recommend the trilogy Renegades to her, a high-octane tale of heroes and villains and a group of friends who are caught in the middle of it all. I love a morally fraught, corrupted-superheroes story that highlights the complicated politics of justice, and as President, this Barbie would too. Not to mention fun tropes like enemies-to-lovers, unique superpowers, and cool superhero/villain names!
---
Weird Barbie: Ella Enchanted by Gail Carson Levine
Weird Barbie, as the Barbies call her behind her back and also to her face, started off as a normal Barbie. Until she was played with a little too hard. She might relate a little to Ella, who is cursed by a wicked (or maybe just rash) fairy to always be obedient. Always. She lives with her evil stepmother and stepsisters, who often toy with her and assign her tasks that puts her very life in danger. Eventually, she realizes she deserves better and goes off to find that wicked fairy and undo her curse once and for all. Though heavily inspired by the tale of Cinderella, Ella does not behave at all like a stereotypical princess—much like Weird Barbie does not act at all like a stereotypical Barbie. Both girls forge their own paths, no matter what other people say about them, and take control of their own destinies.
---
Mermaid Barbie: The Waterfire Saga by Jennifer Donnelly
What's lurking underneath the waves? We didn't get to see much of Mermaid Barbie other than her vibrant blue hair and gorgeous makeup, so it's up to our imagination! The Waterfire Saga imagines an underwater world where mermaids sing magic into existence, wear long pretty dresses made of seashells, and commit murder. Crown princess Serafina's coronation is supposed to placate the rumbling unrest of her kingdom, but instead, an assassin's arrow wounds her mother mid-ceremony and the land descends into chaos. She'll have to join forces from mermaids across the seven seas in order to appease her people and unveil darker forces that are brewing. Fraught with political intrigue, drenched in magic, and set in an enchanting world, the Waterfire Saga is the perfect mermaid fantasy that is sure to delight Mermaid Barbie (and you!).
---
To be honest, I've never read this book, but it's on my TBR list! It's also the first book that popped into mind for Doctor Barbie. It feels like Grey's Anatomy mixed in with The Fault in Our Stars, which is probably why I haven't read it—it might be a little too cheesy and unrealistic for me—but everyone needs a healthy dose of cheesy and unrealistic every now and then. That's why this book is perfect for Doctor Barbie—after a long day's work of fixing up Kens wiping out at their oh-so-hard job of Beach, she can lose herself in this story about a recently graduated 16-year-old doctor who is learning to balance the stress of managing real-life cases, proving herself to the adults around her, maintaining her relationships, and having to deal with this cute boy who also happens to have cancer.
---
Writer Barbie: Wild Beauty by Anna-Marie McLemore
Writer Barbie has a Nobel prize, so choosing a book for her was a little stressful! She must have exquisite taste! Wild Beauty is here to deliver, with breathtaking prose and a rich story about flower magic and deep-rooted generational trauma inspired by real Latino history. The Nomeolvides women, gardeners who can grow flowers from nothing with their touch alone, suffer under a generational curse: without fail, anyone a Nomeolvides falls in love with will disappear. When one day a strange boy appears in the gardens, defying generations of this curse, he's found by Estrella, the youngest of the Nomeolvides clan. Unbeknownst to both, he holds the key to secrets long buried in the Nomeolvides garden, secrets that can perhaps be their salvation, or destroy them all. This searing tale of love, loss, and family is definitely one that Writer Barbie would savor!
---
Barbie is whoever you can imagine her to be. To me, Physicist Barbie is an astrophysicist, because, personally, that's the only type of physics that could ever pique my interest. Accordingly, I'm assigning her A Scatter of Light, a queer coming-of-age story about Aria, a young Chinese American girl who is the target of a slut-shaming scandal at her school and is therefore sent away to her grandmother's home for the summer. There, she discovers her recently passed grandfather's astronomy journals and finds an unparalleled solace in the mathematics of the stars, and also in Steph, the undeniably cute musician who introduces her to the local queer scene. It's a story of finding yourself, making mistakes (so many mistakes), and realizing how everything can turn out alright despite it all.
---
Lawyer Barbie: Cruel Beauty by Rosamund Hodge
Now this one might be a bit of a stretch, but hear me out. We have Nyx, betrothed to the deal-making devil Ignifex who rules the kingdom because of her father's ill-struck bargain. The twist is: she's been raised her whole life to kill him. When her plan is basically found out the second she steps foot in Ignifex's home, she has to bargain for her life (sounds lawyer-esque, right?). As time goes on, Nyx learns that there's more to Ignifex other than his whole evil-lord-of-the-land shtick, and begrudgingly begins to care for him. Now she has to choose between the man she isn't supposed to love and her sworn duty to her kingdom. I think Lawyer Barbie would enjoy this magical enemies-to-lovers book, packed full with witty banter and tension-filled stares. Sounds like a day in court to me. Disclaimer: I'm not a lawyer nor am I planning to be one.
---
Ruth's scene at the end of Barbie filled me with that ache that never fails to bloom when I think of motherhood and mothers' sacrifices for their daughters. "Mothers stand still so our daughters can look back to see how far they have come" is a sentence that will haunt me, forever and always. Despite Ruth's soul-wrenching words, she is a woman full of love, and so I believe she would enjoy this wholesome book centering around found family and queer fatherhood. Linus Baker, your average office worker at the Department in Charge of Magical Youth, is assigned to a particularly gnarly case: he must determine whether six supremely magical children will bring about the end of the world, and if he thinks so, well, he must take care of the problem. Their caretaker, however, one Arthur Parnussus, will do anything for these children, which is superbly annoying of him even if he is dastardly charismatic. Linus' work trip was supposed to be challenging, yes, but not when it comes to matters of the heart! Love–romantic, platonic, and familial–is at the core of this book, making this a delightful novel for Ruth.
---
Allan! He's one of the girls! He just needs a good action-packed adventure that'll take him far away from Barbieland, because clearly living amongst all the Kens is taking a toll on him. Of Giants and Ice is the first installment in the Ever Afters series and follows Rory Landon, a girl whose fairy-tale-themed summer camp experience takes a turn for the peculiar-slash-terrifying when she ends up fleeing from a fire-breathing dragon on her first day there. She soon learns that fairy tales are not just the theme of the camp, they are in fact real. She's destined to star in one, so she better get practicing her sword fighting. Hopefully, this is enough to distract Allan from the fact that he'll probably be stuck in Barbieland forever…
---
Mattel CEO: The Henna Wars by Adiba Jaigirdar
What Mr. Mattel needs is a rom-com before bedtime. Also something that grounds him in reality and brings him awareness of the real world's issues, because he seems to be blissfully ignorant of anything below his place at the tip-top of the Mattel tower (other than runaway Barbies, it seems). The book that's best fit for the job is *drum roll please* The Henna Wars. It's a beautiful tale about queerness, high school romance, and the intersection between culture, sexuality, and religion. Nishat's Bengali parents kind of hate her for coming out as lesbian, her crush starts appropriating Nishat's cultural practice of henna for a school business competition, and then kids at school start spreading racist and Islamaphobic rumors about Nishat and her family. With so much going wrong, she doesn't know how to make everything right again, but still she holds onto her determination to be unapologetically herself. Maybe by some stroke of luck, this book can persuade Mr. Mattel to at least acknowledge his privilege.
---
Aruna Sreenivasan, Pine Reads Review Assistant Director