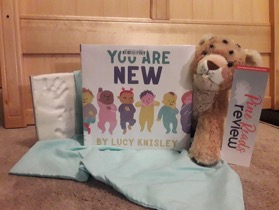 You Are New by Lucy Knisley
Chronicle Books, 2019, 42 pages
Trigger warnings: N/A
Social Media:
Twitter: @LucyKnisley
Instagram: lucyknisley
About the Author: Lucy Knisley is an award-winning comic creator. She specializes in graphic novels and is known for her books French Milk, Relish and Displacement. When Lucy isn't writing, she speaks at comic cons and book festivals, and teaches at schools and workshops. Lucy lives in Chicago with her husband, son and fluffy cat. You can find more about her at: http://www.lucyknisley.com.
"A world of being new is waiting— exciting… cool… and fascinating."
With so many things to do, it sure is tough when you are new! There's crawling, cuddling, snoozing, touching. You're moving, shaking, tasting, watching…
Lucy Knisley's book, You Are New, is a welcoming celebration of all the things that make us "new." The story is perfect for new humans or first-time siblings; it is a cute and sweet insight into the similarities in learning when we first enter the world and when we learn to do new things as older humans.
Knisley charmingly weaves together rhyming verse and illustrations of babies' many actions, highlighting essential verbs with color for young readers. The story flows seamlessly, effectively teaching while engaging. Knisley represents all shapes, sizes and colors of humans in her illustrations, aiding her readers to relate their own experiences at different ages. Whatever your age, You Are New reads like a big hug: warm, fun, and a new beginning.
PRR Writer, Mandy Becker