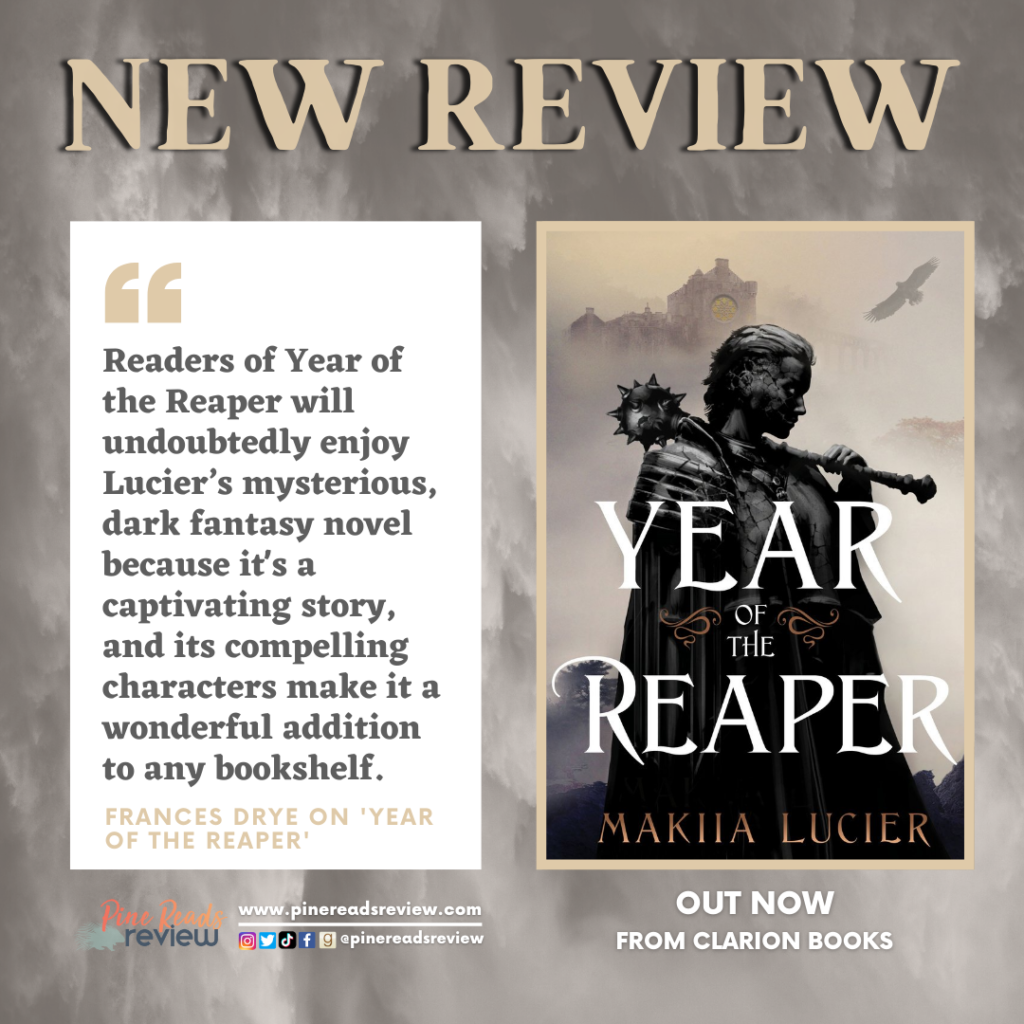 Year of the Reaper by Makiia Lucier
Out Now from Clarion Books; 336 pages
Content Warnings: Torture, violence, gore, illness, human experimentation, death, trauma/PTSD
About the Author: "Makiia Lucier grew up on the Pacific island of Guam and has degrees in journalism and library science from the University of Oregon and the University of Wisconsin-Milwaukee. Her books have appeared on many notable lists, including the Kids' Indie Next, the American Booksellers Association's 'Best Books for Children,' and the American Library Association's 'Best Fiction for Young Adults.' A Death-Struck Year, her debut novel, is set in Portland, Oregon during the Spanish Flu pandemic of 1918. The world of St. John del Mar, in which Isle of Blood and Stone and Song of the Abyss take place, was inspired by a childhood love of the Indiana Jones movies, as well as a lifelong fascination with old, old maps. She lives with her family in North Carolina." (Bio taken from author's website)
Find Makiia Lucier on the following platforms:
---
"We are not promised a long life, Cassia. Just a life. Take what happiness you can. Hold tight to it."
Cassia wants nothing more than to return home to his castle and family in the mountains. Though he used to be an engineer's apprentice, many things have changed since the Plague hit. It ripped through the kingdom, tearing its people apart and stealing innumerable lives. Once Cas finally arrives home, he realizes it is not the same place he left behind. The King, Queen, and the whole royal court have escaped there and brought a myriad of troubles with them. On the day of the newborn Prince's naming ceremony, an assassin targets the Queen, spurring Cas into a mission to discover who could be behind such an attack. Along with a dazzling and optimistic historian named Lena, Cas uncovers a shocking mystery, one that is sure to rock his kingdom to the very core.
Makiia Lucier's stand-alone novel, Year of the Reaper, is everything a YA fantasy should be. The book was full of interesting worldbuilding, relatable characters, and complex relationships. On top of all of that, the mystery is so gripping and fast-paced that I could barely put the book down. The main character, Cas, is one that I instantly connected with. He has so many traits that readers should get to see in characters: he is fiercely loyal to those he loves, and he deals with extremely prevalent issues such as grief and trauma. Throughout the novel, readers watch as Cas learns to experience joy and life, even after years riddled with sorrow and pain. Cas' relationship with his brother Ventillas was one of the best parts of the book. It added an element of love that made the novel even more compelling and genuine. Readers of Year of the Reaper will undoubtedly enjoy Lucier's mysterious, dark fantasy novel because it's a captivating story, and its compelling characters make it a wonderful addition to any bookshelf.
(Pine Reads Review would like to thank NetGalley and the publisher for providing us with an ARC in exchange for an honest review. Any quotes are taken from an advanced copy and may be subject to change upon final publication.)
PRR Editor and Writer Frances Drye