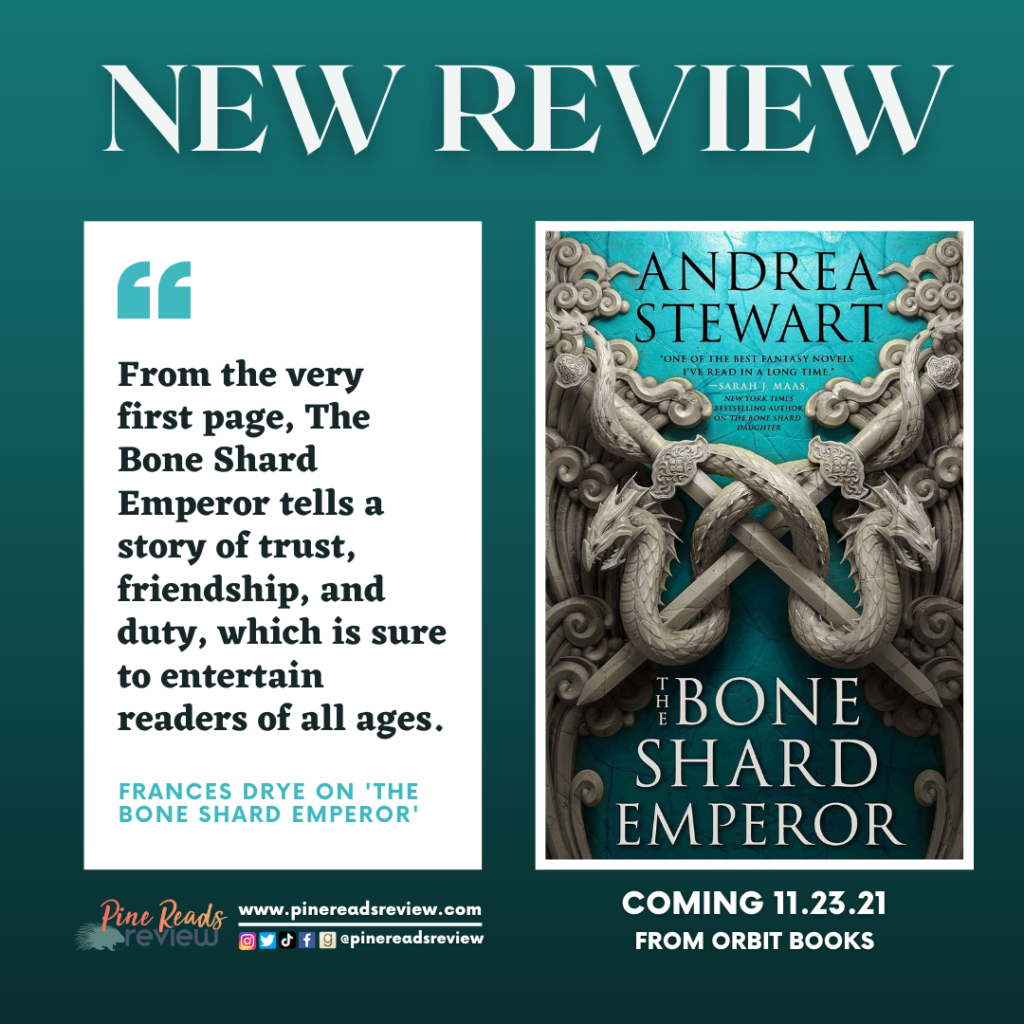 The Bone Shard Emperor by Andrea Stewart
Coming November 23, 2021 from Orbit Books; 560 pages
Content Warnings: Animal abuse, murder, natural disasters, death, mentioned childhood abuse, trauma, violence
About the Author: "Andrea Stewart is the daughter of immigrants, and was raised in a number of places across the United States. Her parents always emphasized science and education, so she spent her childhood immersed in Star Trek and odd-smelling library books. When her (admittedly ambitious) dreams of becoming a dragon slayer didn't pan out, she instead turned to writing books. She now lives in sunny California, and in addition to writing, can be found herding cats, looking at birds, and falling down research rabbit holes." (Bio taken from author's website.)
Find Andrea Stewart on the following platforms:
---
"If there's one thing it's all taught me it's that if I try too hard to hold on to power at the expense of everything else, in the end that's all I'll have: power."
Lin Sukai is finally the Emperor. She has taken over after the treacherous reign of her father, and though she attempts to correct all the atrocities he committed, she is also faced with a slew of disasters. A rebellion led by vengeful constructs has begun on the far away islands at the edge of her Empire and the powerful Alanga magicians have finally returned, and Lin's reign has only just begun. She is still trying to unravel the secrets her father left behind and doesn't know who to trust. As Lin attempts to bring peace and safety to her Empire, she discovers a hidden power inside herself, revealing she may not be who she thought she was.
Andrea Stewart's beautifully rendered characters, intricate worldbuilding, and unique magic system brought the first book in the series, The Bone Shard Daughter, to life. Stewart's newest installation in the series, The Bone Shard Emperor, contains all those same features but with more mystery, more conflict, and more lovable characters. Lin and Jovis' characters become more emotionally complex and realistic as they develop new relationships and deal with past trauma. Lin learns what it means to accept herself and to trust another person while fighting to be a worthy Emperor—who is strong and capable but not cruel, like her father was. Jovis, on the other hand, fights with his sense of honor and duty, as well as his growing friendship with Lin. His internal struggles add to his witty and charming voice that readers of the first novel fell in love with. From the very first page, The Bone Shard Emperor tells a story of trust, friendship, and duty, which is sure to entertain readers of all ages. 
The Bone Shard Emperor releases November 23, 2021.
(Pine Reads Review would like to thank NetGalley for sending us an ARC in exchange for an honest review. Any quotes are taken from an advanced copy and may be subject to change upon final publication.) 
---
PRR Editor and Writer, Frances Drye