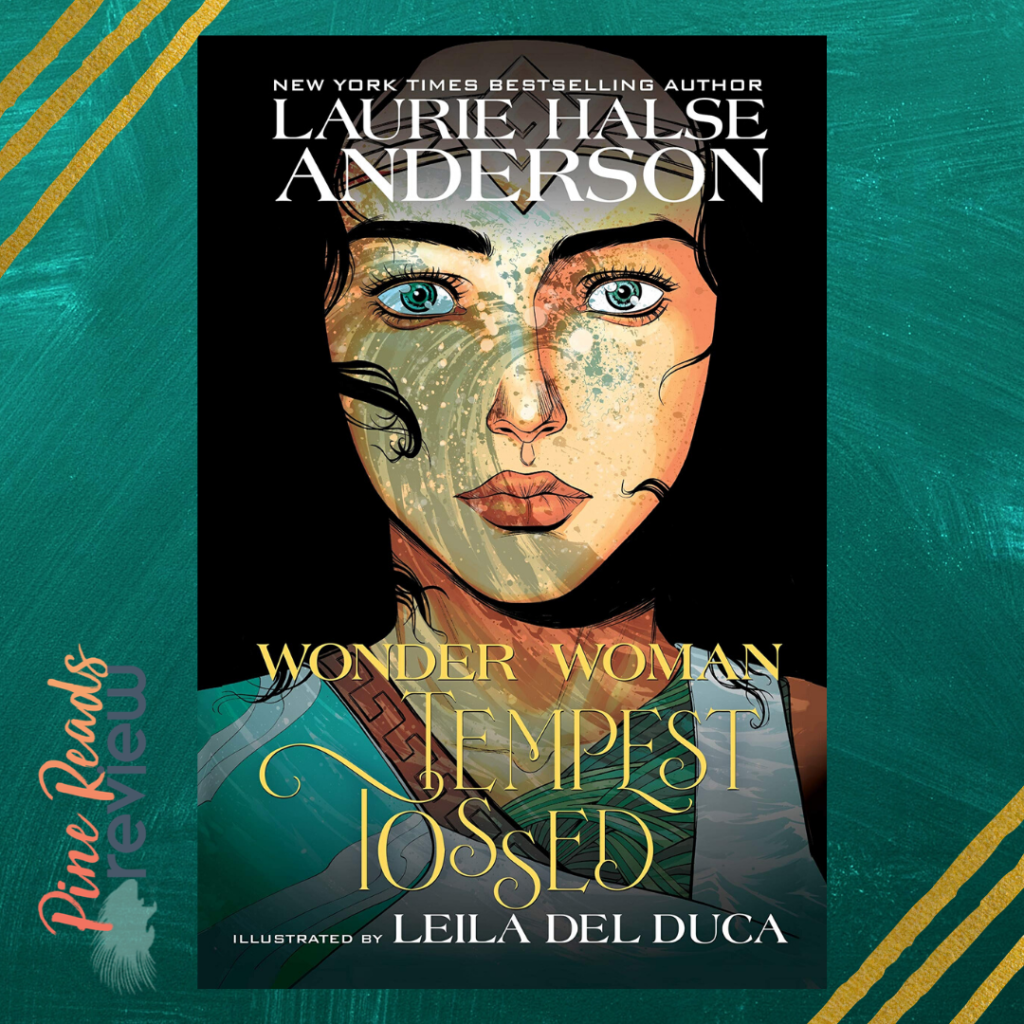 Wonder Woman: Tempest Tossed by Laurie Halse Anderson
Illustrated by Leila Del Duca
DC Comics, 2020, 208 pages
Trigger Warnings: child trafficking, violence, kidnapping, mention of rape and sexual abuse, harassment, intense action
About the Author: Laurie Halse Anderson is a New York Times bestselling author known for tackling tough subjects with humor and sensitivity. Two of her books, Speak and Chains, were National Book Award finalists, and Chains was also short-listed for the United Kingdom's Carnegie Medal. She was selected by the American Library Association for the Margaret A. Edwards Award for her significant contribution to young adult literature. Laurie has also been honored for her battles for intellectual freedom by the National Coalition Against Censorship and the National Council of Teachers of English. She is a member of RAINN's National Leadership Council and frequently speaks about sexual violence. (Bio taken from back matter of digital ARC provided through NetGalley.)
Website: https://madwomanintheforest.com/
Instagram: @halseanderson
Twitter: @halseanderson
About the Illustrator: Leila Del Duca is a comic book creator based in Portland, Oregon. Besides drawing Wonder Woman: Tempest Tossed, she has drawn Sleepless and Shutter and wrote Afar at Image Comics. Leila has also worked on titles such as The Wicked + The Divine, Scarlet Witch, American Vampire, and The Pantheon Project. During her spare time, she loves to make food, read, dabble in music, and do craft projects, especially during the Portland rainy months. She also loves staring off into space and considers it her favorite pastime. (Bio taken from back matter of digital ARC provided through NetGalley.)
Website: https://www.leiladelduca.net/
Instagram: @leiladelduck
Twitter: @leiladelduca
"When the rules are wrong . . . you have to break them."
On the mythical island of Themyscira, forged by the gods to protect the world yet shielded from the outside by a magical barrier, a race of fierce woman warriors called the Amazons live in peace and harmony. Princess Diana, the only child born to the Queen of the Amazons, worries that she is nothing like her legendary warrior kin. Their physical prowess and immortal bodies starkly contrast with young Diana's near-constant clumsiness and pubescent changes. Will she ever prove herself to be a true Amazon? Everything changes on Diana's sixteenth birthday when refugees arrive on the shores of Themyscira, seeking asylum from the horrors of the outside world. While the rest of the Amazons refuse to help them, Diana springs into action. In the chaos of the moment, she becomes trapped outside her home island's magical border. Lost and homesick, Diana eventually finds herself in New York City, where things are nothing like the utopian Themyscira. With new battles at every turn, Diana discovers that being an Amazon isn't about godly strength and immortality, but about fighting for a better world with compassion and an unshakable spirit.
Laurie Halse Anderson brings new meaning to an iconic character in Wonder Woman: Tempest Tossed, a new young adult graphic novel from DC Comics. Diana is a fiercely empathetic young warrior whose physical might pales in comparison to the strength of her heart. Confronting systemic poverty, war, the refugee experience, xenophobia, and child-trafficking, the story is one of a teenage superhero turned devoted activist, with Diana's fight against injustice serving as a poignant rallying cry for readers. Leila Del Duca's illustrations pack a powerful punch, with more than one breathtaking double-page spread and a beautifully fearsome rendition of Diana herself. Action-packed and visually stunning, Wonder Woman: Tempest Tossed is the compelling and timely next chapter in the evolution of this legendary hero.
(Pine Reads Review was provided an ARC by DC Comics in exchange for an honest review.)
PRR Writer, Hannah Miller
Pick up your own copy today!