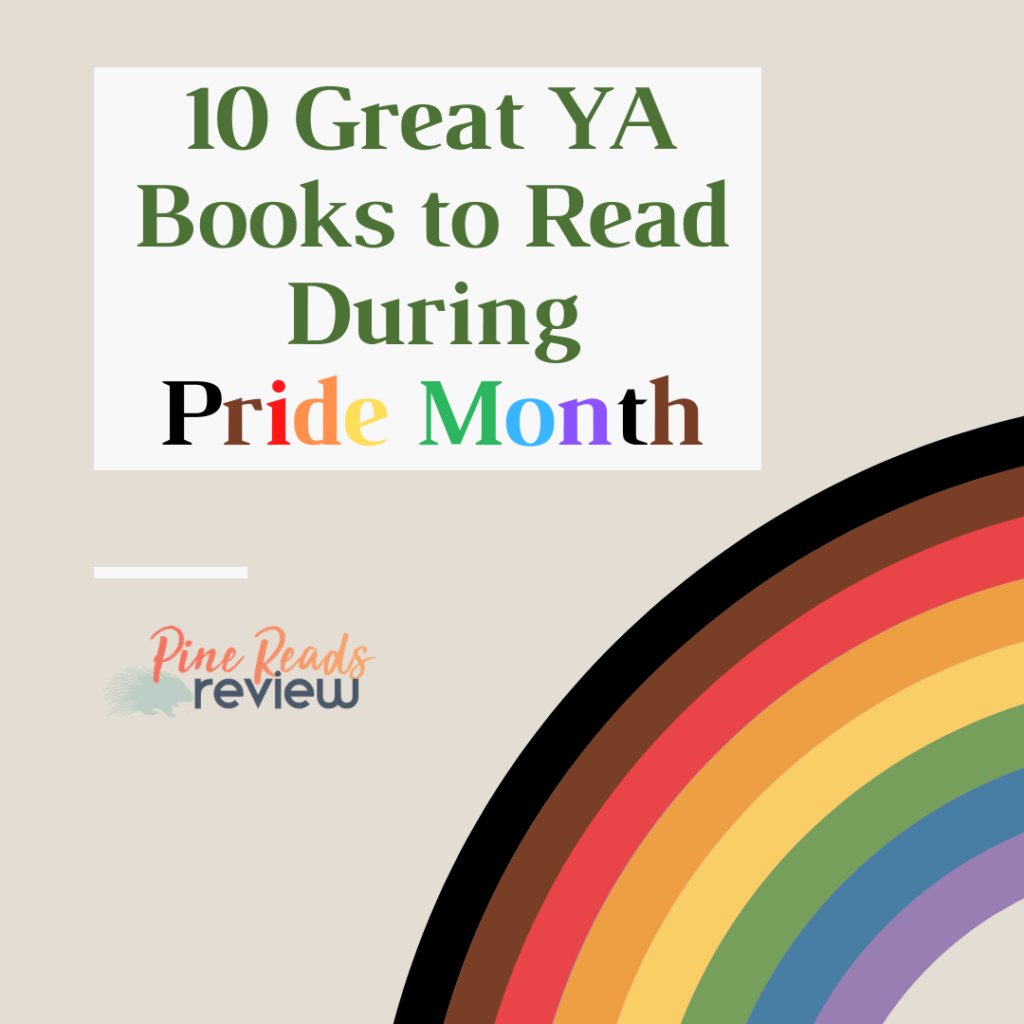 I know what you're all thinking—it's June, and that means it's also Pride Month! Are you in the mood for some queer young adult literature to celebrate? Browse the titles below for a few ideas and leave a comment with your own recommendation. Happy Pride everyone!
1. Felix Ever After by Kacen Callender (Balzer + Bray, 2020)
Felix Love has never been in love, and he's painfully aware of the irony. What's worse is that, despite being proud of his identity, Felix also secretly fears that he's one marginalization too many—Black, queer, and transgender—to get his own happily ever after.
But when his plans to get revenge on an anonymous transphobic bully via catfishing land him in a quasi–love triangle, he'll learn a thing or two about falling in love—and recognizing the love that may have been there all along.
(Synopsis taken from the author's website.)
2. You Should See Me in a Crown by Leah Johnson (Scholastic Press, 2020)
Liz Lighty has always believed she's too black, too poor, too awkward to shine in her ​small, rich, prom-obsessed midwestern town. But it's okay — Liz has a plan that will get her out of Campbell, Indiana, forever: attend the uber-elite Pennington College, play in their world-famous orchestra, and become a doctor.
But when the financial aid she was counting on unexpectedly falls through, Liz's plans come crashing down… until she's reminded of her school's scholarship for prom king and queen. There's nothing Liz wants to do less than endure a gauntlet of social media trolls, catty competitors, and humiliating public events, but despite her devastating fear of the spotlight she's willing to do whatever it takes to get to Pennington.
The only thing that makes it halfway bearable is the new girl in school, Mack. She's smart, funny, and just as much of an outsider as Liz. But Mack is also in the running for queen. Will falling for the competition keep Liz from her dreams—or make them come true?
(Synopsis taken from the author's website.)
3. I Wish You All the Best by Mason Deaver (Push, 2019)
When Ben De Backer comes out to their parents as nonbinary, they're thrown out of their house and forced to move in with their estranged older sister. Struggling with an anxiety disorder compounded by their parents' rejection, they come out only to a handful of people.
But Ben's attempts to survive the last half of senior year unnoticed are thwarted when Nathan Allan, a funny and charismatic student, decides to take Ben under his wing. As Ben and Nathan's friendship grows, their feelings for each other begin to change, and what started as a disastrous turn of events looks like it might just be a chance to start a happier new life.

(Synopsis taken from the author's website.)
4. Mooncakes by Suzanne Walker, illustrated by Wendy Xu (Oni Press, 2019)
Nova Huang is still young, but she's one of the most powerful witches in New England. She spends her days working in her grandmothers' spell book shop and her nights hunting down the supernatural.
Tam Lang, a genderqueer werewolf, was Nova's childhood crush. Tam has been wandering from place to place for years until the one fateful night they find themselves back in their hometown… battling a giant horse demon in the woods.
Tam turns to Nova for help, and their latent feelings are rekindled against the backdrop of witchcraft, untested magic, occult rituals, and family ties both new and old in this enchanting tale of self-discovery.
(Synopsis taken from the publisher's website.)
5. Juliet Takes a Breath by Gabby Rivera (Re-published by Dial Books, 2019)
Juliet Milagros Palante is leaving the Bronx and headed to Portland, Oregon. She just came out to her family and isn't sure if her mom will ever speak to her again. But Juliet has a plan, sort of, one that's going to help her figure out this whole "Puerto Rican lesbian" thing. She's interning with the author of her favorite book: Harlowe Brisbane, the ultimate authority on feminism, women's bodies, and other gay-sounding stuff.
Will Juliet be able to figure out her life over the course of one magical summer? Is that even possible? Or is she running away from all the problems that seem too big to handle? With more questions than answers, Juliet takes on Portland, Harlowe, and most importantly, herself.
(Synopsis taken from the author's website.)
6. The Henna Wars by Adiba Jaigirdar (Page Street Kids, 2020)
Nishat doesn't want to lose her family, but she also doesn't want to hide who she is, and it only gets harder once a childhood friend walks back into her life. Flávia is beautiful and charismatic, and Nishat falls for her instantly. But when a school competition invites students to create their own businesses, both Flávia and Nishat decide to showcase their talent as henna artists. In a fight to prove who is the best, their lives become more tangled—but Nishat can't quite get rid of her crush, especially since Flávia seems to like her back.
As the competition heats up, Nishat has a decision to make: stay in the closet for her family, or put aside her differences with Flávia and give their relationship a chance.
(Synopsis taken from the author's website.)
7. Little & Lion by Brandy Colbert (Little, Brown, 2017)
When Suzette comes home to Los Angeles from her boarding school in New England, she's isn't sure if she'll ever want to go back. L.A. is where her friends and family are (as well as her crush, Emil). And her stepbrother, Lionel, who has been diagnosed with bipolar disorder, needs her emotional support.
But as she settles into her old life, Suzette finds herself falling for someone new…the same girl her brother is in love with. When Lionel's disorder spirals out of control, Suzette is forced to confront her past mistakes and find a way to help her brother before he hurts himself—or worse.
(Synopsis taken from the author's website.)
8. Laura Dean Keeps Breaking Up with Me by Mariko Tamaki, illustrated by Rosemary Valero-O'Connell (First Second, 2019)
Laura Dean, the most popular girl in high school, was Frederica Riley's dream girl: charming, confident, and SO cute. There's just one problem: Laura Dean is maybe not the greatest girlfriend.
Reeling from her latest break up, Freddy's best friend, Doodle, introduces her to the Seek-Her, a mysterious medium, who leaves Freddy some cryptic parting words: break up with her. But Laura Dean keeps coming back, and as their relationship spirals further out of her control, Freddy has to wonder if it's really Laura Dean that's the problem. Maybe it's Freddy, who is rapidly losing her friends, including Doodle, who needs her now more than ever.
Fortunately for Freddy, there are new friends, and the insight of advice columnists like Anna Vice to help her through being a teenager in love.
(Synopsis taken from the publisher's website.)
9. Girls of Paper and Fire by Natasha Ngan (Jimmy Patterson Books, 2018)
In this richly developed fantasy, Lei is a member of the Paper caste, the lowest and most persecuted class of people in Ikhara. She lives in a remote village with her father, where the decade-old trauma of watching her mother snatched by royal guards for an unknown fate still haunts her. Now, the guards are back and this time it's Lei they're after — the girl with the golden eyes whose rumored beauty has piqued the king's interest.
Over weeks of training in the opulent but oppressive palace, Lei and eight other girls learns the skills and charm that befit a king's consort. There, she does the unthinkable: she falls in love. Her forbidden romance becomes enmeshed with an explosive plot that threatens her world's entire way of life. Lei, still the wide-eyed country girl at heart, must decide how far she's willing to go for justice and revenge.
(Synopsis taken from the publisher's website.)
10. They Both Die at the End by Adam Silvera (Quill Tree Books, 2017)
On September 5, a little after midnight, Death-Cast calls Mateo Torrez and Rufus Emeterio to give them some bad news: They're going to die today.
Mateo and Rufus are total strangers, but, for different reasons, they're both looking to make a new friend on their End Day. The good news: There's an app for that. It's called the Last Friend, and through it, Rufus and Mateo are about to meet up for one last great adventure—to live a lifetime in a single day.
(Synopsis taken from the author's website.)
Now that you've looked through these 10 amazing titles, which ones are you planning to read?
The Pine Reads Review staff is definitely going to have to choose some queer young adult titles for our new Throwback Thursday reviews coming later this month! Do you have any recommendations for us? Leave a comment below or send us an email at pinereadssubmissions@gmail.com and we'll take them into consideration!
PRR Writer, Hannah Miller
Pick up your own copy of these amazing titles today!