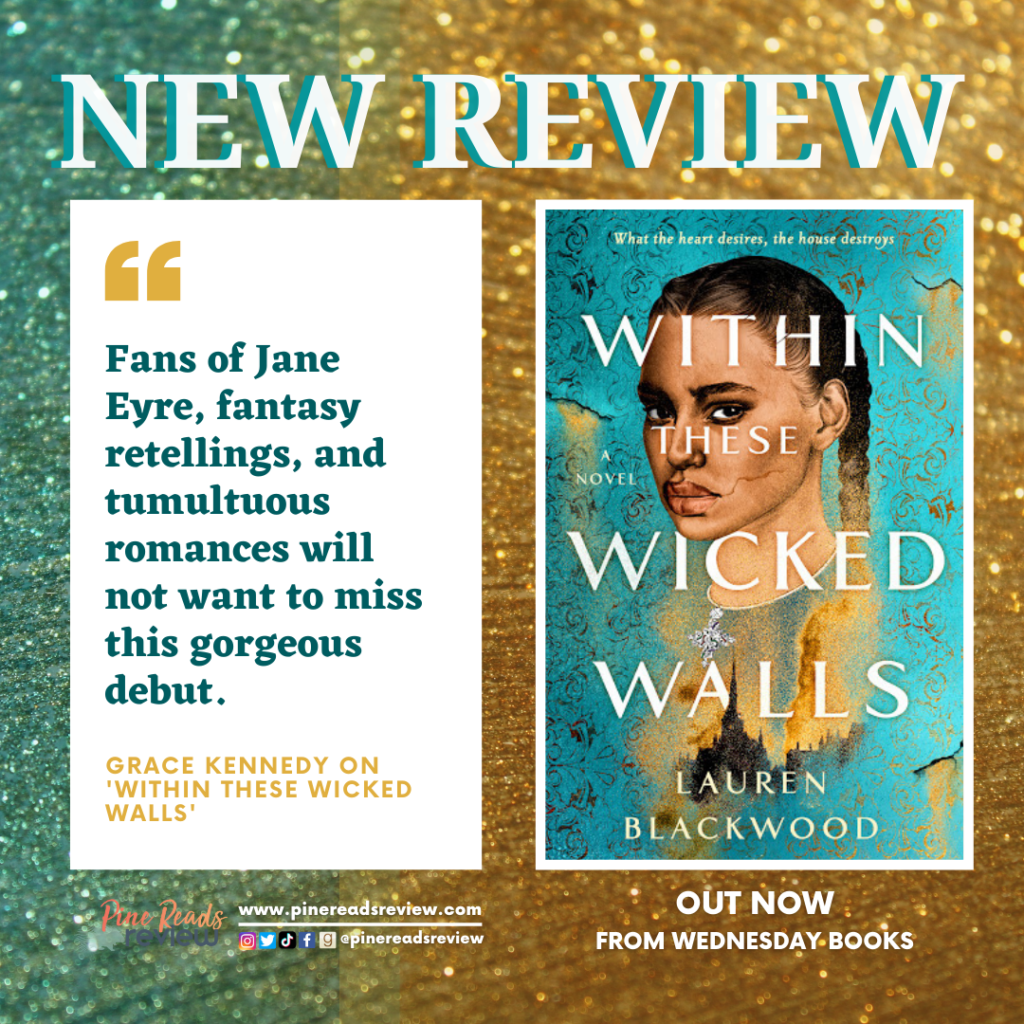 Within These Wicked Walls by Lauren Blackwood
Out Now from Wednesday Books; 336 Pages
Content Warnings: Blood and gore, physical and emotional abuse, violence, death, absent parents, death of a parent
About the Author: "Lauren Blackwood is a Jamaican American New Yorker living in Virginia who writes Romance-heavy Fantasy for most ages. When not writing, she's a physical therapist assistant and violinist who really doesn't know how to settle on one career field. Her debut YA novel, Within These Wicked Walls, is a NYT/Indie Bestseller and the Reese's Book Club Fall 2021 YA Pick." (Bio taken from author website)
Find Lauren Blackwood on the following platforms:
---
"The wind. The stinging cold. Those violent hands. Everything had felt so real, now all reduced to the memory of a nightmare."
Andromeda is a debtera, a spiritual cleanser capable of exorcising haunting manifestations. When hired by the young, wealthy, and suave Magnus Rochester to cleanse his enormous home of the Evil Eye, Andi soon realizes she's in over her head in more ways than one. Faced with sudden death among the dangerous spirits, Andi finds that her fierce will to protect Magnus is about more than just her employment. Based in a fantasy Ethiopian setting, Within These Wicked Walls retells the classic story of Jane Eyre in a bewitching new way.
Lauren Blackwood's stunning debut had me equal parts haunted and enthralled. From the first pages, I was utterly fascinated with this novel's premise of curses and how debteras cleanse spirits through crafting amulets. Andi is an admirable protagonist who is just as resilient as she is relatable. Her search for love tugged at my heart strings while I cheered for her independent nature and ability to be kind after facing such hardship. The romance between Rochester and Andi is tender yet brimming with tension to the very end. As a fan of Jane Eyre, I adored seeing the story revamped in a witchy tale with a wonderfully diverse cast of characters. Blackwood's writing style is richly dark and luxurious, making it easy to feel like I was creeping through the dark, bleeding halls of Rochester's mansion myself. Fans of Jane Eyre, fantasy retellings, and tumultuous romances will not want to miss this gorgeous debut.
(Pine Reads Review would like to thank NetGalley and the publisher for providing us with an ARC in exchange for an honest review. Any quotes are taken from an advanced copy and may be subject to change upon final publication.)
PRR Assistant Director, Grace Kennedy