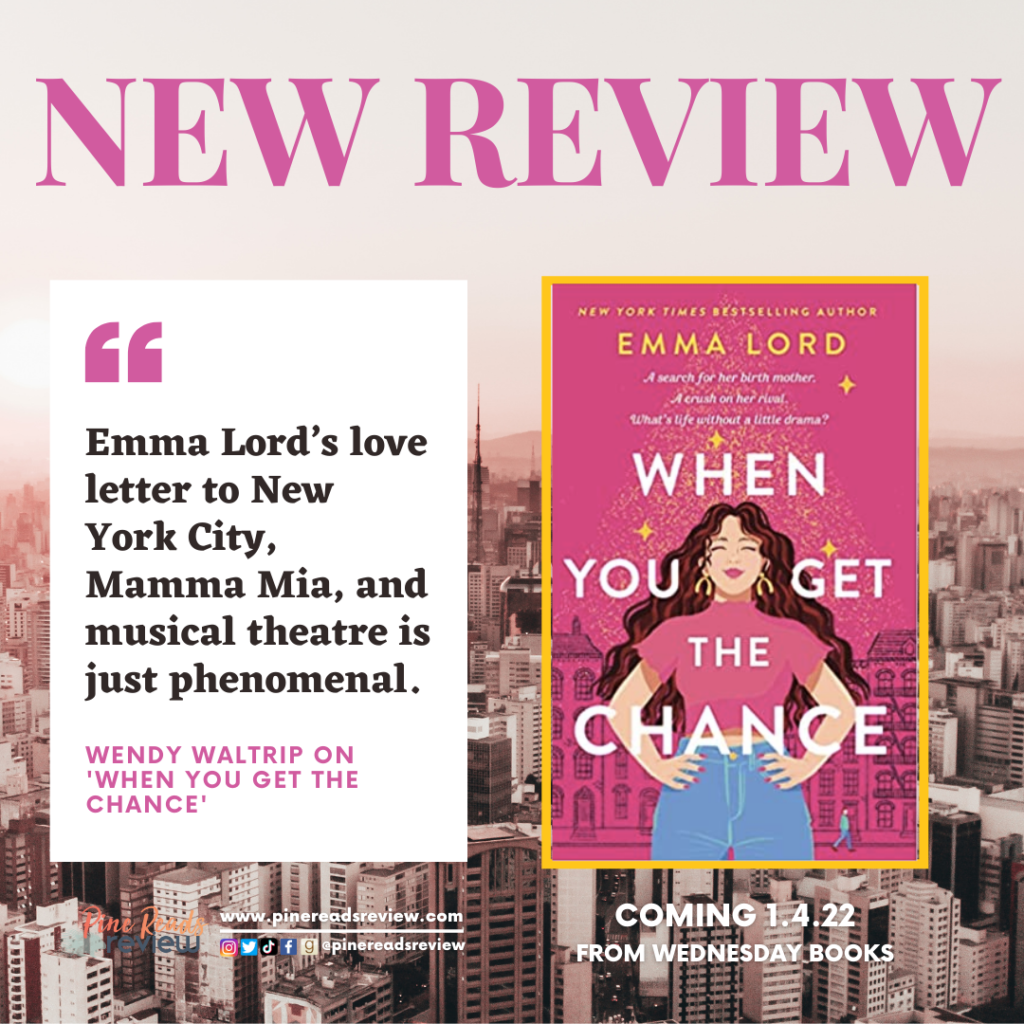 When You Get the Chance by Emma Lord
Coming January 4, 2022 from Wednesday Books; 320 pages
Content Warnings: Strong language, parental abandonment, divorce
About the Author: "Emma Lord is the NYT bestselling author of YOU HAVE A MATCH and TWEET CUTE, a BuzzFeed market editor, and dessert gremlin living in New York City, where she spends whatever time she isn't writing either running or belting show tunes in community theater. She graduated from the University of Virginia with a major in psychology and a minor in how to tilt your computer screen so nobody will notice you updating your fan fiction from the back row. She was raised on glitter, a whole lot of love, and copious amounts of grilled cheese." (Bio taken from author's website)
Find Emma Lord on the following platforms:
---
"How am I supposed to know who I am if all I've done the past few years is figure out what I'm not?"
Millie Price is determined to become a Broadway star. Living in New York City, she's auditioned for a few things in the past, but an embarrassing viral video of her put the auditions on hold while Millie works on reinventing herself. When Millie is accepted to a prestigious pre-college musical theatre program the summer before her senior year, she thinks she's on the fast-track to her dream. But even when her dad says no to the program, Millie isn't so easily stopped. She comes up with the perfect plan to get someone else on her side: find the mom who abandoned her with her dad when Millie was just a baby. She discovers three possible women who might be her mom and sets out on a quest to reveal the truth. She won't let anything get in her way, not her theatre-obsessed possible half-sister, not her two left feet, and not even her impossibly cute theatre rival. But when the truth comes out, Millie must figure out what—or who—is most important to her after all.
Emma Lord's love letter to New York City, Mamma Mia, and musical theatre is just phenomenal. As a musical theatre nerd myself, I fell in love with the many references sprinkled throughout. I thoroughly enjoyed the enemies-to-lovers romance, and I had fun trying to solve the mystery of Millie's mother alongside the spunky protagonist. Millie is bold, brash, determined, and yes, flawed (who isn't?)—but Lord does a fabulous job of providing ample opportunities for Millie to grow in the midst of her adventures. While I absolutely loved the romance, I also really enjoyed the father-daughter relationship Lord showcases in this story. It was so fun to see them learn about and support each other. With surprise twists and characters that are easy to fall in love with, When You Get the Chance easily joins Lord's first two novels on the shelf of favorite and fabulous teen romances.
When You Get the Chance releases January 4, 2022.
(Pine Reads Review would like to thank NetGalley and the publisher for providing us with an ARC in exchange for an honest review. Any quotes are taken from an advanced copy and may be subject to change upon final publication.)
PRR Assistant Director, Wendy Waltrip