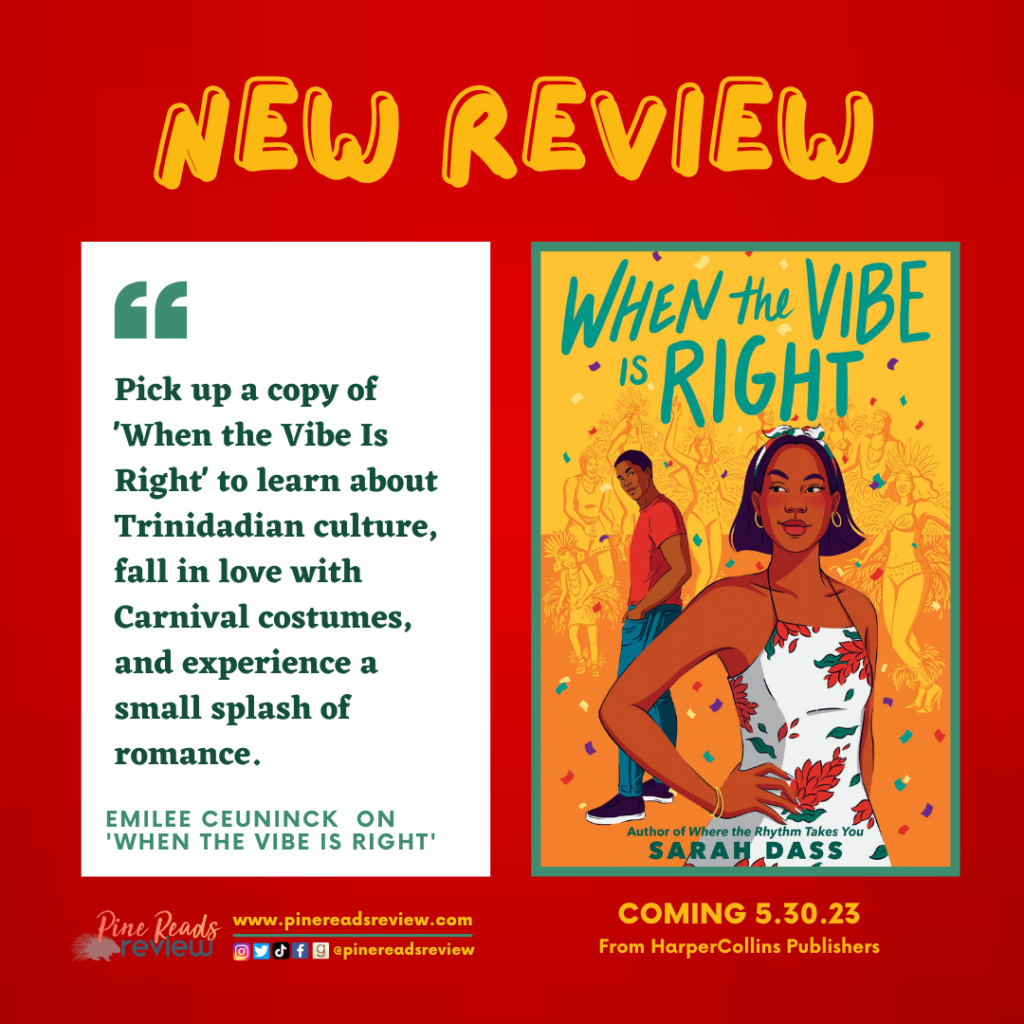 When the Vibe Is Right by Sarah Dass
Out May 30, 2023 from ‎HarperCollins Publishers; 336 pages
About the Author: "Sarah Dass was born and raised in Trinidad and Tobago. A graduate of the University of West Indies and University College London, she works as an Office Administrator by day and writes stories about growing up in the Caribbean by night. When she's not writing, she's thinking about writing or taking walks with her dachshund. The only thing she loves more than a lazy day at home is exploring new countries" (Bio from the author's website).
Find Sarah Dass on the following platforms: 
---
"As we let out the old and welcome the new, only good vibes."
Tess has her future all figured out: Trinidadian Carnival costume designer. She lives for Carnival and fashion, planning to take over her illustrious uncle Russel's masquerade band, Grandeur. Yet, her future is jeopardized when a long-standing feud with a rival band tanks Grandeur's sales and threatens to close the company's doors. The only chance Tess sees to save the band is to modernize the branding, and there is no one else more qualified to help than social media influencer and her archnemesis Brandon. However, during the revitalization of Grandeur, Tess begins to see Brandon in a new light and questions where love can grow.
When the Vibe Is Right is an enemies-to-lovers tale with a Trinidadian Carnival twist. I loved the dynamic setting in Trinidad and the inclusion of rich Trinidadian culture and food, like gyros. I did not know very much about Carnival when I started reading, but my favorite aspect of the book was Tess' outfits and costume designs. One main theme throughout is the tension between the traditions of the past and the emerging practices of the present. All of the adult figures disdain the explosion of social media and do not understand the importance of growing an online presence and interacting with customers to have a successful business. This prominent theme might be very relatable to readers, especially those interested in entrepreneurship or social media. While The vibrant setting, fascinating costumes, and interesting themes kept me engaged, unfortunately, Tess and Brandon's romance fell flat. The enemies aspect of their relationship, which was based on a childhood misunderstanding, felt completely unrealistic. Disappointingly, I also felt no romantic tension building between the characters. I actually enjoyed watching the side romance between Tess' cousin Hazel and her new boyfriend Chris progress more than the main love interest. There is little to no direct interaction between the two bands or memorable moments between Tess and Brandon. Another aspect of the novel that could have been developed further was the feud between Tess' uncle's band Grandeur and their rival, Royalty. Pick up a copy of When the Vibe Is Right to learn about Trinidadian culture, fall in love with Carnival costumes, and experience a small splash of romance. 
(Pine Reads Review would like to thank NetGalley and the publisher for sending us an ARC in exchange for an honest review. Any quotes are taken from an advanced copy and may be subject to change before final publication.)
PRR Writer and Editor, Emilee Ceuninck
---