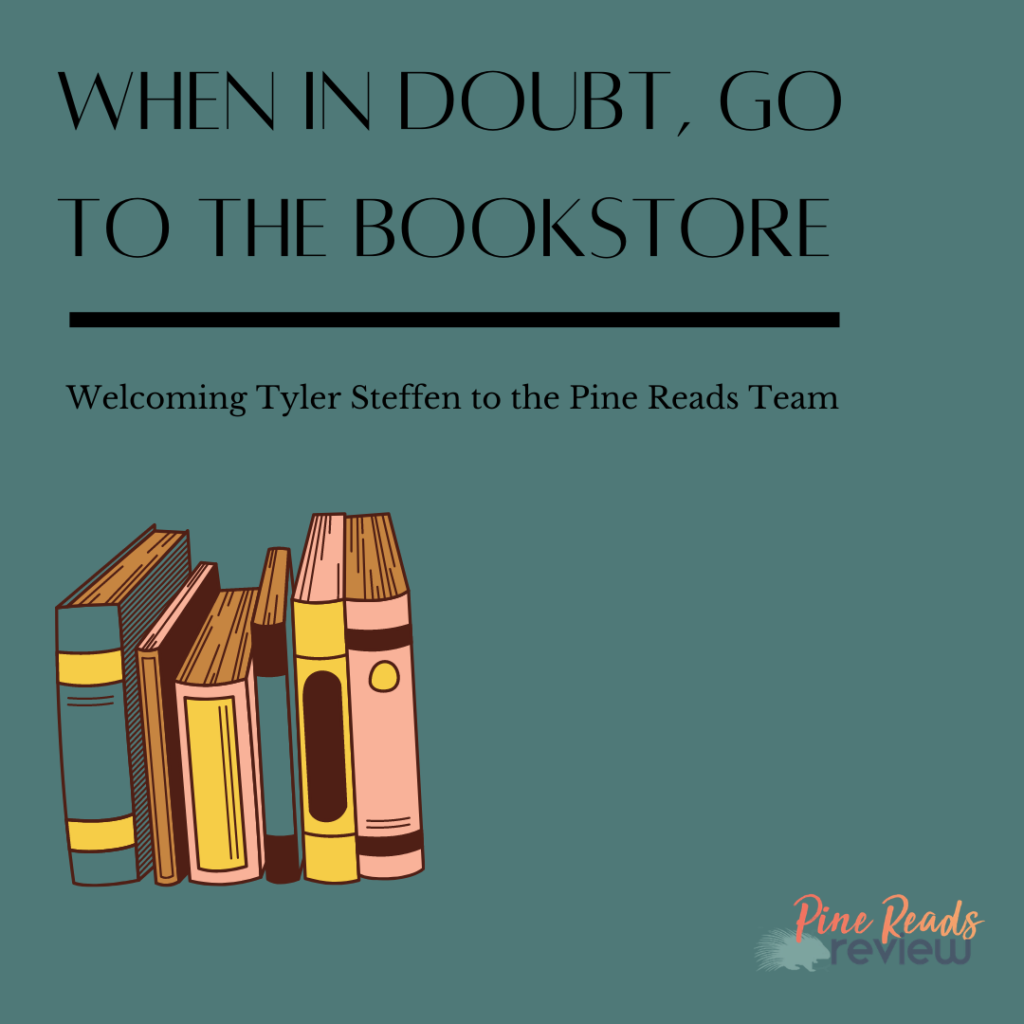 When in Doubt, Go to the Bookstore | Welcoming Tyler Steffen to the Pine Reads Team
If someone asked me where I am happiest, I would probably say any place where I am surrounded by books. I began reading at a pretty young age. My elementary school librarian introduced me to books like the Tale of Despereaux and A Series of Unfortunate Events, books that made me fall in love with reading. Ever since, going to the library was my favorite part of school. We went once a week to get the chance to check out books, and while my classmates took this time to talk and play, I spent it between the shelves of books, trying to decide if I wanted to check out Bridge to Terabithia or Warriors that week.
I fell in love with reading at a time in my life when I needed it the most. I never felt like I quite fit in while at school. But when I was reading, I was able to forget about all of those problems. I carried my book everywhere with me. I knew that everything would be okay, as long as I had my books.
Throughout the rest of middle and high school, I turned to books in a similar manner. Whenever I was particularly stressed or anxious, reading always calmed me down. I discovered series like Hunger Games, The Infernal Devices, and Percy Jackson. I met one of my best friends in high school, and we bonded over our love for the same books. Instead of spending our weekends at parties, we were at the bookstore. We spent our summers either reading or volunteering at our local library. We still go to bookstores together constantly, and we spend hours there.
I entered my freshman year in college as a journalism major. But after a year, I realized that I wasn't enjoying my classes, so I decided to switch my major to English. Which was probably the best decision I could have made. I was finally, for the first time in my life, enjoying my classes. I was excited about the content, and for the chance to learn and talk about things that I actually cared about. In high school, I never thought of myself as a writer, but that all changed once I began my English major and started to write about things that were interesting to me.
I not only love reading books, but I love writing about them and talking about them. If you ask any of my friends, they will tell you not to ask me what books I am currently reading, because if you do, you're in for an hour conversation. So, I embraced my love for writing and reading and am seeking to pursue a career in the editing or publishing industry. This journey brought me to Pine Reads, where I get to read books I love and write about them, sharing my passions with others. My dream come true.
To this day, I love spending hours at a bookstore. When I go to a grocery store that has a book section, I have to go walk down that aisle. Buying books or even just being surrounded by books is comforting for me. I love the feeling that comes from the atmosphere. I have the same feeling when I go to my local library. It is peaceful, and a wonderful escape from the chaos of everyday life. So, take it from me, when in doubt, go to the bookstore.
PRR Writer, Tyler Steffen