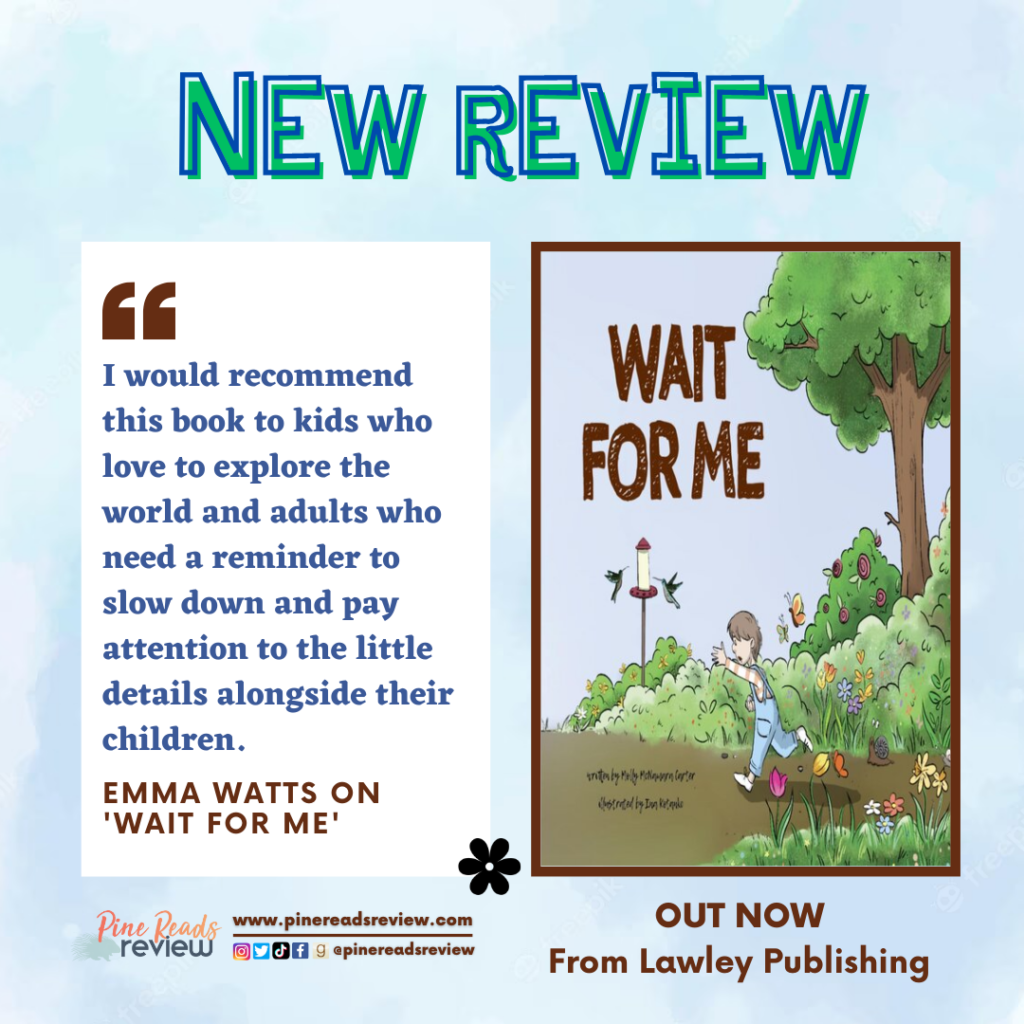 Wait for Me written by Molly McNamara Carter and illustrated by Ina Kotanko

Out now from Lawley Publishing; 36 pages

About the Author: "Molly has been writing stories since she learned to read them. She has lived in big cities, little towns, on islands, in mountains, and in deserts. She loves adventures like jumping out of airplanes, riding camels, and even swimming with sharks. She also loves smelling flowers and carving pumpkins. When she's not reading, writing stories, cutting paper, or drawing pictures, she loves exploring with her favorite people" (Bio from book jacket).
Find Molly McNamara Carter on the following platforms:
About the Illustrator: "As a child, Ina was known for trying out her pencil on every accessible surface in the house and never leaving home without a pen and paper. Despite growing up, the latter hasn't changed, and she still spends most of her free time with markers and watercolors. Ina is from Bavaria, Germany, and lives there with her partner, whose (sometimes childish) ideas she often incorporates into her artworks. When she's not drawing, she can be found exploring the city with her camera or cuddling with the neighbors' cats" (Bio from book jacket).
Find Ina Kotanko on the following platforms:
---
"Charlie and Grandpa slowly walk along the path, looking at the flowers and watching the hummingbirds visit the feeders."

Wait for Me is a heartwarming picture book that focuses on a young boy named Charlie. He likes to take his time while he does everything, paying attention to all of the small details of the world around him. He looks for bugs on the walk to school, vividly and carefully colors his artwork at school, and explores the playground at a slower rate than his brother does. All of these things mean that he's always left behind by family and friends—he has to yell "Wait for me!" as he scrambles to keep up with the rest of the world. However, when he spends time with his Grandpa, he is encouraged to slow down and notice the polished rocks, the beautiful flowers, and the quick hummingbirds. Grandpa never leaves Charlie behind.
I thought that this picture book was adorable. I enjoyed the portrayal of an imaginative kid who feels like he's being forgotten by a world that is moving at high speed. Molly McNamara Carter perfectly captured the essence of a child who enjoys paying attention to the little details. His love of bugs, cool-shaped rocks, and coloring reminded me a lot of my childhood when I was off in my imaginative world for most of my days. I enjoyed the portrayal of an imaginative kid who is forgotten by a world that is moving at high speed and his loving grandpa who encourages his observant and caring nature. It was heartwarming to see their relationship unfold throughout this picture book. Ina Kotanko's illustrations were also an amazing part of this picture book. They were bright and colorful when Charlie was paying attention to the world and black and white when he was told to "hurry up" by other characters. This contrast highlighted Charlie's positive and negative feelings in a way that was simple for readers to see on the page, and it made connecting with him very easy. Overall, I would recommend this book to kids who love to explore the world and adults who need a reminder to slow down and pay attention to the little details alongside their children.
(Pine Reads Review would like to thank the author for sending us an ARC in exchange for an honest review. Any quotes are taken from an advanced copy and may be subject to change upon final publication.)
PRR Assistant Director, Emma Watts
---