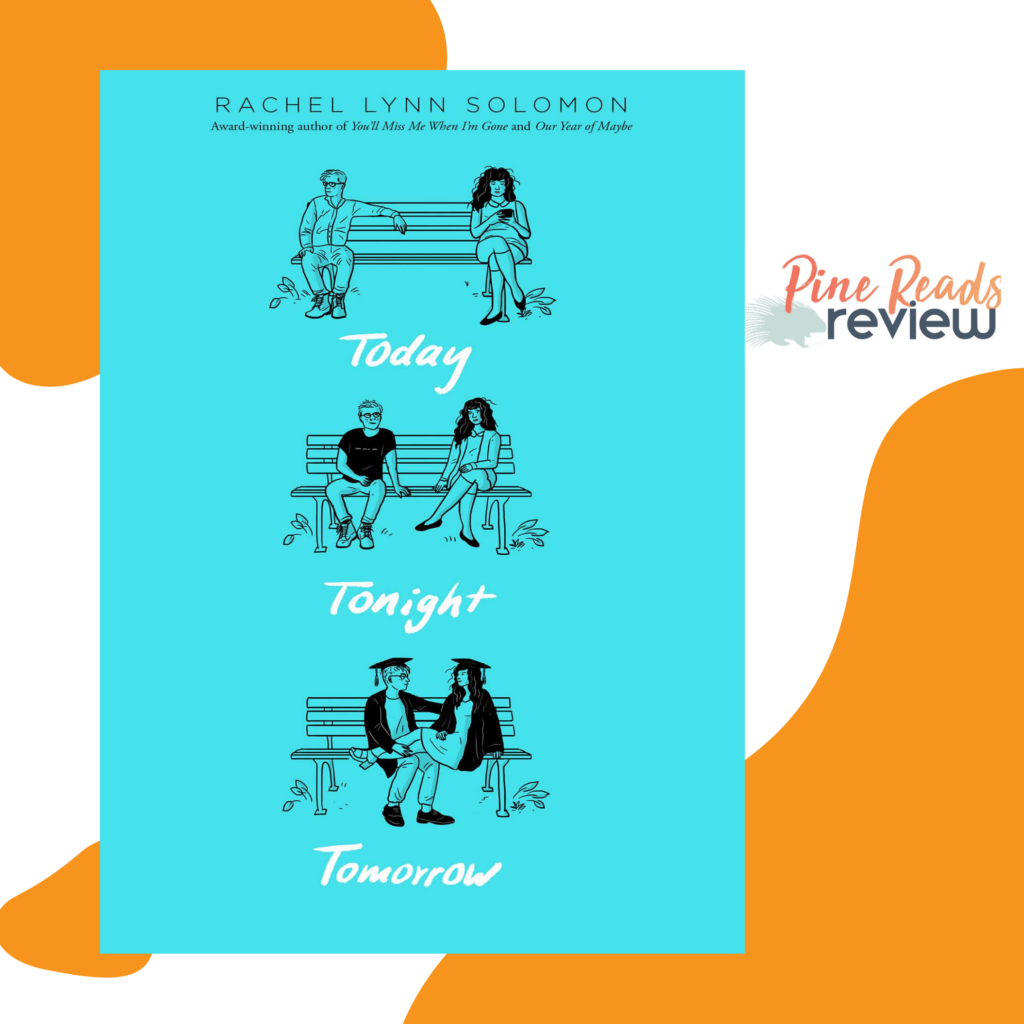 Today Tonight Tomorrow by Rachel Lynn Solomon
Simon Pulse, Releasing July 28th 2020, 386 pages
Trigger Warnings: Abuse, Anti-Semitism
About the Author:  Rachel Lynn Solomon writes, tap dances, and collects red lipstick in Seattle, Washington. She is the author of the YA novels You'll Miss Me When I'm Gone, Our Year of Maybe, and the forthcoming Today Tonight Tomorrow. Her debut adult romantic comedy, The Ex Talk, will be published in spring 2021. She has written for newspapers, produced a radio show that aired in the middle of the night, and worked for NPR. Currently she works as a freelance editor. Rachel has been a Pitch Wars mentor since 2014 and currently serves on the Pitch Wars leadership committee. These days, she writes books about ambitious, messy, sometimes unlikable girls and women who are trying their best and often falling in love along the way. (Bio taken from the author's website.)
Website: http://www.rachelsolomonbooks.com/
Twitter: @rlynn_solomon
"I can say goodbye to the rest of it, to school and to our teachers and to everyone else — but I can't say goodbye to you."
High school rivals Rowan Roth and Neil McNair have competed to be the best in their class since freshman year, and it is all about to come to an end. On the last day of senior year, they take their battle one step further, trying to beat each other in a city-wide scavenger hunt called Howl: the senior class's final goodbye. When a group of seniors teams up to sabotage the game for Rowan and Neil, they call a truce to help each other stay in the game until the end. While Rowan can't imagine their relationship as anything but hostile, as they scour the city together, they find more than just the clues for their scavenger hunt: love.
Author Rachel Lynn Solomon has created an authentic portrayal of saying goodbye to high school and the roller coaster of emotion that comes with ending this chapter in one's life. Rowan Roth is an extremely relatable feminist character with perfectionist tendencies and a competitive side who learns to accept the inevitable changes in her life. The story itself always keeps the reader on their toes with the dynamics of the characters constantly changing in unexpected ways. There are also themes of women and religious empowerment, which have a heavy influence on both the characters and the plot. Today Tonight Tomorrow is especially perfect for 2020 graduates who didn't get to experience this huge stepping stone in life, as well as readers who can't put down a book about infuriatingly lovable enemies turned lovers. 
Today Tonight Tomorrow releases on July 28th 2020.
PRR Writer, Leah Kist
(Pine Reads Review was provided an ARC by NetGalley in exchange for an honest review.)
Pick up your own copy today!