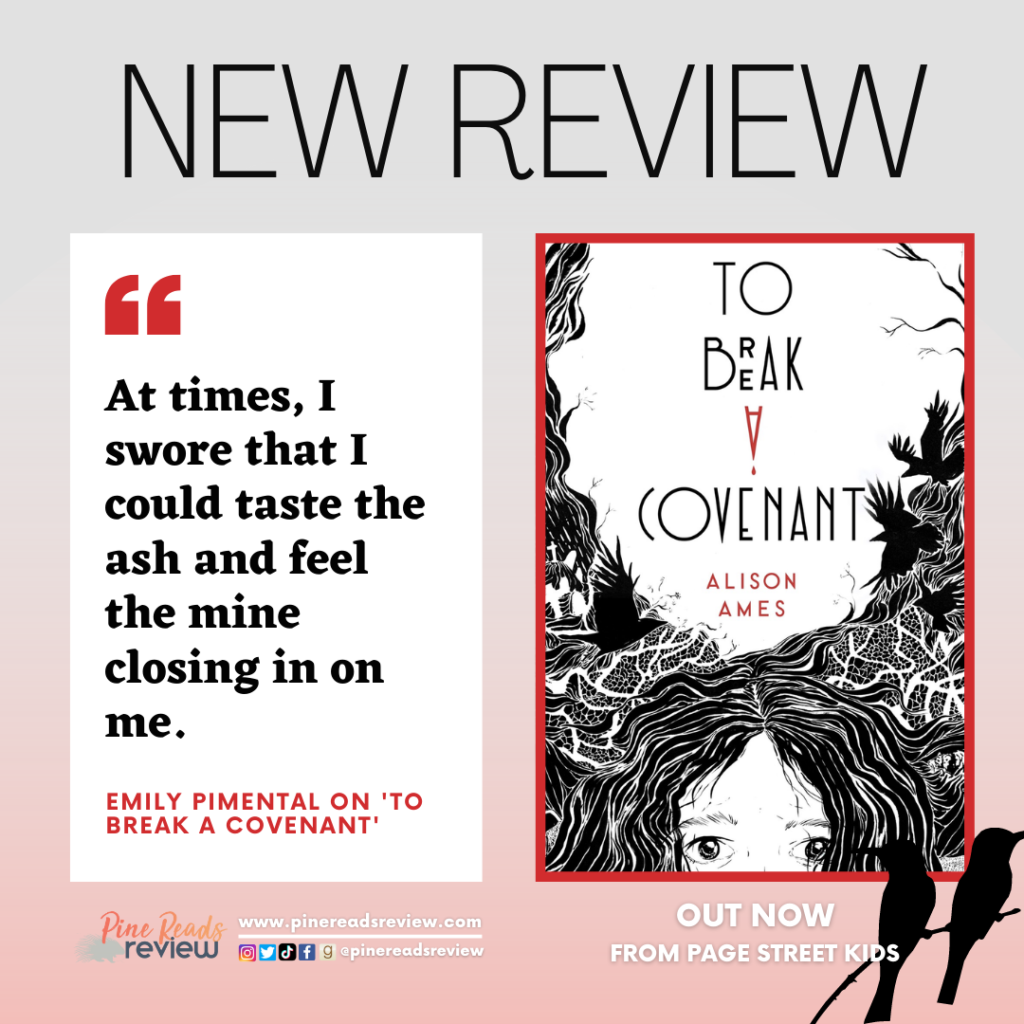 To Break a Covenant by Alison Ames.
Out Now from Page Street Kids; 320 pages
Content Warnings: Mention of self harm, suicide, car accident, death of a parent, underage drinking, confined spaces, blood, gore, animal death, murder of children.
About the Author: "Alison Ames lives in Colorado with a lot of animals and her almost-wife. She loves birds, comics, and the rule of three. THE HAUNTING OF MOON BASIN is her debut novel. Find her on social media @2furiosa, and if you know (or are) Harry Styles she insists you do so." (Bio taken from book jacket.)
Find Alison Ames on the following platforms:
---
"I could see the canopy of crooked trees now, just overhead, and I realized they weren't trees at all, but the ceiling of a mine shaft. I swallowed a scream and then another as a small white band floated out of the darkness before me." 
For years, strange things have been happening in the small town of Moon Basin. When the mine is shut down after an explosion kills everyone inside, mysterious disappearances, deaths, and alleged paranormal activity begin to plague the town. Having grown up in the thick of Moon Basin's bizarre past, Clem and her best friends, Nina and Lisey, have each been touched by the strangeness in unique ways. When Piper moves to town with her scientist father, who's been tasked with investigating the mine's safety, the four girls quickly become friends. But a dark series of events forces the group to come face-to-face with the mine and its deeply buried secrets.
Debut author Alison Ames' To Break a Covenant is a spine-chilling young adult horror with a touch of sapphic romance. Be warned, this novel is extremely spooky and definitely not for the faint of heart. Ames' atmospheric writing creates a deeply immersive reading experience. At times, I swore that I could taste the ash and feel the mine closing in on me. One aspect of the novel that really shined was the important role that friendship played, particularly the close, and at times intense, bond formed between adolescent girls. I appreciate that Ames avoided the stereotype of drama and pettiness between girls, and instead focused on how supportive the group was of one another. The embedded transcripts from paranormal reality shows, interspersed between chapters, heightened the suspense and led me down an increasingly unsettling breadcrumb trail. This spooky tale, set in a seemingly cursed small town, would be a great pick for fans of Netflix's Fear Street films. You might need to sleep with the lights on after reading this one, but it will be worth it. 
PRR Writer, Emily Pimental
---