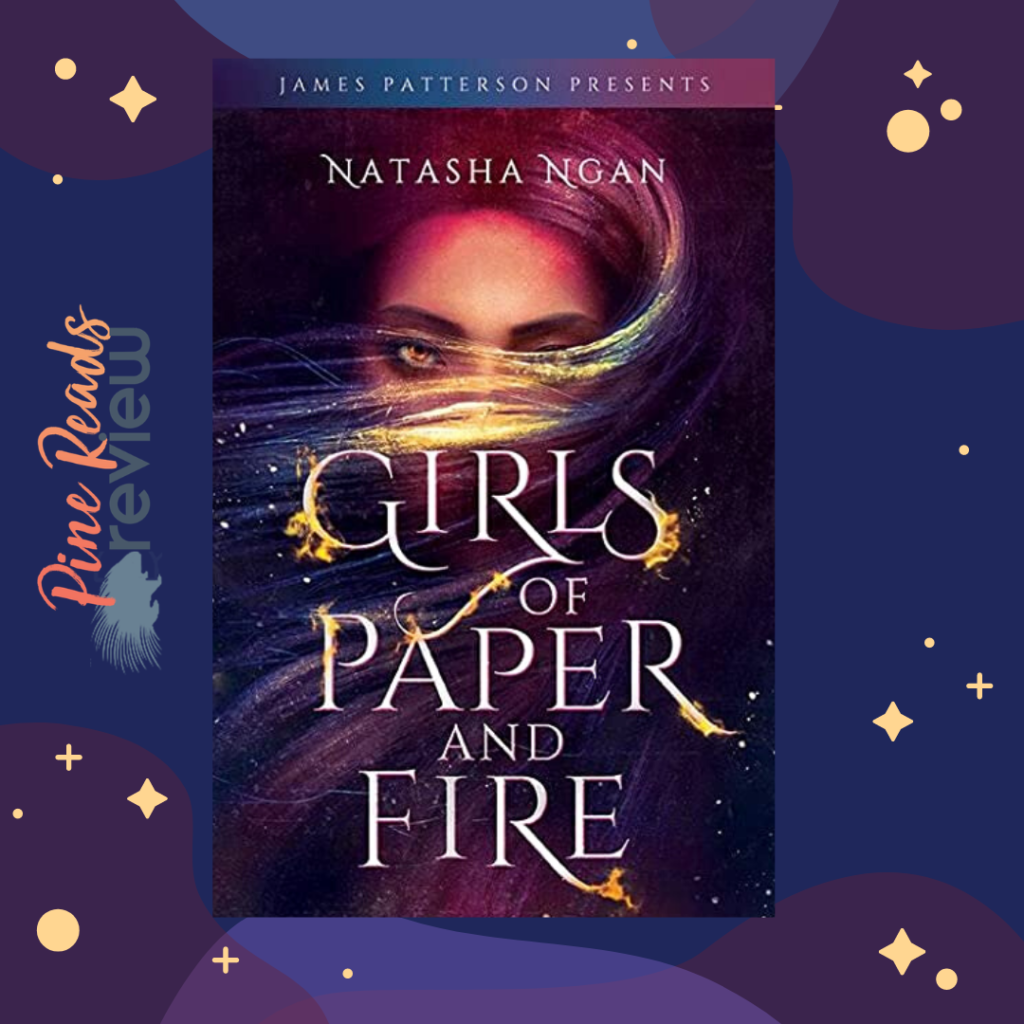 Girl's of Paper and Fire by Natasha Ngan
Jimmy Patterson Presents, 2018, 385 pages 
Trigger Warning: Sexual assault
About the Author: "Natasha Ngan is a writer and yoga teacher. She grew up between Malaysia, where the Chinese side of her family is from, and the UK. This multicultural upbringing continues to influence her writing, and she is passionate about bringing diverse stories to teens. Natasha studied Geography at the University of Cambridge before working as a social media consultant and fashion blogger. She recently moved to Paris, where she likes to imagine she drifts stylishly from brasserie to brasserie, notepad in one hand, wineglass in the other. In reality, she spends most of her time getting lost on the metro and confusing locals with her French. She is represented by Taylor Haggerty at Root Literary. Her YA novels THE ELITES and THE MEMORY KEEPERS are out now from Hot Key Books, and GIRLS OF PAPER AND FIRE will be published in October 2018 by Jimmy Patterson/Little Brown (US) and Hodder & Stoughton (UK)." (Bio taken from the author's website.)
Website: http://natashangan.com/
Twitter: @girlinthelens
Instagram: @girlinthelens
Facebook: @girlinthelens
"I don't want an easy life. I want a meaningful one."
Girls of Paper and Fire takes place in the fictional fantasy world of Ikhara. A place where, after the brutal Night War, humans of the lower Paper caste are oppressed by the demons of the Moon caste. Every year the demon king takes eight Paper Girls from across the kingdom to be his personal companions for the year. Lei is one of these girls taken from her family's herb shop just like her mother was in a raid seven years prior. As Lei enters palace life, she is thrown into a web of magic, politics, and romance. Lei learns more about the world around her in the process, and connects with the other girls she meets, especially Wren. All of this, however, is cast under the shadow of Lei's fear that the king will take her to his chamber. 
In this novel, there is a violent sexual assault committed on a main character. So, the world of Ikhara is not sunshine and roses. Instead, plague, slavery, and brutality are a real threat oppressing the people. The whole novel juggles the juxtaposition of appearance and reality.  Whether it's the king, the Paper Girls, or people in the palace, many characters are not what they seem, and the story unravels these mysteries as Lei uncovers the bigger picture. Girls of Paper and Fire moves at a good pace, taking us through dramatic set pieces that force Lei to grow and realize more about herself. Lei and Wren's relationship is well realized. The way the romance weaves itself into the main plots feels natural and ties the characters to larger forces in interesting ways, giving the larger events of the novel even more weight. This all culminates in an exhilarating climax that leaves the world ever different. 
I will say that, while I enjoyed my time with this novel, certain elements seem to be left unresolved just to be answered in a sequel. This may leave you, as it left me, confused about the importance of certain things brought up in the novel. After the climax, I found that the story just felt like it was setting up a "next time". This all culminates in an epilogue where certain events are even undone as preparation for a sequel. I really liked Girls of Paper and Fire but this ending section did leave me feeling unfulfilled and like certain parts of the worldbuilding felt a little undeveloped. Whatever your opinion on the ending, the journey to get there was great and anyone looking for a new and unique fantasy world should definitely check it out. 
PRR Writer, Jon Kresal
Pick up your own copy today!