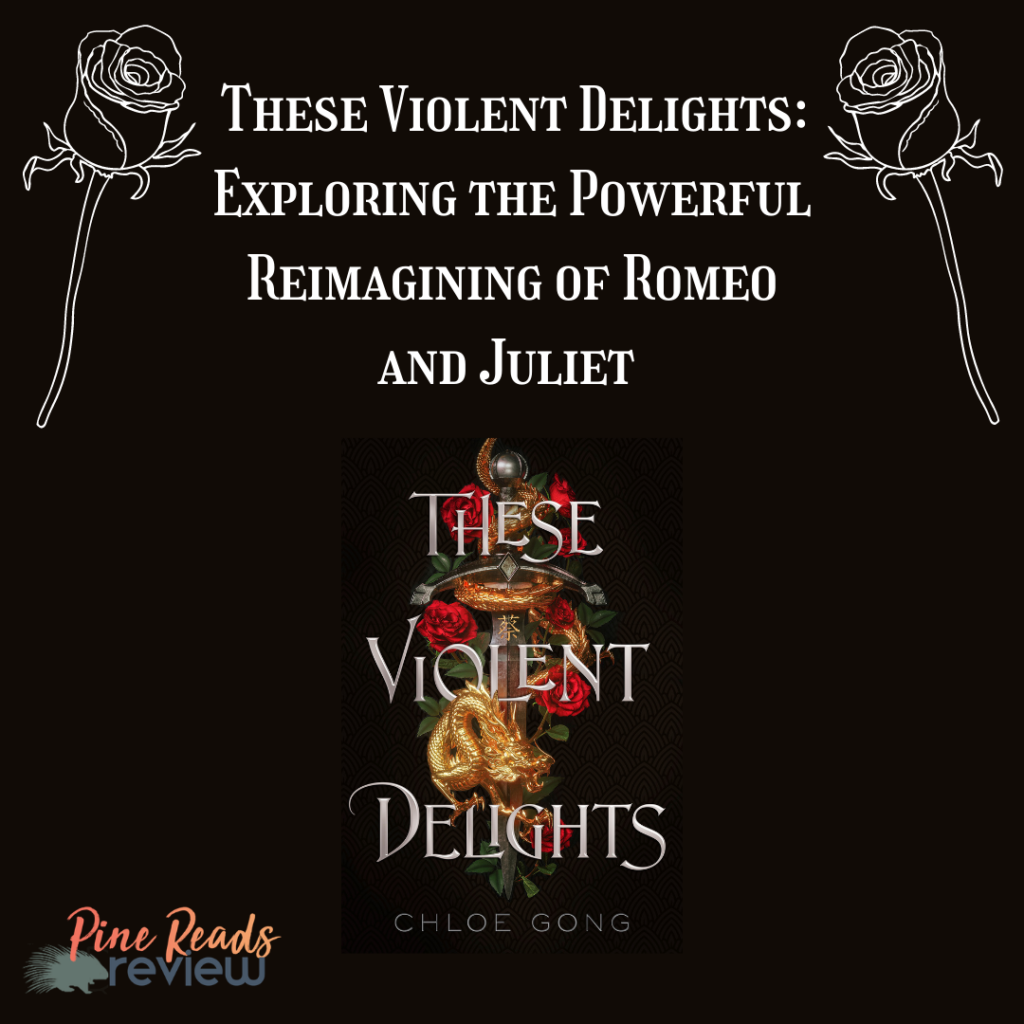 Spoiler warning: This blog contains spoilers for These Violent Delights by Chloe Gong
"This place hums to the tune of debauchery. This city is filthy and deep in the thrall of unending sin, so saturated with the kiss of decadence that they sky threatens to buckle and crush all those living vivaciously beneath it in punishment." 
---
With its title inspired by William Shakespeare's famous quote, the novel These Violent Delights takes all the best elements from the classic tale of Romeo and Juliet and breathes new life into it.
The events of the novel take place in 1920s Shanghai, a time of when division and violence ruled the city. The blood feud at the center of this novel is between two Shanghai gangs, the Scarlet Gang and the White Flowers, and at the heart of this feud are bitter exes Juliette Cai and Roma Montagov. When a madness sweeps through the city, killing its inhabitants, Juliette and Roma must put aside their anger and pride to work together for the good of their home.
Author Chloe Gong does a masterful job of paying homage to the inspiration text, while placing greater emphasis on themes like familial loyalty and rivalry at the forefront. Roma and Juliette are victims of the violent and centuries long feud between their two respective families. As this feud threatens to tear them apart and destroy their city, they rebel and find the strength to work together despite the history between them.
Unlike the plot of Shakespeare's famous play, Juliette and Roma are not star-crossed lovers, but bitter exes. Although they have a complicated past, riddled with betrayal and conflict, they take the risk to love each other, when it would be so much easier to hate. In Shakespeare's Romeo and Juliet, the hatred between the Montagues and the Capulets broke the couple and led them to their deaths. Similarly, in this novel, the hatred between the Cais and the Montagovs has the potential to destroy the city, and the love between Roma and Juliette.
Gong is a proud member of Generation Z. As a fellow Gen Z'er, she appeals to her audience with elements such as the inclusion of diverse characters and powerful social and political statements she knows modern readers love seeing in books. Her captivating characters help carry this novel. Juliette is a fierce character, who earns her place in the Scarlet Gang because of her wit and strength. Roma strives to prove his skills to his father, to earn his rightful place as heir. Chloe Gong didn't just write a great story with compelling characters but included powerful statements and themes surrounding ideas like colonialism, the rise of Communism and racism. In a poignant scene in the book, Juliette describes that when she moved to America, she changed her name, to avoid being judged and questioned. These themes bring the story of Romeo and Juliet into the modern era, as it explores ideas that Shakespeare never did.
Chloe Gong's breakout novel is one of sin and violence. She captivates readers with her beautiful writing, diverse characters and a compelling mystery. She proves that the classic story of Romeo and Juliet goes far deeper than simply the tragic tale of star-crossed lovers. It is one of rivalry, violence and hate. I encourage anyone, from a Shakespeare lover to a YA enthusiast, to read this novel as soon as possible.
PRR Writer, Tyler Steffen
Pick up your copy today!