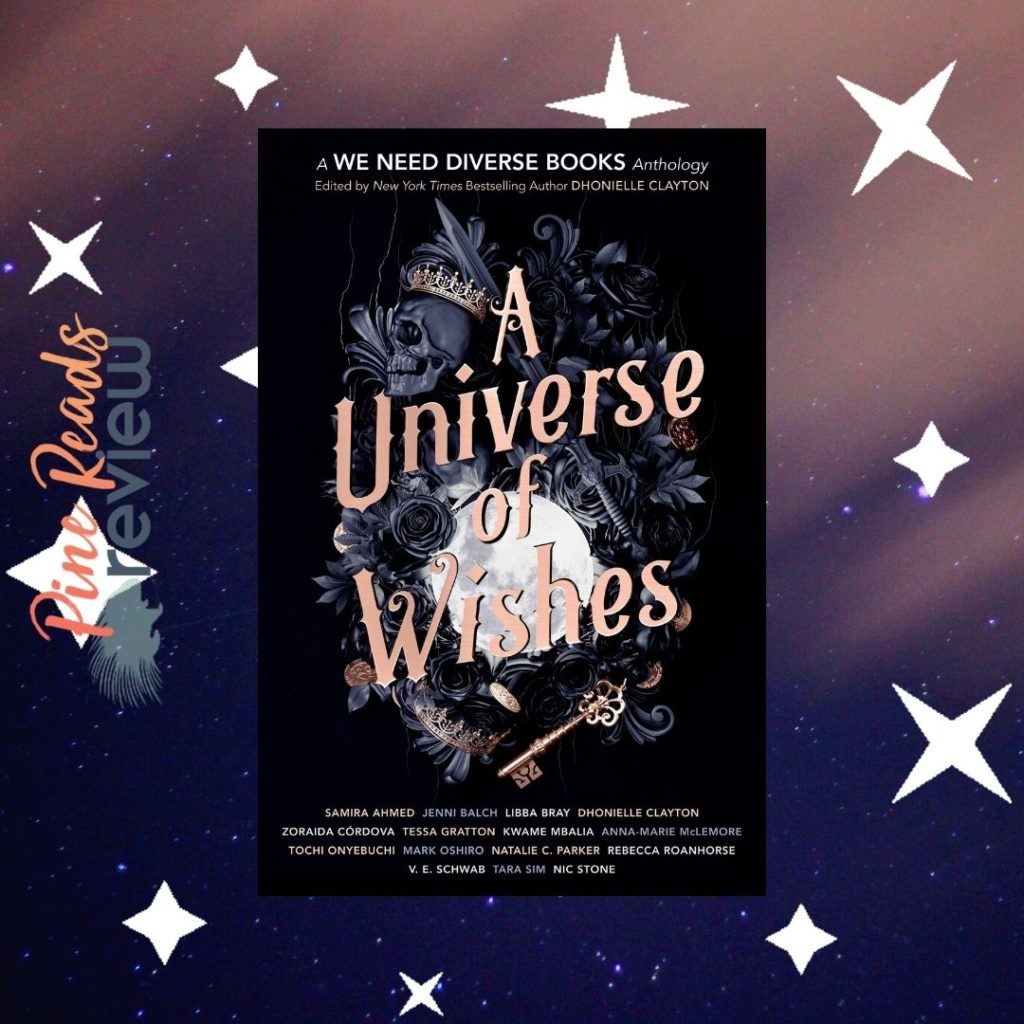 A Universe of Wishes edited by Dhonielle Clayton and written by Samira Ahmed, Jenni Balch, Libba Bray, Dhonielle Clayton, Zoraida Córdova, Tessa Gratton, Kwame Mbalia, Anna-Marie McLemore, Tochi Onyebuchi, Mark Oshiro, Natalie C. Parker, Rebecca Roanhorse, V.E. Schwab, Tara Sim, and Nic Stone
Crown Books for Young Readers; 2020; 416 pages
Content Warnings: Referenced death of loved ones, depictions of corpses, violence, sexism, firearms, death, graphic descriptions, homophobia, intimate scenes, physical and emotional abuse, nudity, strong language, racism, mentions of suicide
About the Editor: "Dhonielle Clayton is a New York Times Bestselling author of The Belles series, the co-author of the Tiny Pretty Things duology, a Netflix original series, and the author of the forthcoming middle grade fantasy series The Marvellers. She hails from the Washington, D.C. suburbs on the Maryland side. She taught secondary school for several years, and is a former elementary and middle school librarian. She is COO of the non-profit We Need Diverse Books, and owner of CAKE Literary, a creative kitchen whipping up decadent—and decidedly diverse—literary confections for middle grade, young adult, and women's fiction readers. She's an avid traveler, and always on the hunt for magic and mischief. Up next: Shattered Midnight (Fall 2021), The Rumor Game, and a few surprises." (Bio taken from the editor's website.)
Website: https://www.dhonielleclayton.com
Instagram: @brownbookworm
Twitter: @brownbookworm
---
"The true secret I learned from books is that we all have magic inside us. We all possess the ability to command the failing spaceship, to break the powerful enchantment, and to change our world—both fictional and not—for good."
From We Need Diverse Books, A Universe of Wishes is a collection of fifteen YA fantasy/sci-fi short stories full of fantastic and diverse representation. From a boy who pulls wishes from the dead, to a thief trying to steal back her home planet's sacred objects, to a medical procedure that weighs what's in one's heart, to other amazing worlds and adventures. Each of these stories is stunning, unique, and magical.
Anthologies are notoriously hard to review because they involve so many different plots, characters, and settings…but that's also what makes them captivating, and A Universe of Wishes is no exception. In such an extraordinary collection of stories, five in particular stood out to me: "A Universe of Wishes" by Tara Sim, "Cristal y Ceniza" by Anna-Marie McLemore, "The Takeback Tango" by Rebecca Roanhorse, "The Weight" by Dhonielle Clayton, and "Longer Than the Threads of Time" by Zoraida Córdova. These stories caught my attention with strong protagonists, beautiful relationships, exciting plots, and creative incorporation of magic. Overall, the anthology was a pleasure to read, and I enjoyed every single story included. With amazing representation and diverse voices telling the stories, this book is perfect for anyone who loves fantasy, science fiction, or a good dose of adventure.
(Pine Reads Review would like to thank NetGalley and the publisher for sending us an ARC in exchange for an honest review. Any quotes are taken from an advanced copy and may be subject to change upon final publication.)
PRR Writer, Wendy Waltrip
Pick up your copy today!