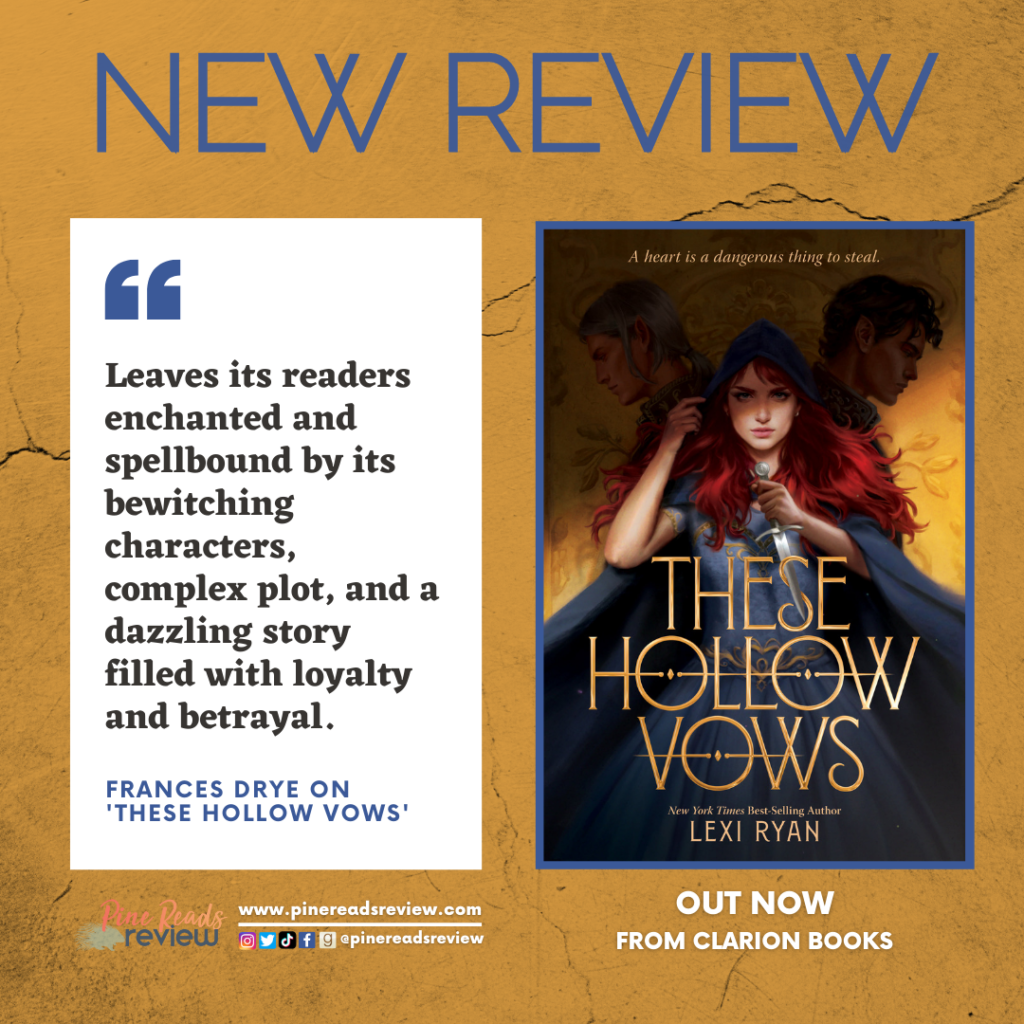 These Hollow Vows by Lexi Ryan
Out Now from Clarion Books; 448 pages
Content Warnings: Mature content, protagonist drugged, homophobia, death, kidnapping, and violence
About the Author: "Award-winning author Lexi Ryan is a New York Times and USA Today bestseller of hot contemporary romance and sexy, action-packed YA fantasy. Her books have sold over a million copies. A former English professor, she considers herself lucky to have traded stacks of grading for emotionally charged storytelling. She is happiest when at home in Indiana with her husband and two children, where you can find her lifting weights, reading copiously, hanging out with her family, and thanking her lucky stars." (Bio taken from author's website)
Find Lexi Ryan on the following platforms:
---
"I'm a great thief. I can steal just about anything. But a faerie prince's heart? I wouldn't know where to start."
When her sister is taken to the world of the Fea, Brie is determined to get her back. Though she knows that making bargains with Fae means uncertain death, Brie will do whatever it takes to save her sister from the sadistic king of the Unseelie court. In order to succeed, Brie is tasked with infiltrating the Seelie court, stealing three magical items, and earning the Seelie Prince Ronan's love. Things become even more complicated when Brie accepts the help of Finn, an exiled Unseelie fae who offers to aid her. Brie's mission gets more impossible when the man she must manipulate is not the heartless Fae she expected him to be, and Finn's seductive charm is impossible to ignore.
I was extremely excited to read this book, and Lexi Ryan did not disappoint. The plot is entertaining from the start, with action so fast-paced that there is no chance of losing interest while Ryan creates her spellbinding world. The setting is completely unique; Ryan weaves fairy tales and legend together to develop her own distinctive world with characters that are sultry, engaging, and otherworldly. My favorite aspect of the book was the character Abriella. Brie's backstory and complexity add so much to the plot, as well as making her an empathetic and three-dimensional character. Brie is not perfect, but her flaws combined with her devotion, determination, and cleverness make her lovable. She is forced to make horrible decisions, ones that require her to betray those she cares about, but Brie is aware of her mistakes and experiences the effects of her choices. I thoroughly enjoyed following Brie's story and seeing how powerful sisterly love can be. These Hollow Vows leaves its readers enchanted and spellbound by its bewitching characters, complex plot, and a dazzling story filled with loyalty and betrayal.
PRR Writer, Frances Drye