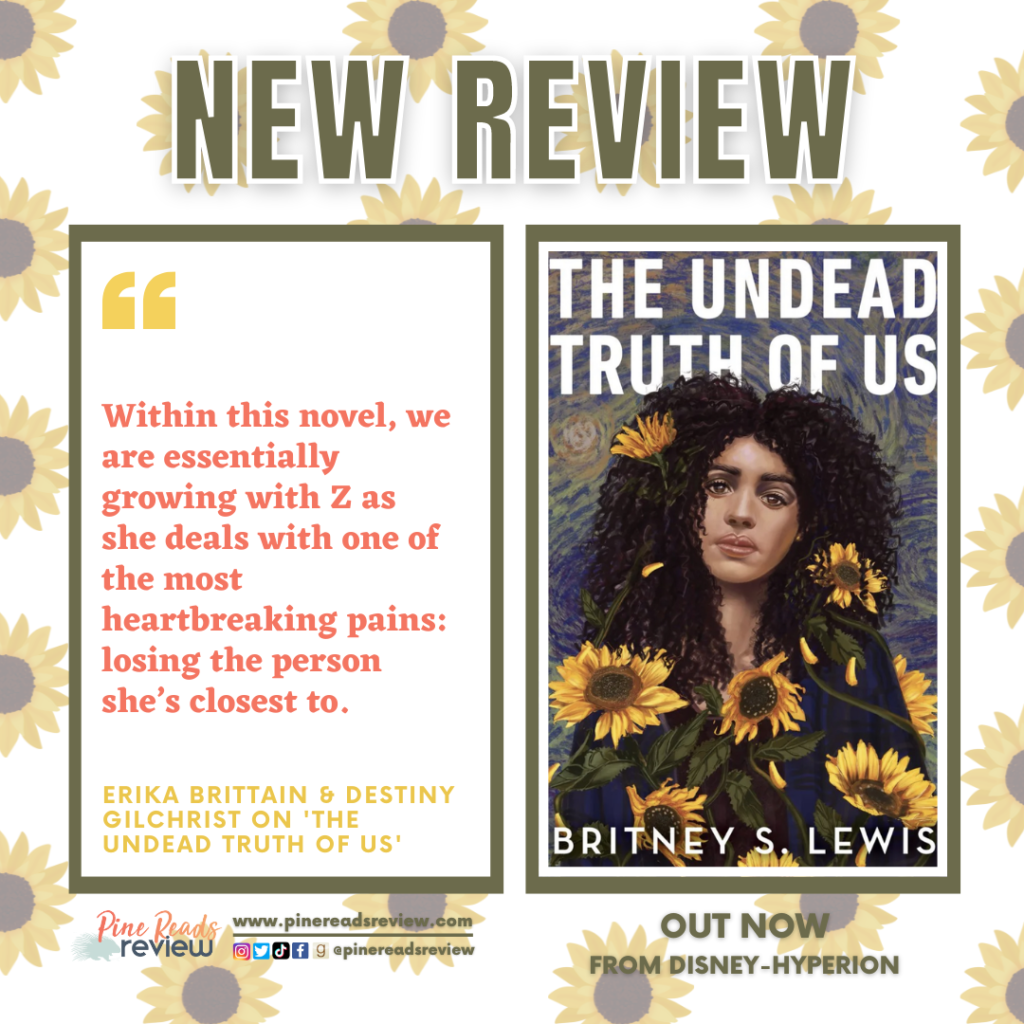 The Undead Truth of Us by Britney S. Lewis
Out Now from Disney-Hyperion; 368 pages
Content Warning: Profanity, blood, gore, body horror, grief, loss of parent, abandonment of parent, discussion of death, death of parent, underage drinking, underage smoking, mentions of anxiety and depression
About the author: "Britney Lewis is the author of The Undead Truth of Us, set for release August 9, 2022. She has a B.A. in corporate communications with an emphasis in business and art. She strongly supports We Need Diverse Books, and she's an avid follower of #DVpit and #BVM. When Britney isn't daydreaming about new stories, she can be found binge-watching TV shows with her husband and her pup or practicing West Coast Swing. She lives in Kansas City. You can follow Britney on her Twitter, or her Instagram.
Britney is represented by Katelyn Detweiler of Jill Grinberg Literary Management." (Bio taken from author's website.)
Find Britney S. Lewis on the following platforms:
---
"Say it is an infection right? But maybe it's only an infection because it's meant to be invasive. That kind of feeling, love, it demands to be felt." 
The Undead Truth of Us tells the story of Zharie Young, who is reeling from grief after her mother's death. Z is also coming to terms with another chilling realization: her mother turned into a zombie before dying. Now, Z sees the undead amongst the living. After moving in with her aunt, Z must grasp the overwhelming changes of life without her mother, but it's not done without the handsome neighbor Bo, his friends, and some buried family secrets. In a story about the complications of grief, love, and confronting the past, Zharie embarks to find the truth and joy in living once again.
When we learned about Britney S. Lewis' debut novel, we were excited to read the book. We love contemporary YA fiction that blends romance and horror, and we're huge fans of the beautiful cover art! Once we started reading, we both were awestruck by Lewis' poetic writing and impactful themes of grief, anger, and hope. Zharie is a character that we could not only relate to, but also see ourselves in. Within this novel, we are essentially growing with Z as she deals with one of the most heartbreaking pains: losing the person she's closest to. In addition to that, Z deals with the undead– which are more metaphorical personifications of loss. This concept that anguish, heartache, and even depression are zombified was cleverly portrayed in the novel. Zharie's grief is not the only exploration of emotion that we see in the story. Z's aunt, Bo, and Z's mother each get intricate nuance and depth to their characters. The Undead Truth of Us is an exceptional debut novel, and we so eagerly look forward to Lewis' next book! 
We wanted to end our review with a couple of specific elements of the book that resonated with us: —
"Adolescence is one of the purest yet hardest moments of life where everyone is faced with the means to grow.  Having lost a parent, I felt for Zharie and anyone who has lost a loved one would be able to connect with her as well."
— Destiny
"Lewis' writing is equally haunting as it is insightful. Her descriptions of the zombies gave me literal chills, and her references to Van Gogh's artwork added a whole new visual experience to Z's deep grief and emotional revival."
— Erika
Be sure to come back and watch our upcoming interview with author Britney S. Lewis!
PRR Writers, Erika Brittain & Destiny Gilchrist 
---