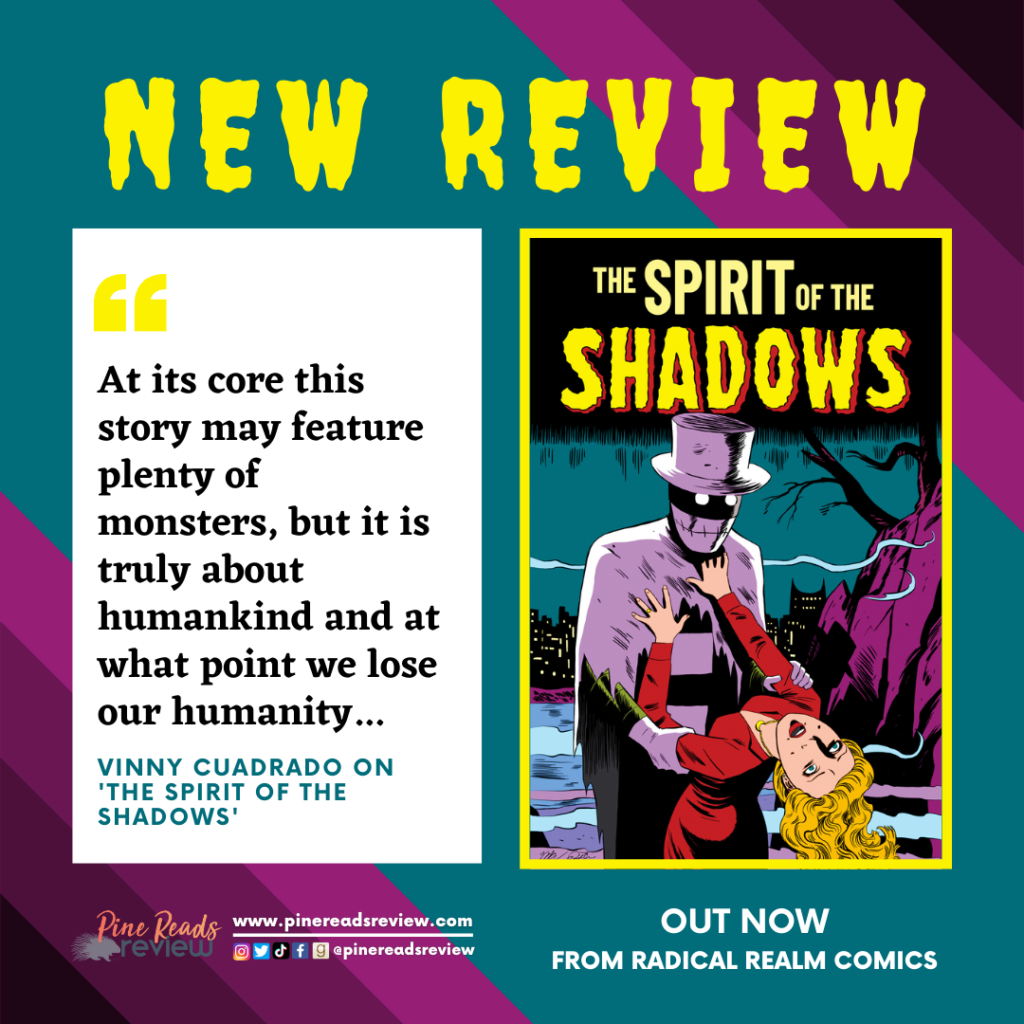 THE SPIRIT OF THE SHADOWS written by Daniel Ziegler & illustrated by Nick Cagnetti
Out Now from Radical Realm Comics; 74 pages
Content Warning: Illustrated depictions of violence including murder. Ghosts & undead spirits throughout.
About the creators: "Radical Realm Comics was launched in 2014 by Nick Cagnetti and Tristen Bagnall as a self-publishing imprint for their comic book series INFINITE WONDERS. Next, this was followed by THE SPIRIT OF THE SHADOWS from Daniel Ziegler and Nick Cagnetti. In 2019, Nick Cagnetti was named Best Comic Book Artist by the Phoenix New Times for their Best of Phoenix 2019 feature for his work on the PINK LEMONADE series. In 2022, PINK LEMONADE is being published by Oni Press!" (About info taken from the Radical Realm Comics website.)
Find Daniel Ziegler on the following platforms:
Find Nick Cagnetti on the following platforms:
---
"With love at stake, even death won't stand in his way."
The Spirit of the Shadows was not always an undead creature, nor was the Spirit ever just a tall tale. The tormented Spirit we come to know in this graphic novel was once a man named Erik Leroux. Erik was nothing more than a poor musician in love with Katrina Laemmle until he was killed and resurrected. Unknown to Erik, mysterious forces at play have tampered with the natural order of life and death, and this practice is quickly spreading. Now a monster himself, Erik will regain Katrina at all costs and take his revenge on those who murdered him!
My first exposure to the story of The Spirit of the Shadows was more than 5 years ago at a comic convention in Phoenix. I immediately suspected the character was a modern imitation of the classic horror movie monsters and those suspicions were quickly confirmed when I met the creators. However, this book is more than just a new interpretation of stories from long ago. This comic stands on its own as an all-original narrative. It is nostalgic, but moreover inventive and spooky in all the right ways. The book is illustrated in complete comic fashion and the illustrations serve both the eerie vibe and heartbreaking story just as well. At its core this story may feature plenty of monsters, but it is truly about humankind and at what point we lose our humanity in the wake of our own actions. The main character of Erik Leroux wasn't a monster when he opened his eyes for the first time after death. Erik became a monster the moment he sank to the same level of those who wronged him. The reason the horror genre remains so prominent in pop culture is because of works just like this that make themes of love and loss so timeless and important to revisit. It goes without say that I highly recommend this story for lovers of comics and novels alike!
PRR Graphic Designer, Vinny Cuadrado
---
Buy your own copy of THE SPIRIT OF THE SHADOWS on the Radical Realm Comics' website here!